Colonel Allensworth State Historic Park
Phone Number
(661) 849-3433
Max. Trailer Lengths
Trailer: Up to 35 Feet
Camper/Motorhome: Up to 45 Feet
Park Hours
Visitor Center: Monday-Sun 10am-4pm
(Closed Thanksgiving, Christmas, and New Years Day)

Park: Monday-Sun 9am-Sunset
and scheduled special events
Driving Directions to Colonel Allensworth SHP
The park is about 30 miles north of Bakersfield. From Hwy 99 near the town of Earlimart, take the Ave 56 Exit (Exit 65), then turn west toward Alpaugh and go 7.4 miles on County Rd J22 (W Sierra Av). At Hwy 43 (Central Valley Hwy) turn right (south) and proceed to the intersection of Palmer Av. Turn right and proceed to the Park entrance.


Visitors will be able to reserve campsites and lodging six months in advance from the current date. Bookings may extend from the arrival date to the desired departure date – based on availability and the park's maximum stay rules.
OVERNIGHT FACILITIES
En route Campsites
Family Campsites
RV Dump Station
RV Access

TRAIL USE
Bike Trails
Hiking Trails

DAY-USE ACTIVITIES & FACILITIES
Historical/Cultural Site
Picnic Areas
Env. Learning/Visitor Center
Exhibits and Programs
Guided Tours
Interpretive Exhibits
Nature & Wildlife Viewing
Museums
Family Programs
Geocaching

OTHER FACILITIES & VISITOR INFORMATION
Parking
Restrooms / Showers
Restrooms
Drinking Water Available

Visiting the Park
Want to experience Allensworth before you visit? Then check out our "virtual tour" webpage containing photographs of Colonel Allensworth State Historic Park's historic, restored, and reconstructed buildings.

PARK TOURS
Guided Tours
To schedule a guided tour of Colonel Allensworth State Historic Park, please phone the park office at least 72 hours in advance of your visit at (661) 849-3433.

Self-Guided Tours
Free self-guided brochures are available in the visitor center. All of the historic, restored, and reconstructed buildings within Colonel Allensworth State Historic Park have interpretive panels detailing the history of the town and its residents. The buildings are not open to the public but you can view the interiors by looking through the windows and imagine what life was like in the 1910s. The park is open from 9 a.m. to sunset with a picnic area and restrooms always available.

Cell Phone Audio Tour
A self-guided audio tour with each stop providing a brief history of Allensworth is available. Look for the placard in front of each building in the park.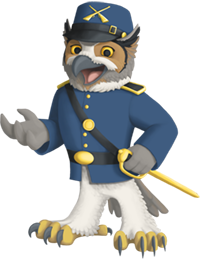 Agents of Discovery
Agents of Discovery is a digital education technology platform turning educational content into fun, and innovative augmented reality games. The App is FREE and does not require WiFi or cellular data to play once installed. Download the Agents of Discovery app on your smartphone or tablet and the Colonel Allensworth Mission. Teachers, parents, children, and the young at heart can help the Ministry of Culture on a Mission to discover Colonel Allensworth State Historic Park using this educational scavenger hunt.

California State Parks Virtual Adventurer
Try our new augmented reality tour app! The California State Parks' Virtual Adventurer app is a new interactive experience at Colonel Allensworth State Historic Park. Take a trip back in time to experience the town of Allensworth, established in 1908, and learn about the African American pioneers who settled in the heart of California's Great Central Valley.

California State Parks in partnership with Timelooper, Inc. have created a unique augmented and virtual reality tour of the park. You can download the Virtual Adventurer app to your cell phone or other mobile device. Comprised of four different tour stops at the visitor center and historic Allensworth School, this digital tour combines exciting elements like a hologram of Allensworth co-founder and schoolteacher Professor William Payne, digital animation, historic photographs, 3D augmented reality models, and more!

Things to know:
Look for the Virtual Adventurer app in the app store on your mobile device.
Requirements to download: iOS 11.0 or higher and Android 9.0 or higher.
Cost to download: Free!
For the easiest experience, download the app before coming to the park. You can download the Virtual Adventurer app at the visitor center at Colonel Allensworth State Historic Park.
VISITOR CENTER
The visitor center is open daily from 10 a.m. to 4 p.m. The visitor center provides an orientation to the history of Allensworth with exhibit panels of the town's pioneers and displays presenting a snapshot of life in the town in the 1910s. You can schedule a viewing of the film "Allensworth: A Piece of the World" (a 37-minute film about the history of Allensworth) by phoning the park office at (661) 849-3433 in advance of your visit.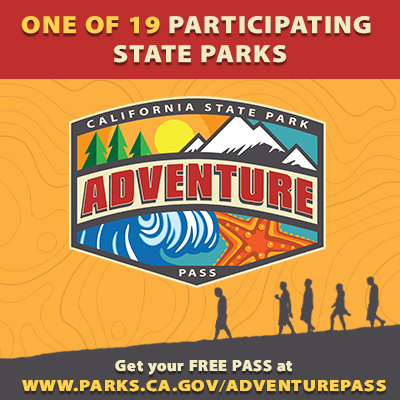 ARE YOU READY FOR AN ADVENTURE?
The new California State Parks Adventure Pass provides free entry for fourth grade students at 19 select parks throughout the state including Colonel Allensworth State Historic Park. Learn how you can help students explore California's extraordinary cultural and natural resources at California State Parks Adventure Pass.

PARK FEES
Day Use Fees
$0 per vehicle
$0 per vehicle (senior discount - 62 and older)
$0 per vehicle with disabled person discount (must display State Parks Disabled Discount Pass)
$0 per small bus (10-24 passengers)
$0 per large bus (25-100 passengers)

Camping Fees (pay fees at campground or reserve online at ReserveCalifornia)
$20 per night
$18 per night (senior discount - 62 and older)
$10 per night (disabled person discount - must display State Parks Disabled Discount Pass)

Self Registration Required
Please take a Self Registration & Fee Payment envelope from the mailbox located on the pay receptacle called an iron ranger at the entrance to the campground. Fill out the information on the front of the envelope. Detach permit stub and place on your dashboard. Insert fees into envelope and deposit into the slot in the front of the iron ranger.

CAMPING
Fifteen campsites are open all year and will accommodate RVs or tents. Each campsite includes a picnic table, and a fire ring (RV hook-ups are not available). One campsite (#16) has RV hook-ups. Flush toilets and showers are located on the south side of the campground. A dump station (fee is $10, credit card only) is located on the south side of the campground. Americans with Disabilities Act (ADA) accessible facilities are available. Firewood is available in Delano approximately 13-miles east of the park. Reservations are not necessary, but can be made online through Reserve California at least 48 hours in advance of your planned stay or by phoning Reserve California Monday through Friday between 8:00am to 5:00pm at 1-800-444-7275.

DIRECTIONS
From Southern California: From I-5 take State Highway 99 north; 30-miles past Bakersfield, exit at Pond Road and keep going west aproximately 7-miles to State Highway 43. From there, go right on Highway 43 for about 11-miles to Palmer Avenue. Make a left turn and go over the railroad tracks then turn right to enter the park.

From Northern California: From State Highway 99 take the Alpaugh exit in Earlimart; turn right on County Road J22/Avenue 56 (Sierra Way) go aproximately 7-miles to State Highway 43. From there, go left 2-miles to Palmer Avenue. Make a right turn and go over the railroad tracks then turn right to enter the park.

Amtrak: If you would like to travel to the park by train, please call Amtrak at: 1-800-872-1477 or 1-800-USA RAIL

CLIMATE AND RECOMMENDED CLOTHING
The Central Valley is hot in the summer and mild in the winter. Rain falls occasionally from October through April. Winter temperatures can be below freezing but snow is rare. Summer temperatures are regularly above 100-degrees. Remember to bring plenty of water, some food, layered clothing, comfortable shoes, a hat, sunglasses, and sunscreen.

CALENDAR OF EVENTS
Black History Month Celebration
February 10, 2024
Saturday, 10:00 am-4:00pm
Join the Friends of Allensworth and California State Parks as we continue to celebrate and preserve the history of Allensworth. Visitors are welcome to tour the park's historic buildings and enjoy live entertainment, music, and food.

Allensworth May Festival
May 18, 2024
Saturday, 10:00 am-4:00pm
This Friends of Allensworth event provides a great family festival atmosphere with education, entertainment, music, food and special activities for children.

Juneteenth Celebration
June 8, 2024
Saturday, 10:00 am-4:00pm
Juneteenth is the oldest known celebration of the ending of slavery in the United States of America. It was on June 19th, that the Union soldiers, led by Major General Gordon Granger landed at Galveston, Texas with news that the war had ended and that all slaves were now free. Visitors are welcome to tour the park's historic buildings and enjoy live entertainment, music, and food.

Annual Rededication
October 12, 2024
Saturday, 10:00 am-4:00pm
The Annual Rededication is presented to renew the commitment of the citizens of California to help California State Parks preserve the history of the contributions made by African Americans in the development of the state and our nation. Visitors are welcome to tour the park's historic buildings and enjoy live entertainment, music, and food.

CONTACT THE PARK
Colonel Allensworth SHP
4011 Grant Dr.
Earlimart CA 93219

661-849-3433

Our email address is Allensworth@parks.ca.gov.

ADDITIONAL RESOURCES
Visit our non-profit Cooperating Association webpage: Friends of Allensworth
Join Colonel Allensworth State Historic Park on Facebook
Check out the 360 photos of Col. Allensworth State Historic Park on Google Maps/Streetview


History of Allensworth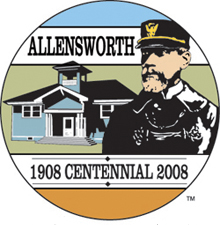 Allensworth is a historic California town founded, financed, and governed by African Americans. In the southern San Joaquin Valley, a collection of restored and reconstructed building marks the location of the historic town now known as Colonel Allensworth State Historic Park. A schoolhouse, a Baptist church, businesses, homes, a hotel, a library, and various other structures symbolize the rebirth of Colonel Allen Allensworth's dream of an independent, democratic town where African Americans could live in control of their own destiny.
ALLEN ALLENSWORTH - A VISIONARY
Colonel Allen Allensworth - Army chaplain, educator, orator, and town founder - was born into slavery in Louisville, Kentucky on April 7, 1842. Intelligent and eager for knowledge, he was encouraged by his mother to learn to read and write. At 12 years old he was sent away for violating the law that prohibited the education of slaves. In 1862, he fled his enslavement to join the Union Army Forces and was later honorably discharged as a chief petty officer from the U.S. Navy.

After the Civil War, Allensworth achieved the formal education he had been denied. In 1877, he married Josephine Leavell, a schoolteacher, music teacher and gifted musician, and they raised two daughters. In 1886, with a doctorate in theology, Allensworth became a chaplain to the 24th Infantry, one of the Army's four African American regiments also known as the Buffalo Soldiers. He retired as a lieutenant colonel in 1906 - the first African American to attain such a high rank.

THE TOWN OF ALLENSWORTH
Retirement found the Colonel lecturing throughout the eastern and mid-western states promoting Booker T. Washington's philosophy of African American self-reliance. They both firmly believed that through education and hard work African Americans could rise above the effects of slavery, attain greater social stature, and more fully realize their potential as a people.

The Allensworths settled in Los Angeles, and in 1906 Colonel Allensworth met Professor William Payne, an educator whose family had recently moved to Pasadena. With a mutual desire to live in an environment where African Americans could live free from discrimination, they merged their values with those of other pioneers of like mind to establish an independent, self-sufficient colony. They formed the California Colony and Home Promoting Association in 1908 and purchased 800 acres along the Santa Fe rail line from the Pacific Farming Company, at a railway stop called Solita. In 1909, the colony of Allensworth began to rise from the flat countryside. The name and reputation of Colonel Allensworth inspired African Americans who were looking for a better life. People from all over the country, including many who settled in California, came to populate the town.

By 1910, residents had built a small school. Two years later, Allensworth became California's first African American school district, and in 1914 the town became a judicial district. When rapid growth necessitated the construction of a larger two-room school, Josephine Allensworth turned the former school building into the Mary Dickinson Memorial Library in honor of her mother.

WATER
Soon after the settlement began, it became obvious that water would be a problem. In 1913, residents formed the Allensworth Rural Water Company and took control of the water system from the Pacific Farming Company. Unable to raise the funds necessary to drill deeper wells or improve their existing system, the town of Allensworth was seriously impacted by a lowered water table by 1914.

THE DECLINE
1914 was a difficult year for the town. When the Santa Fe Railroad moved its rail stop from Allensworth to Alpaugh that July, much of Allensworth's economic base was lost. On September 15, 1914, the town suffered its most significant setback - the tragic death of their inspirational leader. Colonel Allenworth was in Monrovia, California preparing to preach at a small church. As he crossed a street, he was struck by two men on a motorcycle. After the Colonel's death, the struggle to survive bacame more difficult. Drought, poor crop yields and a failing water supply became hopeless obstacles. When an economic slump followed World War I, residents left in search of a better living. The town's decline gathered momentum. In the 1960s, after naturally occurring arsenic was found in the water, Allensworth was scheduled for demolition. By 1973, it no longer appeared on the California map.

A TOWN REVIVED
However, the dream of Colonel Allensworth was not dead. The spark has been rekindled by a group of dedicated individuals - including some former residents - who continue to advocate for the growth and development of this vital cultural resource.

COLONEL ALLENSWORTH STATE HISTORIC PARK
In 1974, the California Department of Parks and Recreation purchased land within the historic townsite of Allensworth, and it became Colonel Allensworth State Historic Park. Today, a collection of historic, restored, and reconstructed early 20th-century buildings—including the Allensworth's house, Allensworth School, Baptist church, and library—showcase the dreams of these visionary pioneers.
Land Acknowledgement
Colonel Allensworth State Historic Park is on the ancestral lands of the Yokuts, which today includes the federally recognized Tachi Yokut Tribe and Tule River Indian Tribe. Allensworth is within the traditional territory of the Wowol, the area of the beaver. Chawlown was a Wowol villlage near present-day Allensworth that moved with the tides of Pa'a'shu, later called Tulare Lake. Pa'a'shu is the center of the Yokuts' world and their creation place, despite its destruction. After the invasion, many of the Wowol arrived at the Santa Rosa Rancheria, which belongs to the Tachi Yokut Tribe.