Grover Hot Springs State Park
HOT SPRINGS POOL IS OPEN. THE COLD POOL WILL REMAIN CLOSED.
See Session Times Below
---
Ticket sales start each morning at 9:00 am.
Regular Session Times Friday, Saturday, Sundays
09:30 AM - 11:00 PM
11:30 AM - 1:00 PM
1:30 PM - 3:00 PM
3:30 - 5:00 PM
Grover Hot Springs Campground and Day Use is Open.
Loop two (Toiyabe Loop) is closed for the season. Loop one (Quaking Aspen Loop) will remain open until the temperature drops to a level that may freeze the water system.
FIREWORKS ARE BANNED IN GROVER HOT SPRINGS STATE PARK AND ALPINE COUNTY
Anyone using or in possession of fireworks within Grover Hot Springs State Park will be evicted from the campground and issued a citation for CCR T-14 4314 (a) No person shall possess, discharge, set off, or cause to be discharged, in or into any portion of a unit any firecrackers, torpedoes, rockets, fireworks, explosives, or substances harmful to the life or safety of persons.
We are pleased to welcome visitors back to the park for camping, hiking, and picnicking. Crews accomplished a tremendous amount of work felling and removing hazard trees along the trails and resurfacing the State Park portion of the Burnside Lake Trail (commonly called the waterfall trail). Please keep in mind that hazards still exist in recently burned areas, especially once you pass beyond the park boundaries, including hazard trees, unstable ground, and flooding. Day use hours are sunrise – sunset, and parking is $8.00. The Campground is open and reservations can be made on the Reserve CA website.
Background:
On and around July 16, 2021, the Tamarack Fire burned through Grover Hot Springs SP and destroyed multiple state park housing structures, the maintenance shop, maintenance vehicles, and several trail structures. Wildfire impacts to park facilities, hazardous materials needing abatement, and risks associated with wildfire-affected "hazard" trees necessitated this closure.
California State Parks appreciates your patience and your cooperation in staying out of the closed portions of the park (currently the area around the hot springs pool complex is closed) while we work toward full reopening.
This "virtual tour" shows what the park looks like post-fire.
Phone Number
(530) 694-2248
Max. Trailer Lengths
Trailer: Up to 24 Feet
Camper/Motorhome: Up to 27 Feet
Park Hours
Day use is open from sunrise - sunset
Campground is Open Reservations can be made on Reserve California's Website
Dogs Allowed?
Yes
On leash only and not left unattended. Dogs are not allowed in the hot springs pool complex
Driving Directions to Grover Hot Springs SP
Located four miles west of Markleeville, at the end of Hot Springs Road, the park is in an alpine meadow at 5,900 feet surrounded by peaks that just top 10,000 feet.


Visitors will be able to reserve campsites and lodging six months in advance from the current date. Bookings may extend from the arrival date to the desired departure date – based on availability and the park's maximum stay rules.
Upcoming Park Events
No events scheduled at this moment.
OVERNIGHT FACILITIES
Family Campsites
Hike or Bike Campsites
RV Access

TRAIL USE
Bike Trails
Hiking Trails

DAY-USE ACTIVITIES & FACILITIES
Picnic Areas
Fishing
Interpretive Exhibits
Swimming
Nature & Wildlife Viewing
Geocaching

OTHER FACILITIES & VISITOR INFORMATION
Parking
Restrooms / Showers
Restrooms
Drinking Water Available

Campground
Campground is Open Loop two is closed for the season.
Winter camping begins when temperatures fall below freezing
Here are some helpful guidelines when planning your camping trip:
BEARS ARE ACTIVE so please store your food, drinks, toiletries and anything else with a scent in your campsite's metal food storage locker BOTH DAY & NIGHT.
There are no hook-ups or dump station in the park.
Quiet hours are 10pm - 6am. Excessive noise disturbing others, including amplified sound such as radios, are not allowed anytime. Generator hours are 10am - 8pm.
Eight people are allowed per campsite. There are no group campsites at the park.
In summer campground: max length is 27 feet for motorhomes and 24 feet for trailers measured from the rear bumper of the tow vehicle to the rear bumper of the trailer.
Campsites are $35 in summer and $25 in winter and include one vehicle. Additional vehicles are $8 / night. The wheels of all vehicles must fit on your campsite's paved parking pad. There is an overflow vehicle lot.
Wildfires are always a concern. Never leave your fire unattended and douse your fire before leaving. Do not gather downed wood. Campfires may be banned during times of extreme fire danger.
Summer only: Hot showers are operated with tokens. A token is $1 and gives 5 minutes of hot water. (No showers in winter campground.)
Firewood, ice, and shower tokens are usually available for purchase at the campground kiosk during the summer months.
Games such as horseshoes are not allowed in your campsite to avoid damaging the vegetation.
All bicycle or scooter riders under 18 must wear a helmet.
Dogs must be on leash at all times and cannot be left unattended.
Camping is generally available year-round, conditions permitting. Our summer campground has 76 family sites and is on a reservation system typically from mid-May through mid-September. 2023 resrevation dates are Jun 2nd - Sept 9. Make reservations at ReserveCalifornia.com up to 6 months in advance. After the reservation period is over, camping in the campground is first-come, first-serve until Fall. In October winter camping moves to picnic area near the park entrance, and the max length of RVs and trailers changes to 18 feet.
Food Storage Locker Information
Metal bear-resistant food lockers are provided in each campsite. All food, beverages, and toiletries are required by law to be stored in the provided food lockers when not being actively used or transported. Violators are subject to confiscation of food and/or citation. Please remember that a fed bear is a dead bear. For more information please read the on-line pamphlet "American Black Bears in California State Parks" at the following link: http://www.parks.ca.gov/pages/510/files/cablackbear_web_2010.pdf.
Day Use
Day Use parking is $8 ($7 for seniors 62 and older) and is availble sunrise to sunset. If you have paid for pool admission, day use parking is included. Dogs must remain on a leash. Popular day use activites include picnicking in our spacious and scenic picnic area along the banks of Hot Springs Creek and hiking. Hikes vary from a flat and easy stroll around the meadow on our newly-constructed, ADA accessible boardwalk; to a moderate hike to a waterfall located on Forest Service land; to longer, more strenuous hikes uphill to Burside Lake or Charity Valley. Click on the "Brochure" link near the top of this page to see a map of the trails within the park boundaries.
Charcoal fires are PROHIBITED in the day use area: Districtwide Day Use - Charcoal Restrictions
Interpretive Schedule
Park interpetive programs have concluded for the 2023 season and will restart in May of 2024.
Hot Spring Pool Rules
7/30/21 Due to damage from the Tamarack Fire, the hot springs pool complex will be closed until further notice.
Once pool reservations reopen: Reservations must be made at least 48 hours in advance and up to 3 weeks in advance. Make reservations at ReserveCalifornia.com and click on "Activities".
A reserved session includes 1.5 hours of access to the pool complex, including any restroom or shower time. You may not enter the pool complex before your session begins, and you must exit the pool complex when your session is over. If you arrive late for your session, you still must exit when your session ends. Please arrive at the park at least 15 minutes before your session to allow time for check-in and for possible lines of vehicles. Available sessions are: 9:30am - 11:00am, 11:30am - 1:00pm, 1:30pm - 3:00pm, and 3:30pm - 5:00pm.
Fees for ONE SESSION are $10 for adults, and $5 ages 0-16.
You may reserve up to 2 sessions per day, if available. Up to 8 people are allowed per reservation. If you reserve back-to-back sessions, you must exit the pool for the 30 minutes between sessions while lifeguards are performing tests and maintanance of the facility. Visitors may not remain in a pool unless a lifeguard is monitoring.
We will do everything in our power to honor your reservation, but please note that your reservation may be cancelled at any time due to unforeseen issues such as: staff illness, re-imposed restrictions, equipment malfunction, contaminants in pool, power outages, lightning storms, and other circumstances beyond our control. Sometimes these circumstances require closure of the pool in the middle of a session, and everyone must leave the pool. If this occurs, visitors will be issued a full refund.
WHAT TO EXPECT WHEN YOU ARRIVE
The way you drive to the pool area has changed. Arrive at the park at least 15 minutes before you plan to enter the pool complex to allow time to check-in and for any lines. Check in at the park entrance station to receive a pool pass and purchase a day use pass for parking. If the entrance station is closed, then proceed directly to the pool complex and check in with the lifeguards when your session time begins. Display your parking pass on your vehicle's dash.
The changing rooms are still closed. Please arrive wearing your swimsuit.
There are men's and women's restrooms available.
Staff will disinfect surfaces in between each session, including: door knobs, toilets, sinks, handles, latches, and other commonly touched surfaces.
There is an OUTDOOR shower, visible to others, for rinsing off. No detergents are allowed.
As before, the pools are chemically treated - chlorine in the cold pool and bromine in the hot pool - to limit water-borne disease transmission.
In order to provide for a safe and enjoyable experience for our visitors at the hot springs pools, these common rules are in effect:
No running or diving.
No smoking, including e-cigarettes ("vaping"), inside the pool complex.
No food or beverages, other than plain water allowed inside facility.
Swimwear or cutoffs are required (no underwear, street clothes or nudity).
Children under 12 yrs. old must be accompanied by an adult. Groups of children under 16 years of age must have at least one adult supervisor per 5 children.
No person shall play loud or rough games and/or use radios or tape/CD players with external speakers.
For safety reasons, flotation toys, such as water wings, are not permitted.
Children ages 6 and under may wear a properly fitting United States Coast Guard approved Type II or Type III life jacket, under the immediate supervision of an adult.
If there is a waiting line to enter pools:

Holding places in line is not permitted.
Line cutting is not permitted.
All members of your group must wait in line.
If you leave the line, you must re-enter at the back of the line.

Dogs are not allowed in the pool complex and may not be left unattended. Do not leave your dog in a car on a warm day.
Pool Reservation Refund Policy:
If you need to cancel your pool reservation, call the park at least a day in advance to request a refund or go to ReserveCalifornia.com.
Same-day refunds will only be given if you or someone in your household has a symptom of COVID-19, or if the pool closes for at least 30 minutes of your session due to lightning, contamination, power outage, or emergency. No refunds for late arrivals or no-shows.
Hot Spring Prices
Fees for the hot spring pool use are $10 per adult and $5 per child (ages 0-16) and are paid online when you make your reservation.
When are the Hot Springs Closed?
The pool complex is generally open every day from June through August. From September through May the pool hours and days of operation vary. Please check ReserveCaliforia.com for reservations or call ahead for current operating hours (530) 694-2248 – this may save you an unnecessary trip.
The pools are closed for facility and pool maintenance during two weeks in September each year. Please call the park for closure dates.

The pool complex is also closed for Thanksgiving day and Christmas day.

Finally the pools must close during nearby thunderstorms due to the possibility of lightning striking the water. Thunderstorms usually occur during the afternoon hours in the summer months of July and August. If thunderstorms are predicted by the National Weather Service for the Northern Sierra Nevada, then Grover may be affected.

During the winter, when snow is covering the ground, the pool complex will usually remain open. It may be closed during severe snow storms, and high accumulations of snow on the roads. The roads are generally plowed during the winter, but always carry snow chains and a shovel when traveling in the Sierras during the winter. Contact a weather service and Caltrans for conditions before departing.
Why are the Hot Springs Green?
The main reason for the color is the mineral deposits on the bottom of the pool. These mineral deposits are laid down on the surface of the paint by an oxidation reaction between the mineral salts in the water and the sanitizing agent (Bromine) used.

When the pool is viewed from some distance, rather than from directly overhead, the light that is reflected from the bottom loses certain wavelengths that are absorbed by the various color patterns on the bottom. The remaining light waves then pass back up through the water and are reflected at the surface. This reflected light is in the yellow-green wavelengths of the spectrum.
Overview
Hidden in quiet Hot Springs Valley on the eastern side of the Sierra Nevada, Grover Hot Springs State Park offers alpine vistas of granite peaks and wildflower meadows. After taking a brisk hike or a scenic stroll, visitors may soak in a mineral pool fed from six hot springs. The park offers both the hot pool and a cool swimming pool, a forested 76-site campground, picnic area, hiking trails, and fishing streams.

A full range of seasons and weather offer the visitor the opportunity to experience a variety of conditions, from major blizzards to dry scorchers, from warm clear nights to intense, blasting thunderstorms. Winds of great speeds are capable of whipping through the park causing damage during any month of the year. Pristine clear, warm days can be followed by cold stormy nights.

Proper preparation for the full range of potential conditions can make a visit to the park not only safe and warm but also dry and comfortable.


Location/Directions
Located four miles west of Markleeville, at the end of Hot Springs Road, the park is in an alpine meadow and pine forest at 5,900 feet surrounded by peaks that just top 10,000 feet.
Seasons/Climate/Recommended clothing
The temperature can vary greatly over the course of a year and even during the course of a month.
Winter months generally fall into three types of weather patterns.
Clear and very cold: -5 to 20 degrees F.
Light to very heavy snow storms: 22 to 34 degrees F.
Sleet and rain at higher temperatures and clear or partly cloudy and rather warm: 35 to 50 degrees F.

There may be one to four feet of snow on the ground.

Late Spring and early Summer are the best weather months with very clear skies and warm to hot days, 66 to 95 degrees F., with cool to cold nights 24 to 45 degrees F.
Later Summer features very warm mornings, 68 to 83 degrees F., with afternoon thunder storms and comfortable to slightly cool evenings, 31 to 45 degrees F.
Fall is progressively cooling with mildly warm days, 45 to 77 degrees F., and freezing nights 20 to 36 degrees F. and increasing storm activity towards winter.
Early Fall storms are can be rain, turning to or snow later in the year.
Grover Hot Springs State Park
Grover Hot Springs State Park is treasured for its beautiful alpine setting and alleged restorative and refreshing natural hot springs. For more than 100 years nature lovers have been drawn to the springs to bask in the warm mineral waters and absorb the pleasant views of the tranquil peaks surrounding the hot springs meadow.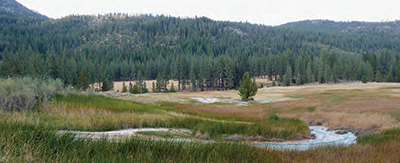 (Photograph by Mike Fuller)