Contact Information
(530) 525-7277
Park Hours
Day Use Hours: Sunrise to Sunset
Max. Trailer Lengths
Trailer: 15 Feet
Camper/Motorhome: 18 Feet
Driving Directions to D. L. Bliss SP
The park is located 17 miles south of Tahoe City on Highway 89, a couple of miles north of Emerald Bay.


Camping and Lodging
Visitors will be able to reserve campsites and lodging six months in advance from the current date. Bookings may extend from the arrival date to the desired departure date – based on availability and the park's maximum stay rules.
Upcoming Park Events
No events scheduled at this moment.
---
Day Use
Vehicular access to the day use areas will close at sunset on October 31th, 2017. Vehicle access may close prior to the 31st due to prescribed burns and weather conditions. For up to date information, call 530-525-7277. When the park gate is closed to vehicles, pedestrians may park at the Visitor's Center near highway 89 and access the park. All park regulations apply during the off-season.
The day use parking areas at the beaches and at the Rubicon trailhead are extremely popular during the summer months and are often FULL by mid morning. We recommend arriving early in the morning or late in the afternoon for best chances of finding a parking space. When the parking lots are full, day use vehicles will not be allowed into the park. A $10 fee is due for entering the park. No drop-offs are allowed. Day use hours are sunrise to sunset. Thank you for your understanding.
Park Notice
Prescribed burns are scheduled to take place in the area of the Lighthouse Trail beginning October 10, 2017. The Lighthouse Trail is scheduled to be closed starting October 16th. During this time, hikers may access the Rubicon Trail from either trailhead. Visitors who walk into the park are likely to encounter smoky conditions during October.
Attention: Bear-Proof Cooler Owners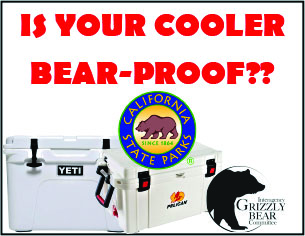 BEAR-PROOF COOLERS (Yeti, Pelican, Yukon etc.) MUST be secured with locks per manufacturer instructions in order to meet Interagency Grizzly Bear Committee (IGBC) standards Failure to do so may result in a Food Storage Citation and up to a $1000 Fine Title XIV CCR 4323(b)



Dogs at D.L. Bliss
Dogs
Dogs are NOT allowed on the beaches, trails, or off-trail (including the bouldering areas). Dogs on a 6' leash are allowed in the campgound and picnic areas, as well as on paved roads. Dogs may not be left unattended. Dog regulations are enforced YEAR-ROUND.
Location - Directions
The park is located 17 miles south of Tahoe City on Highway 89, and approximately 2 miles north of the Vikingsholm Parking Lot at Emerald Bay.
Campground
The Campground will close for the season on October 10th, 2017 at noon. The last night for camping is October 9th. Winter camping is available at Ed Z' Berg Sugar Pine Point State Park.
In the summer, D.L. Bliss campground offers 150 family campsites and 1 group campsite. For information on 2017 summer reservations, go to reservecalifornia.com or call 800-444-PARK. The campsite fee ($45 for Beach Camp and $35 for all others) includes one vehicle. Additional vehicles are $10 per night. The max trailer length is 15'. The max motorhome length is 18'.
Food Storage Locker Information
Black bears are currently very active at D.L. Bliss! Metal bear-resistant food lockers are provided in each campsite. All food, beverages, and toiletries are required by law to be stored in provided food lockers except when food is being prepared or eaten. Ice chests may NOT be stored in vehicles. The inside dimensions of the food lockers 36" deep, 43" wide, and 22" high. Violators will be cited.
About the Park
Campers and day use visitors enjoy swimming or scuba diving in the crystal clear water of Lake Tahoe, picnicking, relaxing on the warm sand of Lester Beach or Calawee Cove, and hiking the Rubicon Trail, Lighthouse Trail, and Balancing Rock Trail. Lester Beach is a popular location to launch your kayak, paddleboard, or canoe, but keep in mind that trailers are not allowed in the day use parking lots.

The grandeur of the parks and their setting is a product of successive upheavals of the mountain-building processes that raised the Sierra Nevada. From promontories such as Rubicon Point in D.L. Bliss State Park you can see over one hundred feet into the depths of Lake Tahoe.
The park is named for a pioneering lumberman, railroad owner, and banker of the region. The D.L. Bliss family donated 744 acres to the State Park system in 1929.

Seasons/Climate Recommended Clothing
Summer temperatures range from about 75-80 degrees F during the day to the low 40s at night, and winter temperatures average from a high of 40 to lows in the teens and 20s; Winter temperatures may dip below 0 degrees F. Chains and/ or 4 wheel drive are frequently required during the winter season. For up to date road conditions, call the Caltrans road hotline at 1800-427-ROAD, or visit the Caltrans website link below. D.L. Bliss State Park is located off of Highway 89.
The Balancing Rock Nature Trail is currently closed due to winter trail damage.


Balancing Rock Nature Trail
The Balancing Rock, "tons of granite resting precariously on a slender stone base", has long been a natural attraction on Lake Tahoe's western shore. Visitors to the Lake Tahoe area in the late 1800's and early 1900's enjoyed being photographed next to this geological marvel.
Today, the Balancing Rock is the feature attraction of a short, half mile self-guided nature trail in the northwest section of D.L. Bliss State Park. The granite of this large rock began weathering more rapidly at the joint plane, an extensive horizontal crack that is easily seen at its "waist".
The overlying rock weighs around 130 tons and is now balanced on the rock below. This precarious remnant of granite rock will eventually fall when enough material has eroded away to break the equilibrium between the two pedestals.
Visitors can pick up a brochure at the start of the trail that describes 19 numbered markers, where you can stop and learn about the relationships between the soils, plants, and animals found in the park.

Social Feed
---
Available Activities and Facilities at D. L. Bliss State Park
OVERNIGHT FACILITIES
Family Campsites
Group Campsites
Hike or Bike Campsites
RV Dump Station
RV Access

TRAIL USE
Hiking Trails

DAY-USE ACTIVITIES & FACILITIES
Picnic Areas
Env. Learning/Visitor Center
Exhibits and Programs
Fishing
Interpretive Exhibits
Scuba Diving/Snorkeling
Beach Area
Swimming
Nature & Wildlife Viewing
Museums
Geocaching

OTHER FACILITIES & VISITOR INFORMATION
Parking
Restrooms / Showers
Restrooms
Outdoor Showers
Drinking Water Available