Anderson Marsh State Historic Park
This park unit is partially open.
Please take the time to read the information contained on this webpage to find out what is open and closed, and what COVID-19 guidelines are in place. - (May 27, 2021)
What is open now?
Anderson Marsh SHP is now open to limited parking for day-use recreation at the following facilities:
Trails for active recreation such as hiking, running, and bird watching.
What is currently closed?
Campgrounds
Visitor Centers
Picnic Areas
Congregate and high touch areas
---
COVID-19 Guidelines - (February 16, 2022)
Recreate Responsibly
Protect yourself, family, friends and your community by following these prevention measures:
Know Before You Go – Prior to leaving home, check the status of the park unit you want to visit to find out what restrictions and guidelines are in place. Have a back-up plan in case your destination is crowded. Stay home if you are sick
Plan Ahead – Some restrooms will be temporarily closed to keep up with cleaning schedules. Bring soap/hand sanitizer.
Play It Safe – Find out what precautions you should take when exploring the outdoors, especially if this is your first time visiting the State Park System. Learn more at parks.ca.gov/SafetyTips.
Be COVID-19 Safe – State Parks continues to meet guidance from local and state public officials as COVID-19 is still present and still deadly. Effective March 1, 2022, state guidance recommends that all individuals, regardless of vaccine status, continue masking in indoor settings, such as museums and visitor centers. Universal masking remains required in specified high-risk settings. Please plan ahead as local county guidelines may differ from state guidance and visitors are urged to follow county guidelines when required. Read the latest COVID-19 guidance at COVID19.ca.gov.
Leave No Trace – Leave areas better than how you found them by staying on designated trails and packing out all trash. Do not disturb wildlife or plants.
Phone Number
(707) 279-2267
Park Hours
Sunrise to Sunset
Dogs Allowed?
No
Dogs allowed in parking lot only.
Driving Directions to Anderson Marsh SHP
The park is located on the southeast corner of Clear Lake, the largest natural lake completely within the borders of California. Between Lower Lake and Clear Lake on Highway 53, north of Calistoga in the wine country.



Online reservations are not available for this park.
Upcoming Park Events
No events scheduled at this moment.
BOATING
Boating

TRAIL USE
Hiking Trails

DAY-USE ACTIVITIES & FACILITIES
Historical/Cultural Site
Picnic Areas
Interpretive Exhibits
Nature & Wildlife Viewing

OTHER FACILITIES & VISITOR INFORMATION
Parking

Come see what autumn is bringing to Anderson Marsh State Historic Park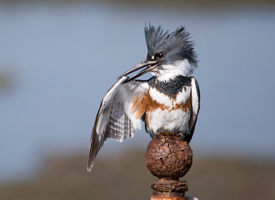 The Park at this time of year is beautiful. The colors of autumn at the Park are wonderful shades of cream, yellow, brown and green – interspersed with the startling color of small yellow sunflowers, periwinkle chicory, white ground "morning glories" or the fluffy white airiness of California Milkweed seeds and many California Wild Rose "hips" – most are still a lovely red and a very attractive food for many birds and mammals. Most of the blackberries are drying and shriveling up but they are still interesting to birds and wildlife. The wild grapes that grow are ripening, and bunches are hanging from vines in trees. Mistletoe berries are ripening too.

The fall bird migration is underway. Birds that we may see include a belted kingfisher looking for breakfast in the creek, acorn woodpeckers getting ready to store acorns in their "granary" trees, the first cedar waxwings arriving to dine on berries and grapes and perhaps a pair or two of phainopepla. (Love that name! These are usually birds of arid-mesquite land, but are found in this Park because of the abundance of mistletoe berries). Also on hand may be red-shouldered hawk, red-tailed hawk and white-tailed kite. Often seen in Cache Creek are great egret, great blue heron and black-crowned night heron.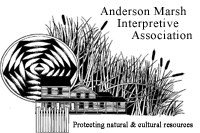 Anderson Marsh State Historic Park is located on Hwy 53, between Lower Lake and Clearlake.

For more information about the walks, email info@andersonmarsh.org or call (707) 995-2658.

For information about how you can help support AMIA's campaign to keep the Park open to the public and available for events such as our monthly nature walks and ranch tours, please visit www.andersonmarsh.org, or contact us by telephone or email.
Location - Directions
The park is located on the southeast corner of Clear Lake, the largest natural lake completely within the borders of California. Between Lower Lake and Clear Lake on Highway 53, north of Calistoga in the wine country.

Seasons/Climate/Recommended Clothing
The weather can be changeable; layered clothing is recommended.