Prairie Creek Redwoods State Park
This park unit is fully open.
State Parks will continue to use a monitor and adapt strategy to meet any new guidance it may receive from local and state public health officials as COVID-19 is still present and still deadly, especially for the elderly, immune-compromised and the unvaccinated.
COVID-19 Guidelines (February 16, 2022)
Recreate Responsibly
Protect yourself, family, friends and your community by following these prevention measures:
Know Before You Go – Prior to leaving home, check the status of the park unit you want to visit to find out what restrictions and guidelines are in place. Have a back-up plan in case your destination is crowded. Stay home if you are sick
Plan Ahead – Some restrooms will be temporarily closed to keep up with cleaning schedules. Bring soap/hand sanitizer.
Play It Safe – Find out what precautions you should take when exploring the outdoors, especially if this is your first time visiting the State Park System. Learn more at parks.ca.gov/SafetyTips.
Be COVID-19 Safe – State Parks continues to meet guidance from local and state public officials as COVID-19 is still present and still deadly. Effective March 1, 2022, state guidance recommends that all individuals, regardless of vaccine status, continue masking in indoor settings, such as museums and visitor centers. Universal masking remains required in specified high-risk settings. Please plan ahead as local county guidelines may differ from state guidance and visitors are urged to follow county guidelines when required. Read the latest COVID-19 guidance at COVID19.ca.gov.
Leave No Trace – Leave areas better than how you found them by staying on designated trails and packing out all trash. Do not disturb wildlife or plants.
Phone Number
(707) 488-2039
Max. Trailer Lengths
Gold Bluffs Beach & Davison Rd:
No Trailers
Max motorhome: 24'

Elk Prairie campground:
Max trailer: 24'
Max Motorhome: 27'
Park Hours
Open Year-Round
707-488-2171
Elk Prairie Campground Entrance
Dogs Allowed?
Yes
Except for service animals, dogs not allowed on trails.
Driving Directions to Prairie Creek Redwoods SP
The park is located 50 miles north of Eureka and 25 miles south of Crescent City on Newton B. Drury Scenic Parkway off of Highway 101.
The visitor center & Elk Prairie Campground are located at the southern end of the Parkway.
Gold Bluffs Beach Campground and Fern Canyon are accessed by Davison Road, which is, located 3 miles north of Orick off of Highway 101. 50 miles from Eureka and Crescent City.
Davison Road, the access road to Fern Canyon and Gold Bluffs Beach, has vehicle limitations 8' wide and 24' long. No trailers are allowed.


Visitors will be able to reserve campsites and lodging six months in advance from the current date. Bookings may extend from the arrival date to the desired departure date – based on availability and the park's maximum stay rules.
Firewood is currently not available in the park. Please purchase firewood locally.
Upcoming Park Events
No events scheduled at this moment.
OVERNIGHT FACILITIES
Environmental Campsites
Family Campsites
Hike or Bike Campsites
Primitive Camping
Alternative Camping
RV Access

TRAIL USE
Hiking Trails

DAY-USE ACTIVITIES & FACILITIES
Historical/Cultural Site
Picnic Areas
Env. Learning/Visitor Center
Exhibits and Programs
Fishing
Interpretive Exhibits
Windsurfing/Surfing
Family Programs
Geocaching

OTHER FACILITIES & VISITOR INFORMATION
Parking
Restrooms / Showers
Restrooms
Drinking Water Available
Wheelchair Accessible

Hike and Bike Day Returns!
The "Hike and Bike Day" on the Newton B. Drury Scenic Parkway is hosted the first Saturday of the month from October – May. With the closure of the parkway to all motorized vehicles, this event is a great chance to skate, stroll, roll, saunter or skip your way through 10-miles of old-growth redwoods! Bring your leashed pets too! Note, this event does not occur June-September, during peak summer visitation.
Current Notices
Dogs are prohibited in Fern Canyon and on all trails within Prairie Creek Redwoods State Park. Dogs are allowed on the beach, in campgrounds, in parking lots, and on roads within the park, but must be kept on a leash no longer than 6 feet at all times.
The Newton B Drury Parkway is closed to vehicles on the first Saturday of each month from October to May for Hike and Bike Day. The parkway closes on the evening before the event and reopens Sunday morning.
Elk Prairie and Gold Bluffs Beach are both dry campgrounds: meaning no electricity, water, or sewage connections for RVs.
No seasonal footbridges available over the creek in Fern Canyon.
Notice:
Del Norte Coast Redwoods, Jedediah-Smith Redwoods, and Prairie Creek Redwoods State Parks are the only parks in the California State Parks system that accept the Federal Access Pass discount.
Fifty miles north of Eureka, Prairie Creek Redwoods State Park protects sandy beaches and open meadows grazed by magnificent herds of Roosevelt elk. Ferns cascade down canyon walls. Lush stands of the world's tallest living tree species, the coast redwood, stand in primeval majesty.
Visitors can stay at either Elk Prairie or Gold Bluffs Beach campgrounds and explore the park via three scenic drives, 75 miles of hiking trails, and a 19-mile bike loop. Traverse self-guided nature trails, as well as the Revelation Trail (designed to emphasize the use of the five senses) and the Redwood Access Trail, (designed for people with physical limitations.) Many visitors take the gentle walk to Fern Canyon, which was used as a backdrop for the movie Jurassic Park. Most of the park is dedicated to the enjoyment and protection of coast redwoods and the luxuriant life around them.
Stately and bizarre giant redwoods (including "cathedrals" and "octopuses") are just a short walk from the visitor center. A World Heritage Site and International Biosphere Reserve, Prairie Creek and the three other parks in the Redwood National and State Parks group protect 45 percent of California's remaining old-growth redwoods.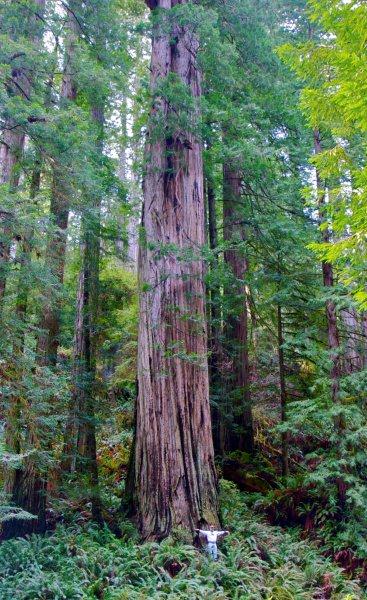 Redwood National and State Parks
Prairie Creek Redwoods State Park is managed cooperatively by the National Park Service and the California Department of Parks and Recreation, along with Del Norte Coast Redwoods State Park, Jedediah Smith Redwoods State Park, and Redwood National Park.
Gold Bluffs Beach and Elk Prairie Campgrounds are available for reservations at www.parks.ca.gov/prairiecreek or by phone at 1-800-444-7275.
Reservations are needed at Elk Prairie and Gold Bluff Beach Campgrounds year-round. Gold Bluffs Beach campground is cabover camper- or tent-only; no trailers of any kind are allowed on Davison Road.

Cabins
You don't need a tent or an RV to enjoy the beautiful old growth redwoods! Prairie Creek Redwoods State Park offers you access to "get-away-from-it-all" rental cabins.
Four cabins, all of which are ADA accessible, are located within Elk Prairie Campground within Redwood National and State Parks.
Cabins have electricity; heaters and lights. No kitchen or bathroom.
Maximum occupancy is 6 persons. Each cabin has 2 bunk beds, each with a twin over a double in size, no mattress pads. Guest need to bring their own bedding. Space for a small tent outside to accommodate an additional 2 people max.
Cabin rate includes entry for one vehicle; additional vehicles will be charged $8 per night.
No Pets
No Smoking, cooking or open flame inside the cabins. Cabins each have an outdoor Barbecue, fire pit, bear box and picnic bench.
For more information on the cabins or to make a reservation go to www.reservecalifornia.com.
*Credit Card required for check in process.
Weather
Summer temperatures range from 40 to 75F, but are cooler along the coast. Morning and evening fog is common. Winter brings chillier 35 - 55F days. Prepare for rain from November to May.
Rules & Notifications
Miners Ridge and Ossagon backcountry camps are permanently closed. Davison E-Camp backcountry camp is currently closed due to service reductions
Davison Road, the access road to Fern Canyon and Gold Bluffs Beach, cannot accommodate vehicles more than 8' wide and 24' long. No trailers are allowed.
Don't feed wildlife, and keep your camp free of all traces of food.
Store food in an animal-proof food locker.
Place all your garbage in an animal-proof trash can.
Visitors are required to watch this short video about the impact human food has on park wildlife.
Become a Camp Host!

Looking for an exciting volunteer opportunity this summer? Redwood National and State Parks are looking for camp hosts for the Elk Prairie and Gold Bluffs Beach Campgrounds. Camp hosts provide an essential service to the park by helping to sell firewood, assist campers with check in or questions, keeping an eye on the campground, etc.
Camp hosts are provided a trailer pad with water and full hook ups (volunteers must have their own RV or trailer to stay in). A minimum of 3 consecutive months, working 32 hours per week is required for this volunteer position. The park needs camp hosts to start volunteering in May, going through the summer season.
Interested? Contact Ranger Emily for more information at emilyrae.christian@parks.ca.gov or 707-465-7346, or call the park's information line at 707-464-6101.