Reservations will begin November 1 for the Annual Bald Eagle Tours at Millerton Lake State Recreation Area. Tours begin the first weekend of January and will run through the middle of March. These three-hour tours allow visitors to explore the lake while searching for the majestic Bald Eagle, which many people know as the United States' official emblem.
FREE EAGLE SCHOOL TOURS
Tours are offered at 9:30 AM and 12:00 PM- Each time slot can accomodate one class plus chaperones. Adaptable to school curriculumm for k-12 graders. Call ( 559)822-2332 or email:Millertonlake.eagletours@parks.ca.gov
Millerton Lake SRA is host to both migratory and resident Bald Eagles. Some are known to migrate from North-Central Canada each winter and spend the season fishing before returning home. The tour begins at Boat Ramp #1 at 8:30AM, on the Fresno County side of the park, just east of Historic Fresno County Courthouse.
Visitors will board an interpretive barge operated by a State Park Ranger and travel out onto the lake. With the guidance of park staff and volunteers, visitors may be able to see a variety of eagles in their winter habitat.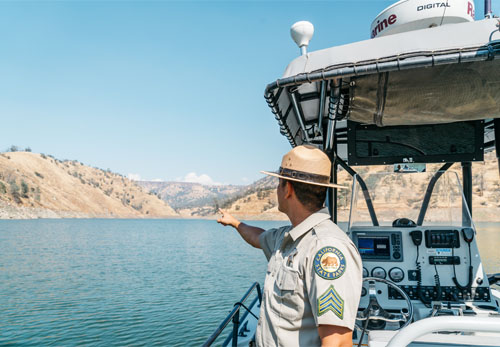 These birds have been migrating to this site for thousands of years," Biologist Michael Smith said. "More often than not while on a tour you're going to see several bald eagles." Binoculars and hot chocolate will be provided on the vessel.
Tours are $20/person, and occur every Saturday and Sunday in January, February, and half of March. Participants should wear warm, layered clothing. Space is limited and reservations are highly recommended as tours sell out each year. Special group pricing may be available. Call (559) 822-2332 or email millertonlake.eagletours@parks.ca.gov to reserve your tour.
Millerton Lake SRA Annual Bald Eagle Tours