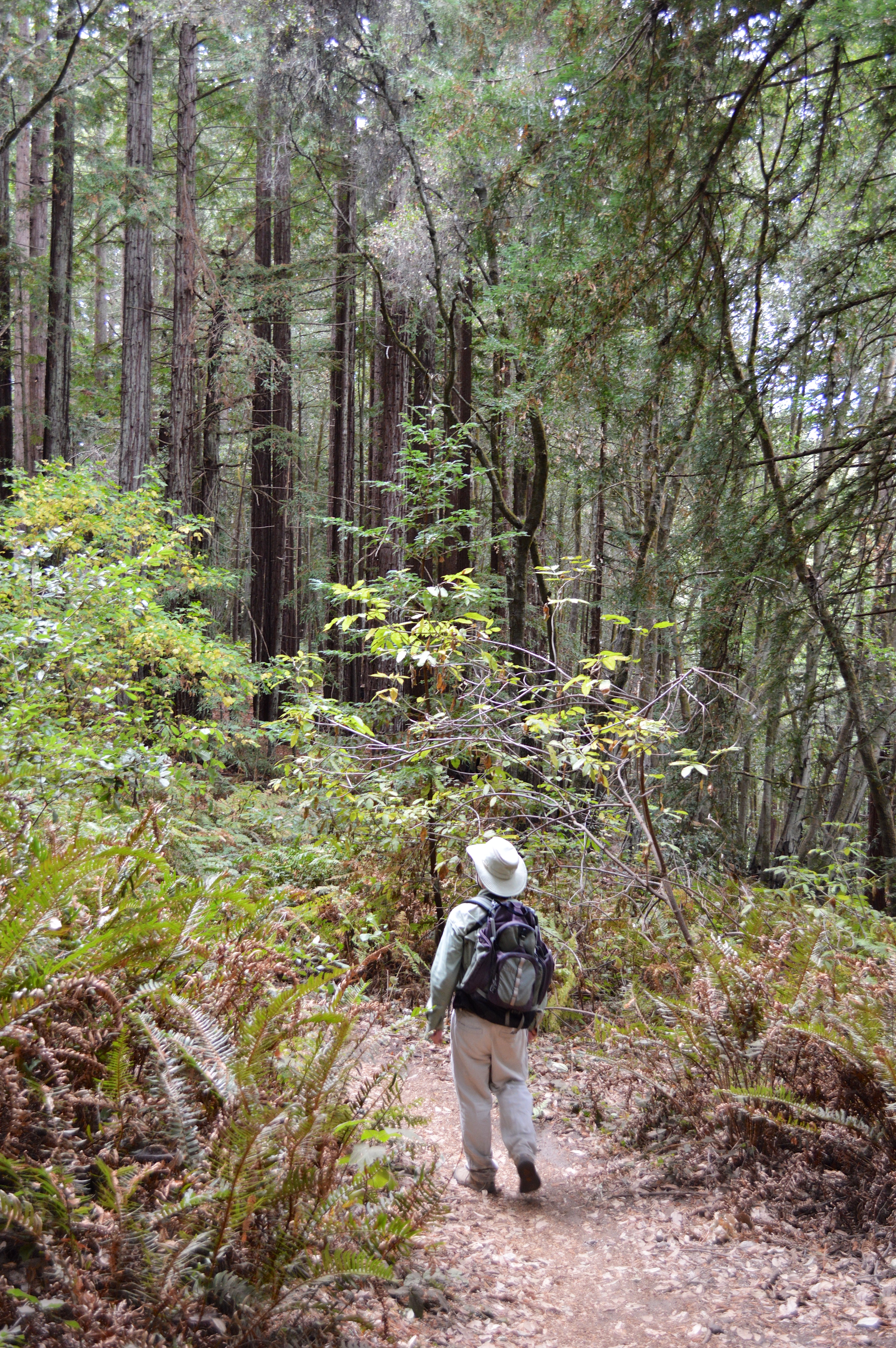 Trails starting at the parking lot and cultural preserve head in two directions: along the ocean bluffs and beaches and up into the hills and terraces of the backcountry. Redwoods can be found along the Old Cabin, Enchanted Loop, Woodcutters, Long Meadow, and Twin Oaks trails.

Hikers share all of Wilder's trails with bicyclists and most with equestrians. Maps are available in the park brochure (free) and in the visitor center ($5 for a topo map).
If you have an hour, picnic at the cultural preserve, explore the historic buildings, and say hello to the chickens and goats.
If you have half a day, hike down the Old Cove Landing Trail to the Ohlone Bluff Trail and have a picnic at Fern Grotto Beach. It's a world of spectacular views and wildlife, including pelicans, harbor seals, sea otters, dolphins, and migrating whales.
If you have a full day, hike, bike, or ride your horse through the grassy wave-cut terraces north of Highway 1 to the lush Enchanted Loop and see some of the park's hidden coast redwoods.
EASY HIKE
Old Cove Landing Trail to Ohlone Bluff Trail
Trailhead: Parking lot. 2.5 miles, mostly flat.
Head half a mile down Old Cove Landing Trail to the scenic overlook above Wilder Beach, a snowy plover preserve. Just beyond, you'll find Old Cove Landing, where schooners anchored in the 1800s. Continue along the coast on the Ohlone Bluff Trail to post 8, where there's a spur trail leading to Fern Grotto Beach. A quarter mile beyond the spur trail is Sand Plant Beach. From there, head downhill over the railroad track and back to the parking lot.
MODERATE HIKE
Wilder Ridge Loop
Trailhead: cultural preserve. 6.3 miles, elevation change 600 feet
From the cultural preserve, take the tunnel under Highway One to the Wilder Ridge Loop. In about two miles (hiking counterclockwise) you'll reach an overlook with stunning views of Monterey Bay. You can hike back from there for a 4-mile hike, or continue on to Twin Oak Trail where you can loop back onto Wilder Ridge for a 6-mile hike. You'll travel through rolling grasslands and chaparral past magnificent coast live oaks, with a few small redwoods and Douglas-fir along the creeks. Look for deer, bobcats, hawks, and turkey vultures along the way.
STRENUOUS HIKE
Destination: Redwoods
Trailhead: cultural preserve. 8 miles, elevation change 600 feet
Head up the Wilder Ridge Loop, then dip down beside Baldwin Creek on the Enchanted Loop, a single-track trail that showcases some of the park's finest (second-growth) coast redwoods, as well as elk clover, ferns, sorrel, and huge tanoaks. The quiet little ravine provides a nice contrast to the big views and wide-open spaces of the Wilder Ridge Loop.