Skyline to the Sea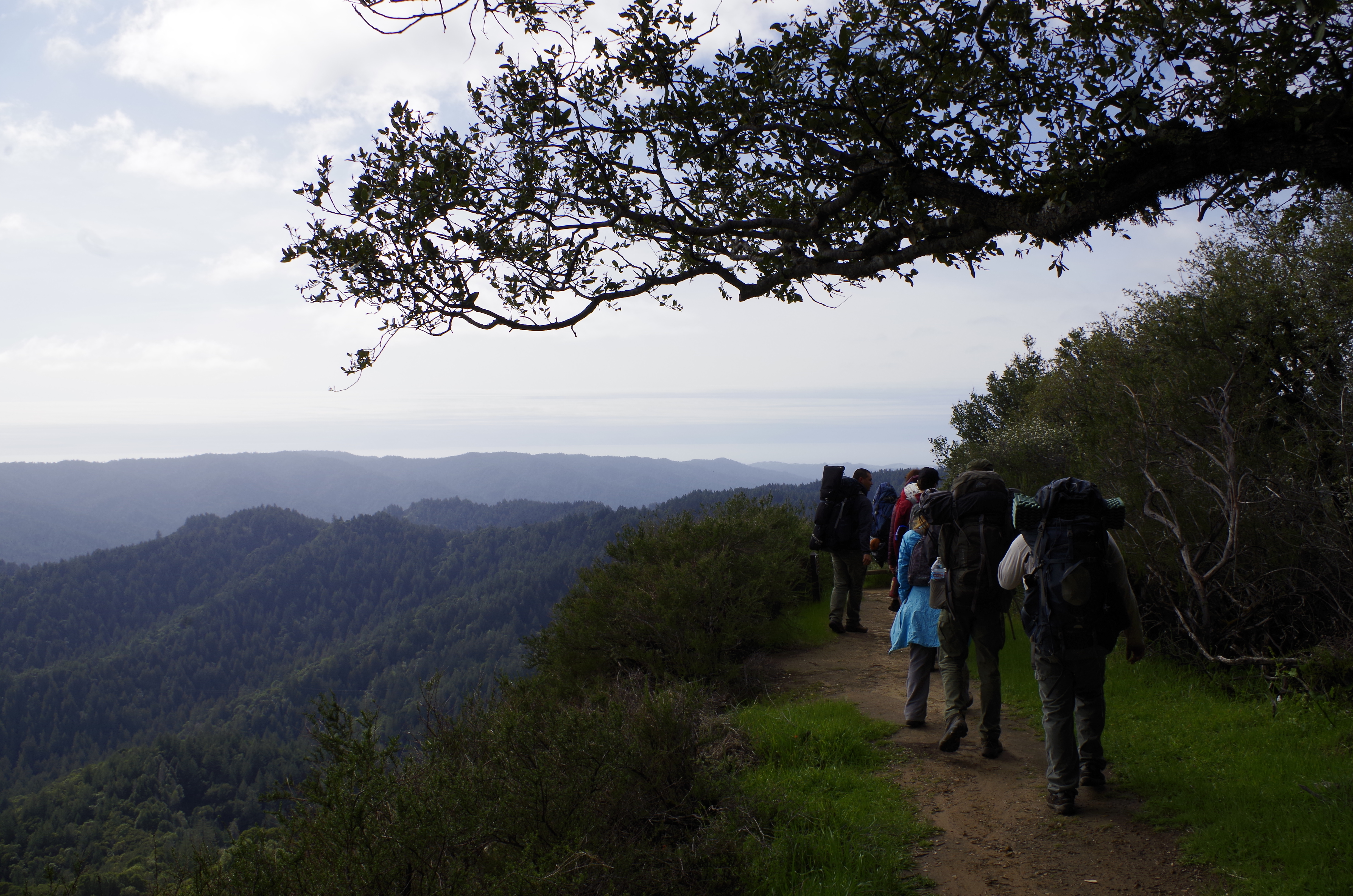 Due to immense public interest we are offering a SECOND Skyline to Sea trip this summer. This 3-night, 4-day outing from Castle Rock to Waddell State Beach takes you on the legendary journey that has been a favorite of backpackers for 40 years. This trek spans 30+ miles of stunning ridgeline panoramas, mixed oak, madrone and redwood forests, riparian habitats, grassy meadows, spring-fed waterfalls, ending on the soft sandy beach. Adventurers will hike up to 10 miles a day, up steep hills and over sunny ridges on this challenging trip. This is the quintessential Santa Cruz Mountains backpacking experience.
Cost: $300
Thursday August 15 through Sunday August 18, 2019
Difficulty: strenuous
Shuttle Location/Time: Shuttle to starting location departs from Waddell Beach at 7:30am*
Starting Location/Time: Castle Rock State Park Parking Lot; 9am
Ending Location/Time: Waddell State Beach; about 4pm
Total Mileage: approximately 33.5 miles
Day 1: Castle Rock Parking Lot to Waterman Gap Campground: approximately 10 miles
Day 2: Waterman Gap to Jay Camp** via Skyline Trail: approximately 10 miles
Day 3: Jay Camp to Sunset Camp: approximately 6 miles
Day 4: Sunset Camp to Waddell State Beach: approximately 7.5 miles
*An email with shuttle details will be sent one week prior to trip.
**Jay Camp is located in Big Basin Headquarters and facilities include a general store and showers.
Basic Trip Information
MILEAGE
All mileage is based on the 2015 edition of the Redwood Hikes map of the Bay Area. Some GPS and other personal trackers may provide alternative mileage results.
PHYSICAL REQUIREMENTS
Participants must be able to hike 2-3 miles/hour with a 20lb pack.
GEAR
WE provide:
- water filters
- hot water for AM/PM meals
- traditional teas
- *Shuttle between start and ending location for: Skyline to the Sea, Ridges to Redwoods, and Trek through Time.
YOU provide:
- transportation to starting location
- bring all your own food
- be able to hike up to 10 miles per day
- tent/sleeping bag/ sleeping pad
- all equipment on checklist
REQUIRED FORMS
To complete registration, it is mandatory to submit the Liability Release Form and the Photo Release Form(optional). To download these forms, please click here.
CHILDREN
Participation is open to adults 18 or over, and children ages 13 to 17 accompanied by a parent or guardian.
Cancellation Policy
A 50% refund will be issued if you cancel more than 60 days before your trip. Cancellations less than 60 days notice are NON REFUNDABLE.