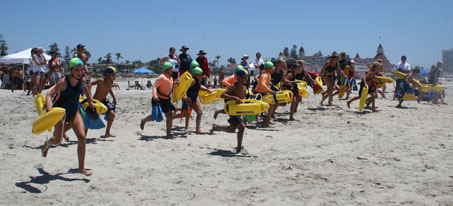 ---
Thank you for your interest in the Silver Strand Junior Guard Program!
NEW Junior Guard Participants:
It is mandatory for prospective Junior Guards to pass the tryout in order to qualify for the program. Parents must be present and complete a release of liability waiver in order for new particpants trying out for JG's. We will have the waiver at the tryout. If you are concerned about your child passing it is recommended to practice swimming prior to the test. Have a professional give you some tips. Do a 100 yard swim and see what the time is. This will give you an idea if they are ready.
*** Returning Junior Guards do not have to tryout! ***
---
PROGRAM LOCATION

Silver Strand Junior Lifeguard area is located by the tan storage bin with covered picnic tables directly in front of Restroom #1 on the beach side. When you enter the park we would appreciate you notifying the kiosk that you are transporting Junior Guards. You will also be given a Junior Lifeguard permit to place on the dashboard of your vehicle that should be visible to parking attendants. You will then be allowed to enter the park for no cost during the sessions hours. If you plan to stay after Junior Guards ends, you must pay the required day use fee for the park. Please be prompt in picking up your Junior Lifeguard.
---
PROGRAM HOURS

Monday - Friday
AM Session: 8:30 AM - 11:30 AM
PM Session: 12:00 PM - 3:00 PM

Lifeguard Youth Aides ("Assistants"): 8:00 AM - 4:00 PM
It is the sole responsibility of each parent to insure safe travel to and from the program for his or her child. California State Park Service and the Junior Lifeguard Program are not responsible for students outside scheduled program hours, or anytime a commercial carrier hired by the Program is not used for transportation. Parents are expected to be prompt in picking up their Junior Lifeguards. If for some reason you are unable to pick up you Junior Guard at the end of the program please send a signed note with your child in the morning releasing all liability to the California State Park and Junior Lifeguards. All instructors must be made aware if there are to be children remaining on the beach at the end of the day's program.
---
UNIFORMS
Junior Guard are required to be in uniform (sold at the test dates, parent meeting and during each session).
Boys: Navy blue swim trunks and white Junior Guard t-shirt.
Girls: Navy blue swimsuit and white Junior Guard t-shirt. If girls would like to wear shorts they must be navy blue in color and a running or board short material.
All: Red rash guard with JG logo. Rash guards are mandatory for all participants. They will be worn during all free swims, competition skills and vitamins. For identification purposes, please write your child's first and last name on it. Failure to bring the rash guard to the program may result in a loss of free swim.
Optional uniform items (highly recommended): Junior Guard sweatshirt, hats, and backpacks.
Junior Guard Aides: Red Junior Guard Youth Aide t-shirt and Youth Aide Rashguard (given during Youth Aide training).

Lifeguard Instructors: Instructors are distinguished from aides and students by their official California State Park Service red lifeguard swim trunks/swimsuits with lifeguard patch and navy blue official State Park Lifeguard t-shirts and jackets.
---