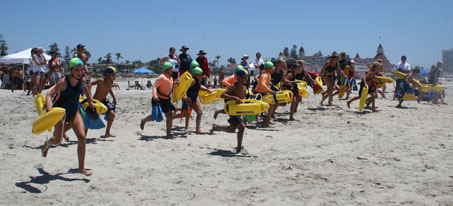 ---
Thank you for your interest in the Silver Strand Junior Guard Program!
Program Location
Silver Strand Junior Lifeguard area is on the ocean side just south of Tower 3. You will see picnic tables reserved for JG's in front of Restroom #1, directly between Parking Lot #1 & #2, as well as signs/cones on the beach distinguishing the JG area. You will be given a Junior Lifeguard paper parking pass to place on the dashboard of your vehicle that should be visible to LAZ parking attendants. You are allowed to enter and be in the park for no cost during the session hours. If you plan to stay after Junior Guards ends, you must pay the required day use fee for the parking.
---
Program Hours
It is the sole responsibility of each parent/guardian to ensure safe travel to and from the program for his or her child. California State Park Service and the Junior Lifeguard Program are not responsible for students outside scheduled program hours, or anytime a commercial carrier hired by the Program is not used for transportation. Parents are expected to be prompt in picking up their child/children. We ask that Instructors are made aware if there are to be children staying at the beach with an adult guardian/s after program hours instead of their typical pick up.
*See Session Information/Registration Tab for 2023 Session Dates/Times **Will be posted in March 2023
---
Uniform
-Uniforms will be sold during all of our scheduled Tryouts for both returning and new JG's. Please see the Tryout Info tab for exact dates/times. Location of uniform sales will be in the plaza area directly behind the main Lifeguard Tower.
-It is mandatory for Junior Guards to be in uniform everyday.
-Write the first and last name of the JG on all items, with a black permanent marker.
-Required Uniform:
Boys: Navy blue swim trunks, Junior Guard t-shirt, red rashgaurd with JG logo.
Girls: Navy blue swimsuit, Junior Guard t-shirt, red rashguard with JG logo, navy blue boardshorts (optional, recommended).
Optional uniform items (highly recommended): Junior Guard sweatshirt, JG hat or straw hat
Junior Guard Aides: Red Junior Guard Youth Aide t-shirt and orange Youth Aide Rashguard, navy blue swimsuit or trunks.

Lifeguard Instructors: Instructors are distinguished from aides and students by their official California State Park red lifeguard swim trunks/swimsuits and navy blue State Park Lifeguard t-shirts and jackets.
Bring the following daily:
-Fins (12 and older) -Sunscreen -Water -Food (lunch and snacks) -Sandals -Towel -Wetsuit (optional, recommended)
---
Notice Of Nondiscriminatory Policy
The California State Junior Lifeguard Program admits students of any race, color, national and ethnic origin to all the rights, privileges, programs, and activities generally accorded or made available to students at the school. It does not discriminate based on race, color, national and ethnic origin in administration of its educational policies, admissions policies, scholarship and loan programs, and athletic and other school administered programs.