Folsom Lake SRA Junior Lifeguards
Spring Session | Summer Session 1 | Summer Session 2 | Fall Session
---
JG Program Information | JG Tryout Information | JG Calendars | JG Uniforms | JG Assistant Program | JG Special Events
---
Handbook | Refund Policy | Tuition Assistance | Registration Instructions | Location | FAQ | Photographs
---
16 years or older? Become a State Lifeguard

REGISTRATION IS CLOSED FOR SUMMER 2021
Check back in March 2022 for Summer 2022 session information or join our email distribution list below.
IMPORTANT 2021 UPDATES:
Updated May 3, 2021
Hi Folsom Lake Junior Lifeguard Families,
For summer 2021, we will be hosting two 3-week sessions at our NEW junior lifeguard facility located at Negro Bar State Park. The completion of our JG facility could not come at a better time, given the expected low water levels on Folsom Lake this year. This season will look different than our typical seasons but we are hopeful that we can offer a spectacular and safe recreational opportunity for our junior lifeguards this summer. Space will be limited.
COVID GUIDELINES [AT A GLANCE]
This is just a glimpse at our COVID-19 guidelines that will be in place in accordance with county health guidelines. This guidance is subject to change. An in-depth guide on our procedures will be available soon.
Participants will be placed in cohorts/pods.
To the best extent possible, pods will not mix with other pods.
Participants & their parents will be required to complete a health screening each morning during check-in. This health screening will consist of temperature checks using a no-touch thermometer and questionnaire including confirmation that participants or members of their household have not been exposed to anyone who has tested positive for COVID-19.
Participants will not share equipment and equipment will be sanitized daily.
Participants will be expected to sanitize their hands throughout the day using hand sanitizer or washing hands at hand washing stations.
Masks will be required to be worn during low exertion activities. No masks will be used for water based activities, but social distances practices will be in place.
Masks and sanitization practices will not replace the need for six feet of social distancing between participants.
SUMMER SESSIONS 2021
Given new procedures & increased sanitation practices, our program hours will be adjusted. 2021 program hours will be 9:30 AM to 2 PM. Drop off procedures will take place between 9 AM and 9:30 AM.
Session One 2021
Session One: Monday, June 7th, 2021 through Friday, June 25th, 2021
**Session One Camping: Tuesday, June 22th through Friday, June 25th
Session Two 2021
Session Two: Monday, July 12th, 2021 through Friday, July 30th, 2021
**Session Two Camping: Tuesday, July 20th through Friday, July 23rd
Registration is closed for 2021 sessions.
CAMPING
Per the Folsom Lake Junior Lifeguard Handbook, all JGs must be accompanied on the camping trip by an adult. Folsom Lake Junior Lifeguard staff does not take responsibility for children outside of regular program hours. The trip is intended to give JGs an educated experience with the ocean environment, attendance is highly encouraged.
As a reminder, our program pays the fees for the group campsites for all families, booking private reservations is not required. RVs/Trailers will not be permitted in the group campsites.
TRYOUTS
Tryouts are required for all participants.
Visit our website for more information on what tryouts entails.
FREQUENTLY ASKED QUESTIONS
You can view answers to our frequently asked questions here.
We want to thank you for your involvement in the Folsom Lake Junior Lifeguard program.
Find us on Instagram and Facebook.
*Information is subject to change
Join our email distribution list to be included in all future communications regarding our program opportunties.
PROGRAM INFORMATION:
The Folsom Lake SRA Junior Lifeguard program's goal is to educate the community's youth (ages 8-16 years old) about aquatic safety and high quality outdoor recreation. Through extensive aquatic interaction, exploration, and recreation, the Folsom Lake SRA Junior Guards gain a well-rounded education that can be utilized on and off the beach. After three weeks of training on Negro Bar Swim Beach, each Junior Guard will have a heightened awareness and knowledge of Folsom Lake and its dangerous, yet wonderful, environment.




A typical day at Folsom Lake SRA Junior Guards starts with stretches and an assessment of the current lake conditions, which prepares them for the day's events. These events can include run-swim-runs, buoy swims, kayaking, paddleboarding, lectures on topics such as lifeguard skills (rescues and first aid), and shoreline games and activities. These events are designed to educate each Junior Guard on how to safely and effectively respond in the ever changing aquatic environment within the greater Sacramento area, and stresses the importance of a daily workout and maximizing the enjoyment of recreating within California's State Parks.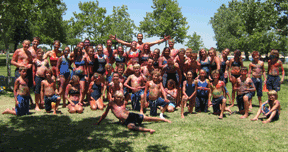 Each session will include a field trip to some local venues, such as rafting down the American River and touring the Nimbus Fish Hatchery.
Field trips and competitions are a great way to visit and learn about other aquatic environments and Junior Lifeguard programs. **For 2021, we will not be river rafting.


Every summer the State of California - Department of Parks and Recreation offers two three-week sessions held at Negro Bar swim beach . Demand is high for the limited number of spaces available so sign up early!
Location
Our program is held at the Negro Bar Swim Beach located on Lake Natoma.
Ages
Our program is open to children ages 8-16 with proficient swimming abilities. Swimming ability is a prerequisite to join our program. Children must be 8 years old by the start date of the session they are participanting in. All new participants must complete a swim tryout in open water prior to being accepted to the program. Please visit our tryout page for more information on tryouts.
Tuition
The program cost is $380 per child for our 4-week summer program with a $25 sibling discount for each additional child after the first, or $25 dual session discount for participants completing 2 or more summer sessions. To receive the sibling discount, you must enroll both child at the same time. If you enroll a second child later, email us at Folsomjrlifeguard@parks.ca.gov so we can process your sibling discount credit manually. If you are enrolled in 2 sessions, email us at Folsomjrlifeguard@parks.ca.gov and we will process your dual session discount manually as well.
Registration Information
All registration takes place on ReserveCalifornia.com. Links to our program registration are also provided here on our website when registration is open. Registration typically opens in March for the Summer Sessions. To prepare for registration, we suggest that you make a profile and add your child or children as a dependent before you go to register in the program. Use the registration page located to the right -> for more detailed instructions. If you have an account you utilized last year, please be sure to utilize the same account again this year.
Please feel free to contact us at folsomjrlifeguard@parks.ca.gov if you have any further questions or fill out the form below to be added to our email distribution list for updates on upcoming events and sessions.
Please review the rules and policies in our handbook before signing up to ensure an enjoyable summer for all.