Folsom Lake SRA Junior Lifeguards
Spring Session | Summer Session 1 | Summer Session 2 | Fall Session
---
JG Program Information | JG Tryout Information | JG Calendars | JG Uniforms | JG Assistant Program
---
Contact Us | Handbook | Refund Policy | Tuition Assistance | Registration Instructions | Location
---

IMPORTANT 2020 UPDATES:
Junior Lifeguard Families,
We are excited to be getting ready for the 2020 season. We will be offering two four-week programs at Beals Point in Granite Bay, California over summer, as well as one spring after school program.
Spring Session: Monday, March 2nd, 2020 through Thursday, March 26th, 2020
4:30 - 6:30 PM
Our Spring After School Session offers more advanced skills than the typical summer session. Spring session will be held at the Granite Bay Activity Center at the main Granite Bay entrance to the lake on Douglas Blvd. The program will run Monday through Friday from 4:30 - 6:30 PM from March 2nd through March 26th. We will be providing wetsuits for this session due to weather conditions. The spring session offers a lifeguard showcase to learn about the various duties State Parks Lifeguards get to do, as well as advanced skills in radio communication and medical response. Furthermore, interview skills and resume writing workshops will be included in the session followed by mock interviews to help JGs prepare for Assistant tryouts or State Parks Lifeguard tryouts.
Registration for the Spring session is open now! Register at ReserveCalifornia.com
Summer Sessions
Summer Session 1: Wednesday, June 3rd, 2020 through Tuesday, June 30th, 2020
Summer Session 2: Monday, July 6th, 2020 through Friday, July 31st, 2020
The program runs daily from 9am until 3pm.
We have done our best to accomodate local school district schedules as well as travel plans for 4th of July. Please be advised, we will not be offering a discount for school conflicts.
Additionally, please remember that the camping trip is not supervised by program staff and you will need to be in attendance with your child or make accommodations to have your child attend with another family if you wish for your child to attend the camping trip. The camping trip provides meaningful experience to teaching children about other water environments. The dates and location for the camping trip will be posted to the calendars page and are available on our facebook page.
We are working hard on getting registration and updated session calendars posted. You can expect this information to be available in early 2020. Please follow us on our social media, facebook at Folsom Lake Junior Lifeguards or instagram @Folsomjrlifeguards for alerts on when this information will become available.
Registration will open on Monday, March 2nd, 2020.
*Date subject to change
To prepare for registration, we suggest that you make a profile and add your child or children as a dependent before you go to register in the program. Use the registration page located to the right -> for more detailed instructions. If you have an account you utilized last year, please be sure to utilize the same account again this year.
As a reminder, all NEW Junior Guards are required to complete a tryout prior to the start of the session they are enrolled in. Please see our tryouts page for more details.
Please feel free to contact us at folsomjrlifeguard@parks.ca.gov if you have any further questions.
______________________________________________________
The Folsom Lake SRA Junior Lifeguard program's goal is to educate the community's youth about aquatic safety and high quality outdoor recreation. Through extensive aquatic interaction, exploration, and recreation, the Folsom Lake SRA Junior Guards gain a well-rounded education that can be utilized on and off the beach. After four weeks of training on Beals Point swim beach, each Junior Guard will have a heightened awareness and knowledge of Folsom Lake and its dangerous, yet wonderful, environment.




A typical day at Folsom Lake SRA Junior Guards starts with stretches and an assessment of the current lake conditions, which prepares them for the day's events. These events can include run-swim-runs, buoy swims, kayaking, paddleboarding, lectures on topics such as lifeguard skills (rescues and first aid), and shoreline games and activities. These events are designed to educate each Junior Guard on how to safely and effectively respond in the ever changing aquatic environment within the greater Sacramento area, and stresses the importance of a daily workout and maximizing the enjoyment of recreating within California's State Parks.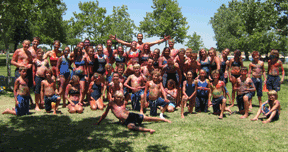 Each session will include a field trip to some local venues, such as rafting down the American River and touring the Nimbus Fish Hatchery.
Field trips and competitions are a great way to visit and learn about other aquatic environments and Junior Lifeguard programs.


Every summer the State of California - Department of Parks and Recreation offers two four-week sessions held at Beals Point swim beach . Demand is high for the limited number of spaces available so sign up early!

Please review the rules and policies before signing up to ensure an enjoyable summer for all.