Cuyamaca Rancho State Park CCC Features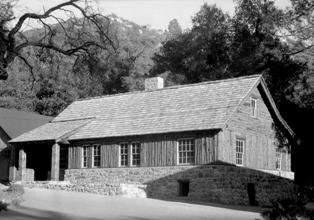 Cuyamaca Rancho State Park offers camping and hiking in an oak woodland forest, with a sprinkling of pines and lovely meadows with creeks. There are over 100 miles of trails which accommodate hikers, bikers, and equestrians. Cuyamaca Rancho two family camps: Green Valley and Paso Picacho.
Green Valley
sits at an elevation of 4,000 feet and has a creek which runs through the middle of the campground. The day use area offers sets of cascades and shallow pools, great for water play on hot days. Green Valley has 81 campsites.
Paso Picacho
, 5 miles north, sits at an elevation of 5,000 feet. The most popular hikes start from this camp, including the 2 mile hike up Stonewall Peak (elevation 5,700 feet), and the 3.5 mile hike up Cuyamaca Peak (elevation 6,512 feet), both which offer breathtaking views of the deserts to the east, the coast to the west, and Lake Cuyamaca at the bottom. Lake Cuyamaca, operated by the Helix Water District, is two miles north of Paso Picacho and offers boating and fishing. Paso Picacho campground has 85 campsites.
There were three periods of development at Cuyamaca Rancho. The park contains historic buildings that predate the park at Stone Wall Mine, CCC buildings and structures, and those constructed after World War II. While the CCC features are scatted in the campgrounds.

Cuyamaca Rancho State Park has these CCC features:
Fire Station, Nature Den, Stone Walls, Several Residences with Garages, Roads, Drainage Culverts, the Paso Picacho and Green Valley Falls Campgrounds


\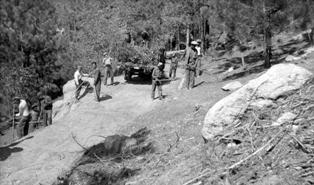 ---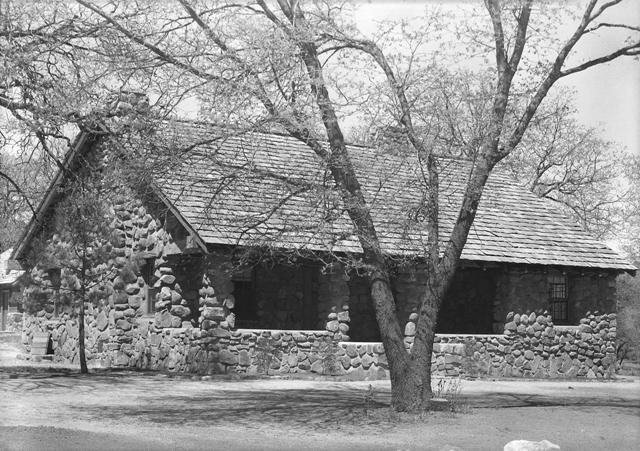 ---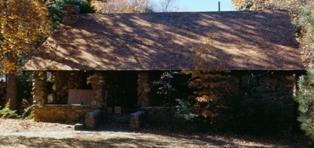 Park Information:

Cuyamaca Rancho State Park


12551 Highway 79
Descanso, CA 91916
760-765-3020
Visit Website:
http://www.parks.ca.gov/default.asp?page_id=667
---
Pictured: Top CCC built Warden's Residence at Green Valley Falls campground of Cuyamaca Rancho in 1935. Middle crew members hewing sugar pine into picnic table tops in 1934 and crew members clearing the roadside on a truck trail in 1934. Lower Warden's Residence at Paso Picacho campground in 1936. Bottom Warden's Residence at Paso Picacho today.