Bottle Type Collection Photo Gallery
Bottle Collection Photo Gallery
The bottles featured in the photo gallery depict a small portion of the entire collection at the SACRF. Types of bottles in the collection include: bitters, ale, beer, food, household items, ink, liquor, oil, patent medicine, perfumes, cosmetics, pharmacy medicine, snuff, soda water, wine, and champagne. The bottles assembled in this type collection are drawn from numerous extensive archaeological collections housed at SACRF, including Old Sacramento SHP, Fort Ross SHP, Columbia SHP, San Juan Bautista SHP, Old Town San Diego SHP, and Sonoma SHP. The majority of the bottles exhibited in the photo gallery were gathered from Old Sacramento SHP.

To learn more about a specific bottle, or to see the full-size image, click on the desired image.


---
Dr. Hostetter's Stomach Bitters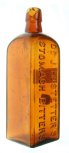 ---
---
---
---
---
---
---
---
Bordeaux Style Wine with Shoulder Seal


---
---
---
---
Horlick's Malted Milk Lunch Tablet


---
---
---
---
---
---
The Sanford Manufacturing Company


---
---
---
---
---