Light Station Grounds Tour
Virtual Grounds Tour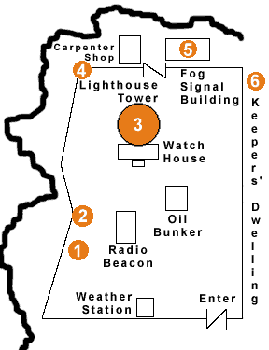 This is a self-guided virtual tour of one of the most beautiful lighthouses on the California coast. The tour covers six stops which outline the history of the area. Click on the links below or on the tabs to the right to enjoy your tour:

1. Punta de las Balenas
2. Prisoner Rock
3. Lighthouse Tower
4. Carpenter's Shop
5. Fog Signal Building
6. Lighthouse Keepers
7. Wind, Waves, and Whales


After your virtual tour, we hope you will come visit in person if you can. When you do, please stay on the paths to preserve plant growth. Keep inside the fenced area. The cliffs can collapse without warning, and the rocks and surf below are hazardous. Feel free to examine natural objects such as plants and rocks, but do not remove them.