For Immediate Release: 8/21/2019
California State Parks Commemorates 50th Anniversary of K-9 Program
Contact: Adeline Yee I Information Officer I (916) 651-8725

For more photos and videos, visit www.parks.ca.gov/K9Program
SAN SIMEON, Calif.— California State Parks is commemorating the 50th anniversary of its K-9 Program this year. The department highlighted the program's history and achievements, along with the people who have made it a success, at a special media event at Hearst San Simeon State Historical Monument (Hearst Castle) last Friday, August 16.
Eight K-9 teams from across the state showcased live demonstrations that included obedience, detection and protection skills. More than 80 State Park Peace Officers and a variety of other people have contributed to the K-9 Program over the past five decades.
"California State Parks is proud of the K-9 Program's success in the past 50 years," said James Grennan, Public Safety Superintendent for San Luis Obispo Coast District and K-9 Program Coordinator. "Our dedicated and loyal canines are an amazing deterrent for our peace officers as they patrol the parks. We look forward to continue honoring our department's mission of protecting not only our staff and visitors, but also our most valued natural and cultural resources."
In 1969, State Parks rangers did not have full police powers nor were they armed, and could only enforce park rules and regulations. Because the rangers were typically working by themselves at night when making enforcement contacts, the department felt that a K-9 would be a very beneficial and protective tool for the rangers. A dog trainer named Joe Simpson trained State Parks' first K-9, Sam. Originally trained as a guide dog, Sam possessed skills later determined to be a better fit as a K-9 with California State Parks.
The job of a State Parks K9 handler is a unique one requiring special dedication and commitment. Today, California State Parks' peace officers have full police powers and all K-9 teams adhere to Peace Officer Standards Training (POST) guidelines. They qualify annually in both patrol and detection. The K-9s also receive training each month to maintain their skills as well as training with other law enforcement agencies. State Parks now has 17 K-9 teams throughout the state that provide a protective tool for both handlers and visitors.
Our K-9 teams work with local, state and federal agencies on special events such as the Amgen Tour of California, large-venue music concerts, protests and dignitary events requiring detection sweeps.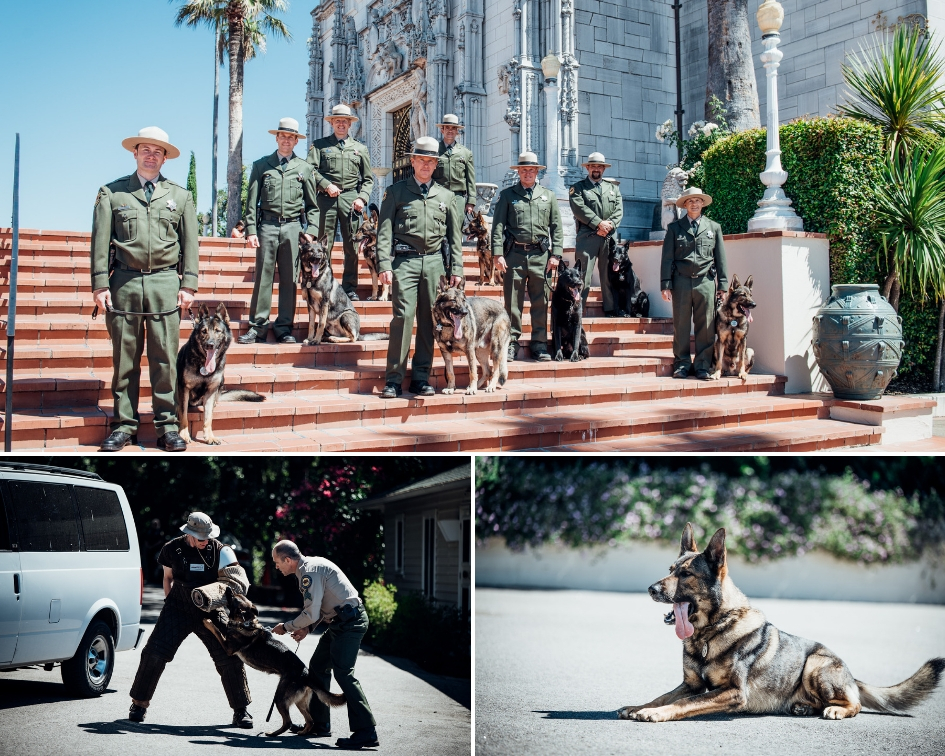 Photos from the commemoration of the 50th Anniversary of State Parks' K-9 Program at Hearst Castle on August 16, 2019. Top (left to right): Officer Iain Beveridge and Storm, Officer Mike Gleckler and Armin, Officer Chris Hendricks and Janko, Officer Martin Gilbertson and Miro, Officer Sasha Wessitsh and Ben, Officer Brett King and Artos, Officer Jason Rule and Khan, and Officer Daniel Gant and Bodie. Bottom left: K-9 Ben demonstrates his suspect apprehension skills. Bottom right: K-9 Bodie waits for his command during his obedience demonstration.
Here is a list of our K-9 teams and the areas they patrol: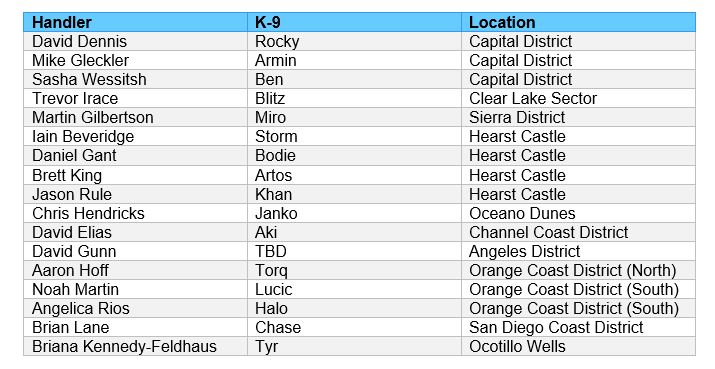 To learn more, visit www.parks.ca.gov/K9program.
###
---
Subscribe to California State Parks News via e-mail at NewsRoom@parks.ca.gov
California State Parks provides for the health, inspiration and education of the people of California by helping to preserve the state's extraordinary biological diversity, protecting its most valued natural and cultural resources, and creating opportunities for high quality outdoor recreation.