For Immediate Release: 5/1/2023
California State Parks Honors its Newest Peace Officers at Law Enforcement Academy Graduation Ceremony
Contact:
Adeline Yee, Information Officer
Newsroom@parks.ca.gov
Link to Video
SACRAMENTO, Calif. — California State Parks graduated 30 cadets (29 rangers and one lifeguard) on Friday, April 28, who will "Live the Parks Life" in the country's largest state park system. Since the Basic Visitor Services Training (BVST) Academy began on September 19, 2022, this class has stayed committed to their responsibility as keepers of the state's most valuable natural and cultural resources as they advance to the next stage of their careers.
"Integrity is the foundation of law enforcement… graduates have a commitment to public service, dedicating themselves to our natural and cultural resources and the communities that enjoy these lands and waters," said State Parks Director Armando Quintero before the graduating class. "You must be willing to put yourself and your own safety at risk to protect the safety of others… I hope that your careers are rewarding, your lives are rich with community and love, stay safe and I look forward to seeing you in the parks."
After spending 32 weeks in the academy, the cadets received their badges and formally became State Park Peace Officers with their family, friends, and department staff serving as their audience both in person in Paradise, California and remotely.
As peace officers, they will serve, protect, and educate visitors to California's 280 state parks, while protecting the state's most significant natural and cultural resources. This year's class of 30 cadets was chosen from a field of more than 400 applicants.
Graduates of this class will be stationed throughout the state, such as in the Sierra, Bay Area, Central Valley, San Diego, and Inland Empire districts.
Cadet training included lessons in strategic communication, physical arrests, investigations, search and rescue operations, defensive tactics, de-escalation, and firearms use. Cadets also received training in visitor services, public education and interpretation, park resource protection and management, and first aid. Students are mentally, morally, emotionally, and physically prepared to enter and successfully complete the Field Training Officer Program, which consists of 13 weeks of on-the-job training.
Want to "Live the Parks Life"?
State Parks is currently accepting applications for the 2024 State Parks Peace Officers Cadet Academy exam. The deadline to apply is Saturday, June 10, 2023.For more information on the academy and minimum requirements, including frequently asked questions and a general timeline of the recruitment cycle, please visit www.LiveTheParksLife.com and click on the "State Park Peace Officer Cadet Selection Process" link. Interested applicants can also email recruiting@parks.ca.gov with questions.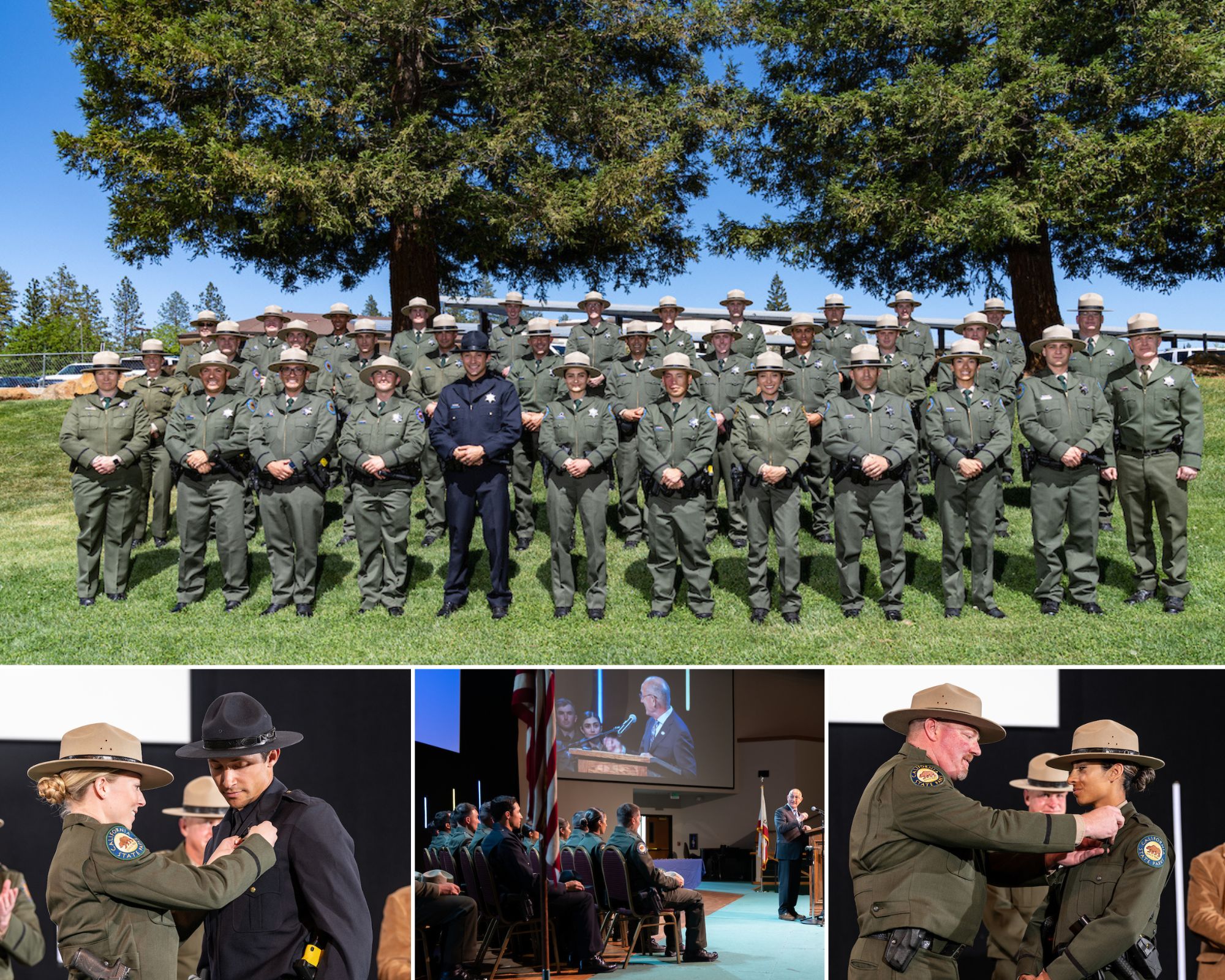 Top: State Parks' newest class of Peace Officers at the graduation on Friday, April 28, 2023, in Paradise, California. Bottom left: State Park Peace Officer (SPPO) Haley Lubben pins graduate and salutatorian Gabriel Del Castillo. Bottom middle: State Parks Director Armando Director speaks before the graduating class. Bottom right: Chief Law Enforcement Executive Officer Jason De Wall pins graduate Giselle Barrios. Photos from California State Parks.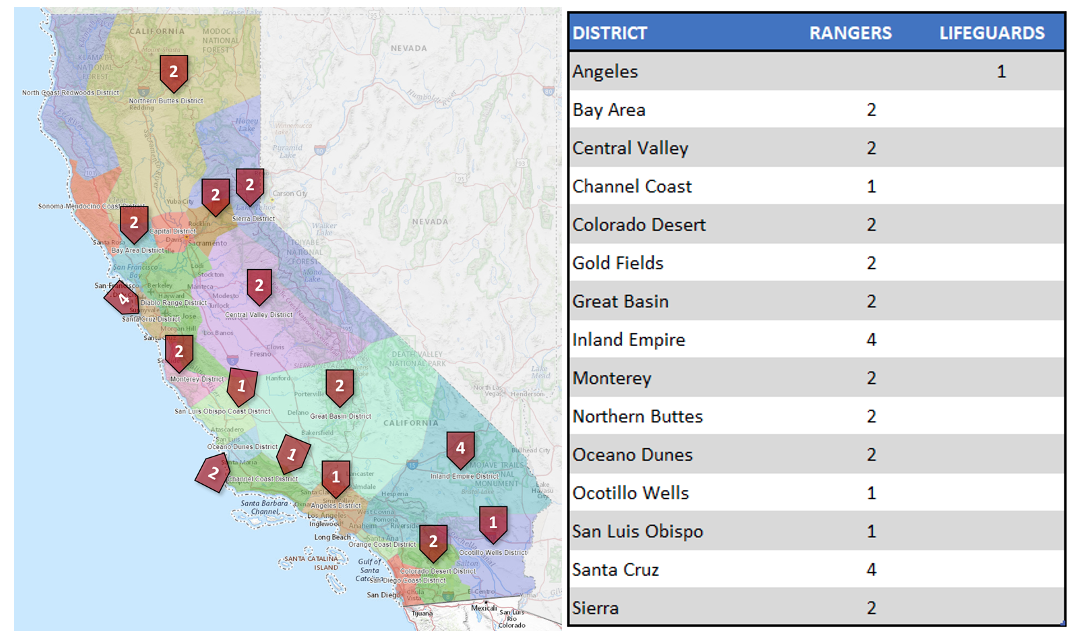 The map and table above show where the new graduates will be stationed throughout the state.
---
Subscribe to California State Parks News via e-mail at NewsRoom@parks.ca.gov
California State Parks provides for the health, inspiration and education of the people of California by helping to preserve the state's extraordinary biological diversity, protecting its most valued natural and cultural resources, and creating opportunities for high quality outdoor recreation.