For Immediate Release: 4/25/2023
Malibu Creek Ecosystem Restoration Project Advances to Pre-construction, Engineering, and Design Phase
Contact: For California State Parks: Richard Van Sant I Rindge Dam Project Manager I (818) 912-9480
For California Trout: Judi Uthus I Public Engagement Specialist I (805) 322-4813
California State Parks announced today the start of the pre-construction, engineering, and design (PED) phase of the Malibu Creek Ecosystem Restoration Project, located within Malibu Creek State Park in the Santa Monica Mountains, Los Angeles County. The department, along with a team of consultants and partners from McMillen, LLC, Stillwater Sciences, California Trout (CalTrout) and others will conduct baseline biological surveys, hydrology/hydraulic modeling and flood risk assessment, engineering plans, environmental permitting, public outreach, and other project studies to advance the project to a 90% level of design.
"The Malibu Creek Ecosystem Restoration Project is a critical priority for State Parks, our partners, and the community. The project helps preserve California's unparalleled biodiversity, increases and reconnects critical habitat, and mitigates the impacts of climate change," said State Parks Director Armando Quintero. "We are proud to lead this significant restoration project that will protect the heart of Malibu Creek State Park and Malibu's famous beaches. We look forward to this next phase of close collaboration with our project technical team members and community partners to achieve this monumental State Parks-led project."
The project involves the removal of the decommissioned Rindge Dam along Malibu Creek, removal of approximately 780,000 cubic yards of sediment behind the dam, and modification/removal of eight upstream barriers along Las Virgenes and Cold Creeks within the Malibu Creek watershed. When completed the project will restore creek ecosystem functions and increase habitat connectivity, including opening 15 additional miles of stream habitat for the endangered southern California steelhead (Oncorhynchus mykiss), improve climate resiliency, and restore natural sediment transport processes that will nourish our beaches with vital sand. The project will also improve public safety by removing the obsolete dam where serious injuries and fatalities have occurred from park visitors jumping off the dam's spillway.
Removing the dam and barriers will not only help the recovery of southern California steelhead but benefits countless other species.
"By reconnecting Malibu Creek and its tributaries located high in the Santa Monica Mountains to Malibu Lagoon, this project implements a rare opportunity for Summit-to-Ocean restoration within an undeveloped canyon remarkably close to downtown Los Angeles. Restoration will support recovery of Southern steelhead and benefit countless other local species," said Curtis Knight, executive director of California Trout. "CalTrout is proud to move forward on this project alongside our partners and the public. We look forward to a future where people, fish, and the broader community can enjoy the benefits of this project."
The project began in 1992 when the U.S. House of Representatives commissioned the Malibu Creek Ecosystem Restoration Feasibility Study to improve the Malibu Creek watershed and Malibu shoreline. The U.S. Army Corps of Engineers (USACE) and State Parks co-led a dam removal alternatives study, with participation from federal, tribal, state, and local partners and neighboring communities. In November 2020 State Parks and USACE completed a joint integrated feasibility report with environmental impact statement/environmental impact report outlining project impacts, alternatives, and a preferred project. From the alternatives presented, State Parks selected the locally preferred project alternative, favored by countless participating groups, to proceed to the PED phase.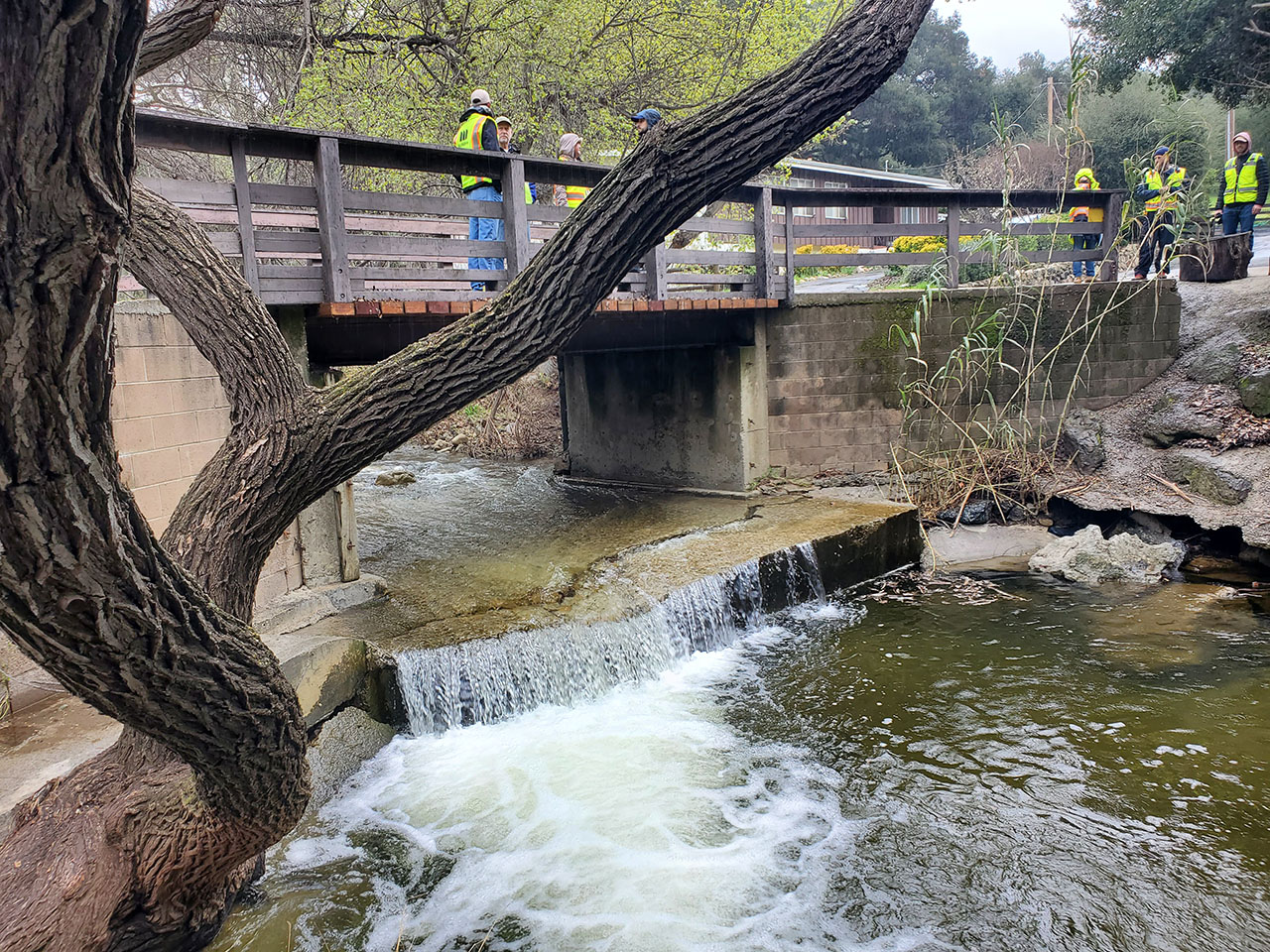 One of the stream crossings along Cold Creek will be replaced/modified to allow better passage for aquatic species, including southern California steelhead.
The target date for completion of the PED phase is March 2026. The project is estimated to create 1,887 jobs statewide and $157 million in gross regional product during the construction phase.
The positive outcomes from the project make it important to support, according to Julie Turrini, who leads the Open Rivers Fund—a philanthropic program of Resources Legacy Fund (RLF) focused on dam removal and river restoration in the American West—that has provided support for the project over the past several years.
"Removing Rindge Dam means getting rid of an obsolete dam that has become a significant safety hazard to the community and park visitors, while opening up nearly 20 miles of quality habitat for an important endangered species and helping restore some of the most famous beaches in the world. That's a pretty great set of results to come from one project and RLF is thrilled to be part of this collaborative effort," said Turrini.
A public workshop is being scheduled in the coming months to provide project information and invite public feedback, comments, and questions on the PED phase.
Additional community events will be added for public and student education. These will include community outreach programs about ecosystem restoration. In consultation with the Pipimaram (Fernandeño Tataviam), mitsqanaq'n (Ventureño Chumash) and Tongva (Gabrielino) people, information will be shared about their traditional lands and cultural legacies. The project will also create an interpretive site at the Sheriff's Overlook on Malibu Canyon Road to share with the public the transformation of Malibu Creek and document the historical significance of Rindge Dam.
To obtain more project information, including future dates for the public workshop, visit www.parks.ca.gov/MCERP. To sign up for email notifications or for questions about the project email restoremalibucreek@parks.ca.gov.
Funding for the PED phase of the project was included in the 2021-22 State Budget through a grant administered by the Wildlife Conservation Board. Additional funding has been provided by RLF.
---
Subscribe to California State Parks News via e-mail at NewsRoom@parks.ca.gov
California State Parks provides for the health, inspiration and education of the people of California by helping to preserve the state's extraordinary biological diversity, protecting its most valued natural and cultural resources, and creating opportunities for high quality outdoor recreation.