For Immediate Release: 6/1/2022
California State Parks Seeks Public Input on Design Guidelines for Proposed Hotel Development in Old Sacramento State Historic Park
Contact:
Doug Johnson, Information Officer
Newsroom@parks.ca.gov
SACRAMENTO, Calif.— California State Parks is seeking public input on design guidelines that will inform a proposal to develop an historically appropriate hotel in Old Sacramento State Historic Park (SHP). The project presents a rare opportunity to introduce new uses into the park that will attract both visitors and local residents to the area, tell a broader and inclusive story about the early days of California's Gold Rush, and enhance Old Sacramento's long-term viability as a commercial, entertainment, educational, tourist, and community destination.
Old Sacramento Historic District has the distinction of being a National Historic Landmark and State Historical Landmark of significance to California's Gold Rush. The historic site once served as a major distribution point; commercial and agricultural center; as well as terminus for wagon trains, stagecoaches, riverboats, telegraph services, the pony express, and the transcontinental railroad.The 28-acre state historic park was established in 1966 at the same time redevelopment of the adjacent, privately-owned and operated buildings was underway. The park's purpose for the proposed hotel develeopment is to collect, preserve, study, restore, reconstruct, exhibit, and interpret this history for the education, recreation, and enjoyment of park visitors.
The proposed project aligns with State Parks' goals to better serve the growing and diverse park visitor population and improve the educational, cultural, and historical vitality of Old Sacramento, as outlined in the Old Sacramento State Historic Park General Plan, amended in 2014. The proposal also aligns with the City of Sacramento's Destination Sacramento and Waterfront Idea Makers programs, which are intended to promote visitation to Old Sacramento and attract more local residents to the area.
Over the past year, State Parks has worked with local historic preservation, architecture, planning, and design firm, Page & Turnbull, Inc. to develop a series of conceptual studies for the design and programming of the proposed hotel site. The public can explore these conceptual studies at hotelstudyoldsacramento.com.
State Parks is hosting a workshop to seek public input on the proposed project, including the design and programming of the new hotel.
The workshop will be on June 16th from 6 – 8 p.m. To review State Park's proposals and register for the public workshops, visit hotelstudyoldsacramento.com.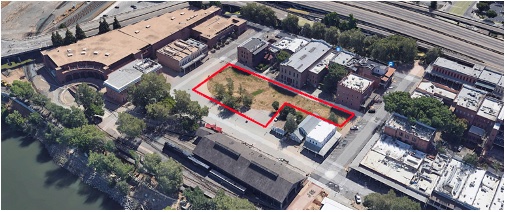 Views of Old Sacramento SHP project site (above) and aerial view of the red outlined proposed project site(below). Photograph from Page & Turnbull, Inc., Aerial from Google Earth.
---
Subscribe to California State Parks News via e-mail at NewsRoom@parks.ca.gov
California State Parks provides for the health, inspiration and education of the people of California by helping to preserve the state's extraordinary biological diversity, protecting its most valued natural and cultural resources, and creating opportunities for high quality outdoor recreation.