Update (April 29, 2021)
: As State Parks increases access to the State Park System, it is critical that Californians continue to recreate responsibly in the outdoors as the pandemic is far from over. The public is advised that not all campground sites are open to the public due to the pandemic, wildfire impacts and other issues. Day use outdoor areas of park units currently open to the public remain open.
Please take the time to read the information contained on this webpage to find out what is open and closed, and the COVID-19 guidelines for this park unit.
What is open now?
Most trails are open. Any areas with standing water or mud are closed at the park.
Restrooms are open.
The California Explorer Vehicle Day Use Annual Pass (Hangtag):

May be purchased at 4477 Pacific Highway M-F 8:30 am -12:00 pm; 1:00 pm - 4:00 pm.
May be purchased at 2680 Carlsbad Blvd M-TH 9:00 am -12:00 pm; 12:30 pm - 4:00 pm.
May be purchased online at the California State Parks Store for delivery to your home or office.

Pedestrian access to Monument Mesa is open. Friendship Circle is closed. Be advised that Friendship Circle is operated by U.S. Customs and Border Protection. Please scroll down to see more information on Access to the Border Monument at Friendship Circle.


What is currently closed at this park and throughout the State Park System?

At this park:
The park is closed to vehicular access.
There is no access to Friendship Circle from Border Field State Park. Friendship Circle is operated by U.S. Customs and Border Protection.
Statewide:
Some park units and campground sites continue to be temporarily closed due to the pandemic, impacts from wildfires or other issues. Please visit the webpage of your local outdoor destination to find out if it is open.
Special events and tours continue to be canceled until further notice.
Are there any new visitor guidelines?

State Parks has implemented the following guidelines to reduce the risk of exposure to COVID-19 in the outdoors:
Plan Ahead:

The ongoing pandemic response continues to be dynamic and fluid. Prior to leaving home, check the webpage of your outdoor destination you plan to visit to find out if it is open, if parking is available, and what visitor guidelines are in effect.
Learn what safety precautions you should take when exploring the outdoors at parks.ca.gov/SafetyTips.

Stay Safer at Six Feet: No matter the recreational activity, maintain a physical distance of six feet or more. Your guests should only include those within your immediate household. This means no guests or friends, and no gatherings or parties. If there are too many people to maintain the required physical distance, please visit us on a different day.

Boating: Do not raft up to other boaters or pull up onto a beach next to other recreators.
Off-highway Vehicle Recreation: Do not ride next to others or pull up next to someone else as it could put you in close proximity to others. Stage 10 feet or more from each other during unloading and loading.

Keep Clean: Be prepared as not all services may be available. Some restrooms will be temporarily closed to keep up with cleaning schedules. Bring soap/hand sanitizer. Please pack out all trash. Park units are experiencing heavy use and you can help alleviate the impact on park facilities.
Stay Covered: The state requires you to wear a face covering when you cannot maintain a physical distance of six feet or more. Individuals must have a face covering with them at all times.
Although law enforcement entities have the authority to issue citations, the expectation is that the public is responsible for adhering to the advice of public health officials, visitor guidelines and closures.
California State Parks continues to work with local and state officials on a phased and regionally driven approach to increase access to state park units where compliance with state and local public health ordinances can be achieved. However, the situation remains fluid and park operations can change at any time. For information on statewide current closures and available services, please visit
parks.ca.gov/FlattenTheCurve
.
Phone Number
(619) 575-3613
Park Hours
No hours listed.
Dogs Allowed?
Yes
Dogs allowed only in parking lot on Monument Mesa and picnic area. Dogs not allowed on roads or trails.
Driving Directions to Border Field SP
The park is located 15 miles south of San Diego via I-5, Dairy Mart and Monument Roads.


Online reservations are not available for this park.
Upcoming Park Events
No events scheduled at this moment.
TRAIL USE
Bike Trails
Hiking Trails
Horseback Riding

DAY-USE ACTIVITIES & FACILITIES
Historical/Cultural Site
Picnic Areas
Env. Learning/Visitor Center
Exhibits and Programs
Interpretive Exhibits
Beach Area
Vista Point
Nature & Wildlife Viewing
Windsurfing/Surfing
Family Programs

OTHER FACILITIES & VISITOR INFORMATION
Parking
Restrooms
Drinking Water Available

Trail Information
---
The roads and trails in Border Field State Park may be flooded with sewage contaminated water and mud. The wet and muddy areas are closed. Stay on established trails. Do not walk off-trail or enter closed areas. See map and QR code below for current road and trail information.
Los caminos y senderos en el Parque Estatal Border Field pueden estar inundados con aguas residuales no tratadas y lodo contaminado. Las áreas húmedas y lodosas están cerradas. Manténgase en los senderos establecidos. No se salga del camino ni entre áreas cerradas. Véase abajo el mapa y código QR para información actual sobre la carretera y los senderos.
Closed trails | Senderos cerrados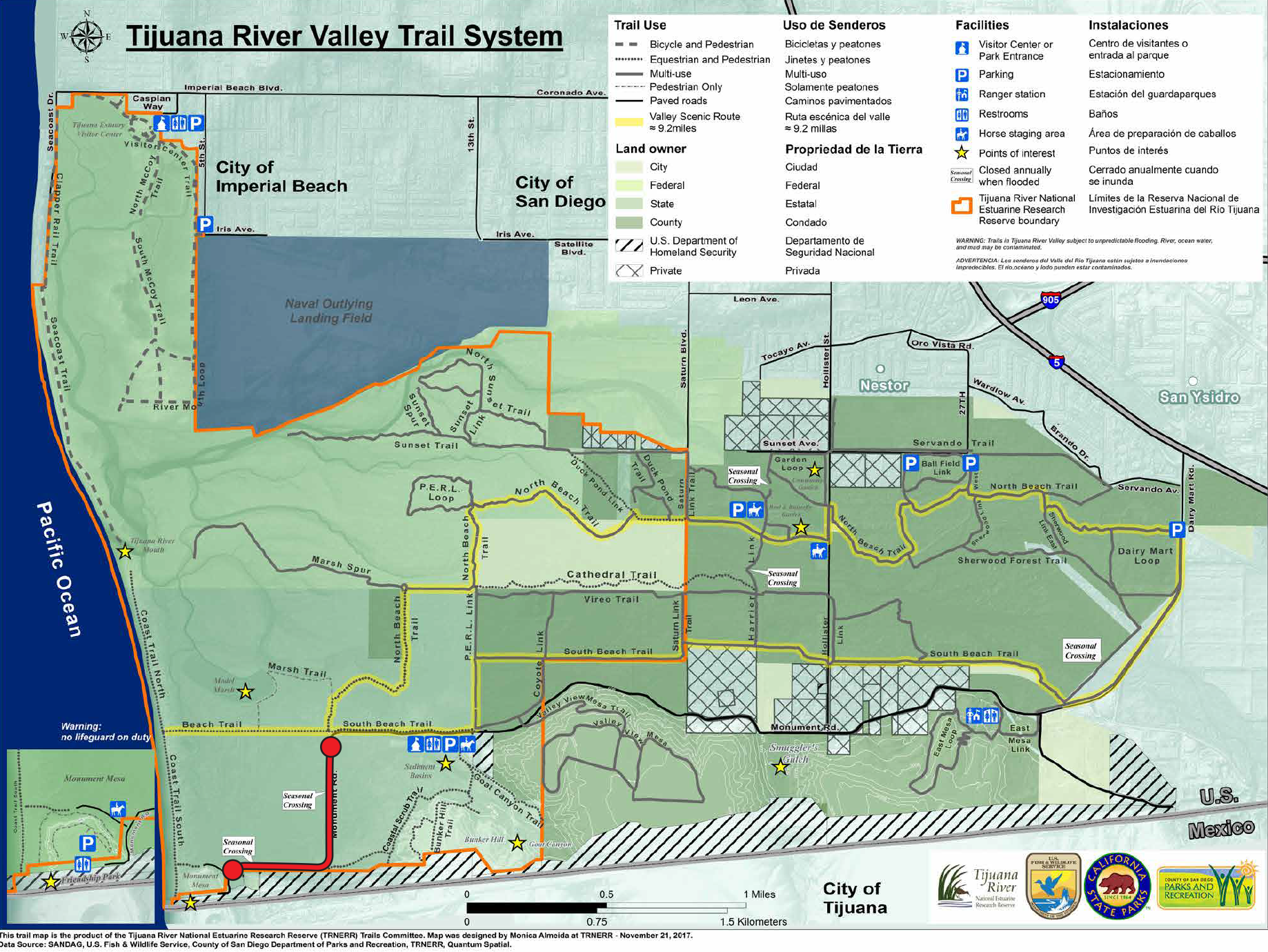 Border Field State Park
Located within the Tijuana River National Estuarine Research Reserve, Border Field State Park sits in the very southwestern corner of the United States, 15 miles south of San Diego. This important wildlife habitat, comprised of sand dunes and salt marshes, gives refuge to critically threatened and endangered birds such as the Western Snowy Plover, the California Least Tern, and the Light-footed Ridgway's Rail.
The park provides restrooms, picnic areas, barbecues, horse corrals, interpretive displays, and scenic views across the beach and estuary. Visitors enjoy hiking, horseback riding, photography, and bird watching along the 1.5 mile stretch of beach and inland trails. The Park does not recommend swimming or wading, due to hazardous conditions, such as inshore holes, rip currents, and the lack of lifeguard service within the Park.

Border Monument number 258 can be viewed from Monument Mesa, however there is no close access because it is now behind two border fences. You can still see the bunkers which were leftover from World War II. Read more about the history of this area.


Access to the Border Monument at Friendship Circle
Friendship Park is currently closed. For more information, please contact the Border Patrol Public Information Office: 619-216-4182.
Enjoy!
If you are new to the area, or if you just haven't ventured this far south, you will have a unique experience where these two countries meet. It is interesting and educational but more than that, it is a delightful way to spend an active or relaxing day surrounded by the breeze and the beauty of the sea.
cvxcvxcv