San Juan Bautista State Historic Park
UPDATE (March 31, 2020):
This park is temporarily closed to vehicular access.
The park remains open for locals who wish to walk, hike and bike (in parks with bike trails) in the park, provided they practice social/physical distancing of 6 feet or more. This is not the time for a road trip to a destination park or beach.
In an effort to prevent visitation surges and help stop the spread of the coronavirus (COVID-19), State Parks has implemented the following safety measures to date:
Closed some parks, meaning all trails and restrooms within these parks are closed.
Closed vehicular access at remaining parks, including for off-highway vehicle riding.
Closed all campgrounds, museums and visitor centers.
Cancelled all events.
A list of closures is available online at
parks.ca.gov/FlattenTheCurve
. The list is dynamic and updated on a regular basis.
Phone Number
(831) 623-4881
Park Hours
Day Use Area 10:00am to 4:30pm
Driving Directions to San Juan Bautista SHP
The park is located in the city of San Juan Bautista, on Highway 156, 3 miles east of Highway 101, 7 miles west of Hollister.


Online reservations are not available for this park.
Upcoming Park Events
No events scheduled at this moment.
DAY-USE ACTIVITIES & FACILITIES
Historical/Cultural Site
Picnic Areas
Exhibits and Programs
Guided Tours
Interpretive Exhibits
Museums
Family Programs

OTHER FACILITIES & VISITOR INFORMATION
Parking
Drinking Water Available

Alert for San Juan Bautista State Park
All high public-use indoor facilities in the state park system have been closed, including the museums in this park. However, the park's Jail House Lot and the Settler's Cabin day-use area remain open. Visitors are reminded to practice social distancing and maintain at least 6 feet between other visitors and anyone who is coughing or sneezing. Day-use restrooms remain open, and visitors are advised to bring soap for hand washing and to use alcohol-based hand sanitizers when water is not available.
The park is part of a nationally recognized historic landmark adjacent to California's 15th Spanish era mission. The park and its Plaza represent what was once the "town square" of the largest town in central California and a vital crossroad for travel between northern and southern California. Visitors can gain an appreciation of California's people, from Native Americans through the Spanish and Mexican cultural influences, right up to the American period in the late 19th century.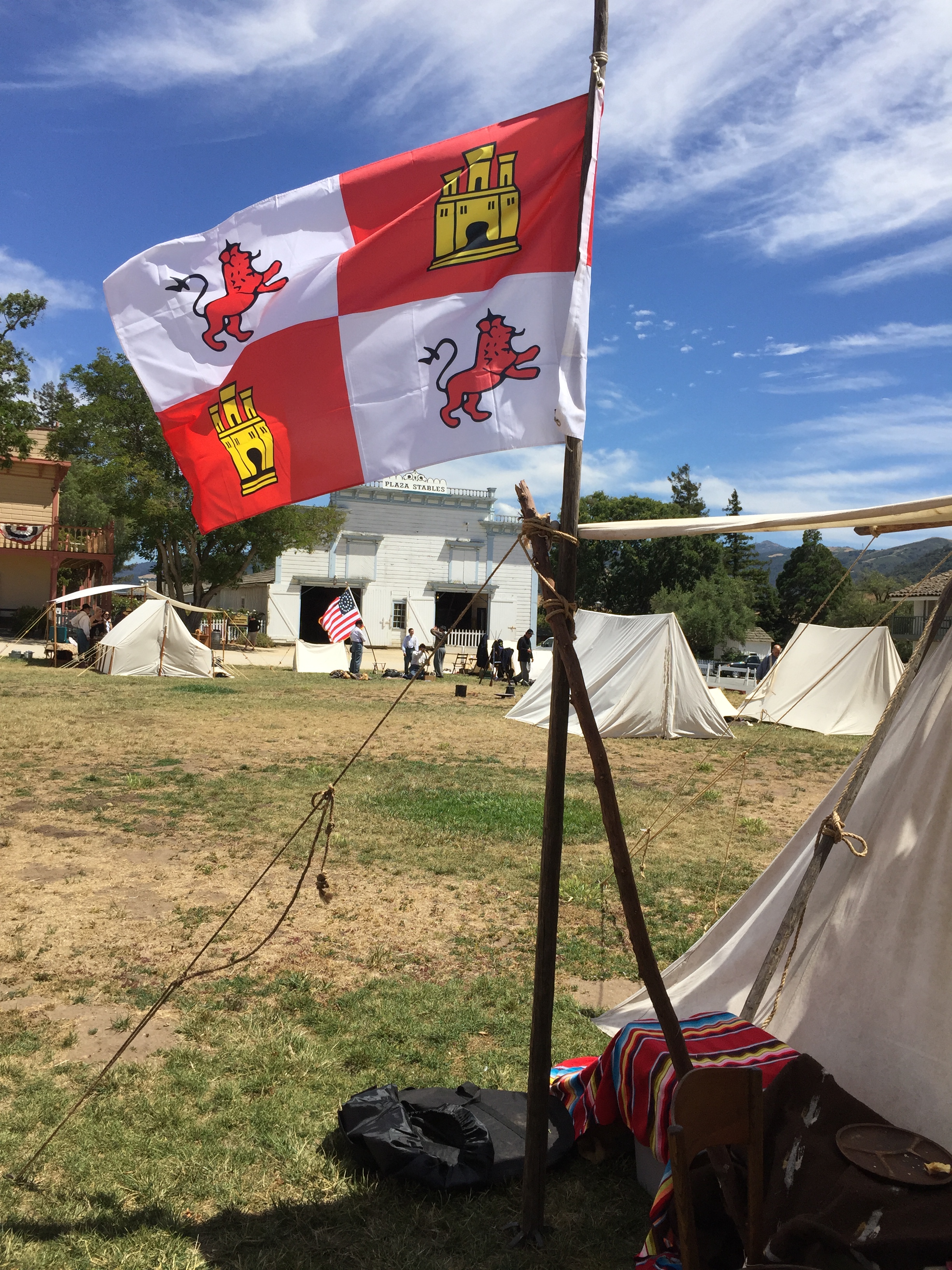 The park includes several structures built in the 1800s. The four main historic museums are the Plaza Hotel, the Zanetta House/Plaza Hall, the Plaza Stables, and the Castro-Breen Adobe. Many of the interiors are furnished vignettes or colorful and informative exhibits that help create a unique learning environment for people of all ages. The park also features a blacksmith shop, the historic jail, and an early American settler's cabin.
Tours
The park is open daily for self guided visits and also offers guided walking tours by advanced reservation. Call 831-623-4881 for information.

Location-Directions
The park is located on Second Street, between Washington and Mariposa Streets in the city of San Juan Bautista, 3 miles east of Highway 101, 7 miles west of Hollister, 15 minutes south of Gilroy. From Hwy 101, go east on Highway 156, take a left at the light onto The Alameda; from Hollister or Pacheco Pass on 156 westbound, take a right at the same intersection. Landmarks: the Windmill Shopping Center.

Seasons/Climate/Recommended Clothing
The weather can be changeable. Layered clothing is advised.
Program Descriptions
Interpreter-Led Programs for Schools
Interpreter led programs (Mission Game, California Overtime, and Wagons West) cost $75.00 each. Days of Alta Calfornia program costs $90.

San Juan Bautista State Historic Park is proud to offer fourth-grade curriculum-based educational programs to enrich your class field trip. Programs are offered four times each day, Tuesday through Friday, with two programs conducted at 10:30 am and two at 12 noon.
Call ReserveCalifonia (1-866-240-4655) to book a paid Interpreter-Led Program or a free Self-Guided Visit. After reserving a space with ReserveCalifonia, call the Interpreter's office at (831) 623-2753 and arrange the program you prefer.
The state park interpreters offer four different paid programs:
Mission Game, $75 - the best program for fall visitors. The students learn about the local Native Americans, the Spanish way of life, and the layout of a typical mission. Using either wooden blocks or laminated cards, the children design a mission that creates an efficient architectural layout.
California Overtime, $75 - the best program for an overview of California history. Students learn about the four main cultural groups living in California - the Native Americans, the Spanish, the Mexicans, and the Americans. The missions, ranchos, gold rush, and pioneer eras are covered. A few of the children will be chosen to place their faces in life-sized cardboard cutouts and "become" a person of the past.
Wagons West, $75 - the best program for learning about covered wagon travel. The students are placed into groups and decide which items they will carry in shoebox-sized "wagons". A Wagon Master is chosen and the pioneers "head west". Early travel methods are taught while the groups brainstorm overcoming hardships or enjoying good times. If the wagons don't reach California by the end of the program, they have "busted". Note: due to a lack of materials, only one Wagons West class can be conducted each program period.
NEW! Days of Alta California, $90 – Bienvenidos! A new program that explores Mexican-California and its people in this hour-long discovery of Alta California. Students learn all about the four types of people in Alta California: Californio property-owning women, Californio Caballeros, Native-American Vaqueros, and Native-American tortilla-making women, and their unique culture, right where it happened. Students learn the difference between a Californio and a Vaquero. By the end of the program, students will know all about "Pueblos, Mexican-American War, and tortilla making! Which they get to eat! NOTE: the tortillas are made from flour, please notify staff for dietary concerns.
Note: due to a lack of materials, only one "Days of Alta California" program can be conducted per day at 12:00PM. Cost $90 dollars.
Please remember:
Reservations to the Park DO NOT include the Mission, reservation at the Mission are made separately.
Paid programs also include all day admission to the state park with no additional reservation required.
Paid Interpreter-Led programs require extra staff, failure to submit payment or last minute cancellations will result in an invoice to the school's district.

Programs and activities may be limited or changed by weather.
A teacher must be present during all Interpreter-Led programs.
Can't come to us? Call the state park and ask about Outreach Programs, (831) 623-2753.