Jack London State Historic Park
Notice: Face coverings are required inside the museum and cottage.
Phone Number
(707) 938-5216
Park Hours
Park Hours: 9am to 5pm

Open Daily (Except Dec 25)
Dogs Allowed?
Yes
Dogs allowed only in historic zone and developed areas. Dogs not allowed in the following areas: trails, dirt roads, backcountry areas, historic buildings, and historic gardens.
Driving Directions to Jack London SHP
The historic park is at 2400 London Ranch Road in Glen Ellen, about 20 minutes north of Sonoma.
The park's upper parking lot provides access to a picnic area, London's cottage, stables, stone barns, silos and "pig palace."


Online reservations are not available for this park.
Upcoming Park Events
No events scheduled at this moment.
TRAIL USE
Hiking Trails
Horseback Riding

DAY-USE ACTIVITIES & FACILITIES
Historical/Cultural Site
Picnic Areas
Env. Learning/Visitor Center
Exhibits and Programs
Guided Tours
Interpretive Exhibits
Vista Point
Nature & Wildlife Viewing
Museums
Family Programs

OTHER FACILITIES & VISITOR INFORMATION
Parking
Restrooms
Drinking Water Available

Information and Fees
Park Operated by Valley of the Moon Natural History Association.

Learn more about how you can enjoy this park at: http://www.jacklondonpark.com
---
Tri-County Partnership to Create a Cleaner Coast
Facilities and Activities
There is a museum in "The House of Happy Walls" which Mrs. London built where you will find park information, exhibits and a small sales area. A nearby trail leads to Jack London's grave and to the remains of "Wolf House," London's dream house which was destroyed by fire in 1913.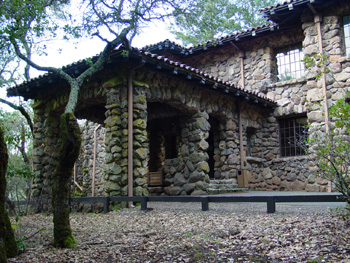 The park contains the cottage residence where he wrote books, short stories, articles and letters while he oversaw various agricultural enterprises. Visit the Londons' Cottage to imagine what it would have been like to have been a guest at their spectacular Beauty Ranch. See where Jack prolifically wrote in order to keep his dream of developing a model farm funded. Ramble among the historic structures of the Ranch, explore the innovative "Pig Palace," discover how Jack's new approaches to farming are still relevant today.

A one mile walk takes visitors to a dam, lake, and bathhouse built by London. Other hikes lead up through fir and oak woodlands to views of the Valley of the Moon.

After London's death, his wife, Charmian, continued to live at the ranch until her death in 1955. It was her wish that the ranch be preserved in memory of Jack London and his work.
---
Visit Us
Operating hours can vary seasonably, some facilities may be closed when the park is open. Please note operating hours listed on the right side this page.
Docent led tours and special events may be available, visit the link above or call park for details.
A park entrance fee is collected; $10 per vehicle. Annual passes are available. Admission to the House of Happy Walls Museum and cottage is included in the park entrance fee. The park is open daily (except December 25)
For your convenience, bottles of water may be purchased at the House of Happy Walls Museum.
Dogs are not allowed on backcountry trails. Dogs are allowed on a leash in the Historic Area only. Dogs are not permitted beyond the silos or inside the museum.
Collecting or destroying anything in the park, including mushrooms, is prohibited.
Bicycling and horseback riding are permitted on some trails.
The park contains two group picnic sites that can be reserved for a fee and many individual picnic tables. Camping is available at nearby Sugarloaf Ridge State Park.
---
Location/Directions
The historic park is at 2400 London Ranch Road in Glen Ellen, about a 20 minute drive north of Sonoma.

The park's upper parking lot provides access to a picnic area, Londons' Cottage, stables, stone barns, silos and "pig palace." The Kohler & Frohling winery ruins are near the cottage.
---
Seasons/Climate/Recommended clothing.
The weather can be changeable; layered clothing is recommended.