Benicia State Recreation Area
Sept. 1, 2021 – Campfire Ban

As of September 1, 2021, Benicia SRA will have a
District Superintendent Posted Order
for fire restrictions. The order is in place until further notice due to critical fire danger and reduced capacity to fight fires.
The fire restrictions are as follows:
No wood fires
No charcoal fires
No compressed log fires
No smoking
Self-contained gas or propane stoves are allowed in designated campgrounds or picnic areas, but visitors should have water or a fire extinguisher nearby to put out any uncontrolled fire.
This park unit is partially open.
Please take the time to read the information contained on this webpage to find out what is open and closed, and what COVID-19 guidelines are in place. - (May 27, 2021)
What is open now?
Very limited parking is now available to the public. Once the park has reached its safe parking capacity, the park will be closed to vehicle and pedestrian entry.
The parking lots and trails
Camping is open at Benicia SRA's enroute campground.
What is currently closed?
---
COVID-19 Guidelines - (June 21, 2021)
Recreate Responsibly
Protect yourself, family, friends and your community by following these prevention measures:
Know Before You Go – Prior to leaving home, check the status of the park unit you want to visit to find out what restrictions and guidelines are in place. Have a back-up plan in case your destination is crowded. Stay home if you are sick
Plan Ahead – Some restrooms will be temporarily closed to keep up with cleaning schedules. Bring soap/hand sanitizer.
Play It Safe – Find out what precautions you should take when exploring the outdoors, especially if this is your first time visiting the State Park System. Learn more at parks.ca.gov/SafetyTips.
Be COVID-19 Safe– State Parks continues to follow guidance provided by the California Department of Public Health:

Fully Vaccinated Persons

: Face coverings are not required in public outdoor settings.For indoor public settings, such as museums and visitor centers, all vaccinated individuals are to self-attest that they are in compliance prior to entry.

Unvaccinated Persons

: Face coverings are required in indoor public settings such as museums and visitor centers.

Leave No Trace – Leave areas better than how you found them by staying on designated trails and packing out all trash. Do not disturb wildlife or plants.
Phone Number
(707) 648-1911
Park Hours
Daily: 8am - Sunset
Driving Directions to Benicia SRA
The recreation area is 1.5 miles west of the outskirts of Benicia on I-780, take the Columbus Parkway exit.


Online reservations are not available for this park.
Upcoming Park Events
No events scheduled at this moment.
OVERNIGHT FACILITIES
En route Campsites
RV Access

TRAIL USE
Bike Trails
Hiking Trails

DAY-USE ACTIVITIES & FACILITIES
Picnic Areas
Fishing
Beach Area
Vista Point
Nature & Wildlife Viewing
Family Programs
Geocaching

OTHER FACILITIES & VISITOR INFORMATION
Parking
Restrooms
Drinking Water Available

---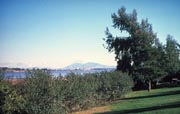 Benicia State Recreation Area covers marsh, grassy hillsides and rocky beaches along the narrowest portion of the Carquinez Strait.
Cyclists, runners, walkers, equestrians, and roller skaters enjoy the park's 2 1/2 miles of road and bike paths. Picnicking, bird watching and fishing are also attractions. Dogs must be on a leash at all times.

The marshland area on Dillon's Point is a particularly favorite place for fishing. A parking fee is required.

Three "Enroute" campsites are available for an overnight stay on a "first-come, first-served" basis with no reservations possible. This camping is limited to motorhomes or vehicles with trailers, which must be fully self-contained. Tents are not permitted. Collecting or destroying anything in the park, including mushrooms, is prohibited.
Location - Directions
The recreation area is 1.5 miles west of the outskirts of Benicia on I-780, take the Columbus Parkway exit.
Latitude/Longitude: 38.0780/ -122.1926
Seasons/Climate Recommended Clothing
The weather can be changeable; layered clothing is recommended.