Update (May 4, 2021)
: As State Parks increases access to the State Park System, it is critical that Californians continue to recreate responsibly in the outdoors as the pandemic is far from over. The public is advised that not all campground sites are open to the public due to the pandemic, wildfire impacts and other issues. Day use outdoor areas of park units currently open to the public remain open.
Please take the time to read the information contained on this webpage to find out what is open and closed, and the COVID-19 guidelines for this park unit.
What is open now?
Parking lots.
Day use areas.
Beaches and trails
Camping is now available. Walk-ins are allowed. For more information about camping, visit www.parks.ca.gov/COVID19Camping. To make a reservation, visit www.ReserveCalifornia.com or call 800-444-7275.
Visitor Center is open with modifications.
Group campsite.
Special events as directed by the guidelines in the Blueprint for a Safer Economy.
What is currently closed at this park and throughout the State Park System?

Statewide:
Some park units and campground sites continue to be temporarily closed due to the pandemic, impacts from wildfires or other issues. Please visit the webpage of your local outdoor destination to find out if it is open.
Some high public-use indoor facilities, including museums and visitor centers.
Some special events and tours continue to be canceled until further notice.
Are there any new visitor guidelines?

State Parks has implemented the following guidelines to reduce the risk of exposure to COVID-19 in the outdoors:
Plan Ahead:

The ongoing pandemic response continues to be dynamic and fluid. Prior to leaving home, check the webpage of your outdoor destination you plan to visit to find out if it is open, if parking is available, and what visitor guidelines are in effect.
Learn what safety precautions you should take when exploring the outdoors at parks.ca.gov/SafetyTips.

Stay Safer at Six Feet: No matter the recreational activity, maintain a physical distance of six feet or more. Your guests should only include those within your immediate household. This means no guests or friends, and no gatherings or parties. If there are too many people to maintain the required physical distance, please visit us on a different day.

Boating: Do not raft up to other boaters or pull up onto a beach next to other recreators.
Off-highway Vehicle Recreation: Do not ride next to others or pull up next to someone else as it could put you in close proximity to others. Stage 10 feet or more from each other during unloading and loading.

Keep Clean: Be prepared as not all services may be available. Some restrooms will be temporarily closed to keep up with cleaning schedules. Bring soap/hand sanitizer. Please pack out all trash. Park units are experiencing heavy use and you can help alleviate the impact on park facilities.
Stay Covered: The state requires you to wear a face covering when you cannot maintain a physical distance of six feet or more. Individuals must have a face covering with them at all times.
Although law enforcement entities have the authority to issue citations, the expectation is that the public is responsible for adhering to the advice of public health officials, visitor guidelines and closures.
California State Parks continues to work with local and state officials on a phased and regionally driven approach to increase access to state park units where compliance with state and local public health ordinances can be achieved. However, the situation remains fluid and park operations can change at any time. For information on statewide current closures and available services, please visit
parks.ca.gov/FlattenTheCurve
.
Phone Number
(707) 964-9112
Max. Trailer Lengths
Trailer: Up to 35 Feet
Camper/Motorhome: Up to 35 Feet
Dogs Allowed?
Yes
Dogs not allowed: Seal Rookery, Virgin Creek Beach, Ten Mile Beach and Dunes (Inglenook Fen- Ten Mile Dunes NP).
Driving Directions to MacKerricher SP
The park is three miles north of Fort Bragg on Highway 1. From the intersection of Mill Creek Dr (Cleone Heights Dr) & Hwy 1, proceed W toward park entrance. The park includes land W of Cleone and a strip of beach between Fort Bragg and Ten Mile River.


Camping and Lodging
Visitors will be able to reserve campsites and lodging six months in advance from the current date. Bookings may extend from the arrival date to the desired departure date – based on availability and the park's maximum stay rules.
Upcoming Park Events
No events scheduled at this moment.
BOATING
Boating

OVERNIGHT FACILITIES
Family Campsites
Group Campsites
Hike or Bike Campsites
RV Dump Station
RV Access

TRAIL USE
Bike Trails
Hiking Trails
Horseback Riding

DAY-USE ACTIVITIES & FACILITIES
Picnic Areas
Env. Learning/Visitor Center
Exhibits and Programs
Fishing
Guided Tours
Interpretive Exhibits
Scuba Diving/Snorkeling
Beach Area
Vista Point
Nature & Wildlife Viewing
Windsurfing/Surfing
Family Programs
Geocaching

OTHER FACILITIES & VISITOR INFORMATION
Parking
Restrooms / Showers
Restrooms
Drinking Water Available

Camper Information
Mackerricher Campground is currently open to existing reservations and has a limited number of first come first serve camping sites available. The Group campsite and walk in campsites remain closed.
Due to COVID restrictions new reservations will not be accepted now through early February. All reservations are made through
reservecalifornia.com
or by calling 1-800-444-7275. For further information please contact the Sonoma Mendocino District Office at (707) 937-5804 Monday - Friday 8:00 a.m. to 5:00 p.m.
MacKerricher State Park offers a variety of habitats; beach, bluff, headland, dune, forest and wetland. Tide pools are along the shore. Seals may be seen on the rocks off the park's coastline. More than 90 species of birds visit or live near Cleone Lake, a former tidal lagoon. During winter and spring, the nearby headland provides a good lookout for whale watching. The park is popular with hikers, joggers, equestrians and bicyclists. The park has a wheelchair accessible nature trail.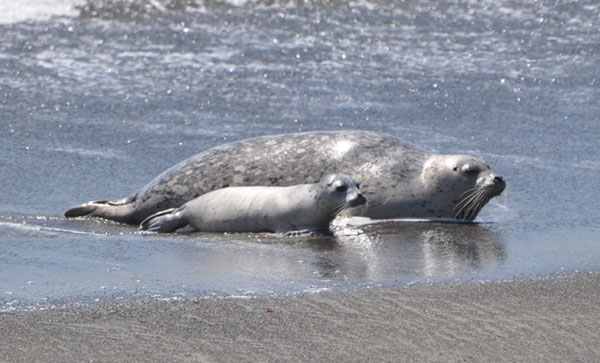 Location/Directions
The park is three miles north of Fort Bragg on Highway 1, near the town of Cleone. The park encompasses much of the land west of Cleone and a strip of beach between Fort Bragg and Ten Mile River.

Seasons/Climate/Recommended clothing
The weather can be changeable; layered clothing is recommended.

About the Park
The park is the only one in the park system that was at one time part of the Mendocino Indian Reservation.

It is the only park unit that was part of the Union Lumber Company's vast timber and shipping holdings in northern Mendocino County. A small, independent logging and shipping operation began here, and then was absorbed by the larger corporation. MacKerricher, known historically as Cleone, thus followed a pattern common to many of the small areas in the region. The park was officially opened in 1952; land was added along the Ten Mile beach until 1977.
Accessibility
Several accessible facilities at MacKerricher include a boardwalk at Laguna Point and Haul Road.
Assistance may be needed with restroom, shower, and other facilities. A beach wheelchair is available for use by calling (707) 937-5721 to reserve it at least seven days in advance. Accessibility at the park is continually improving. For updates on accessibility in any California state park, click the Accessible Features link at the top of this page.
Additional Visitor Services
Pacific Environmental Education Center (Environmental Education Program)
Ricochet Ridge Ranch (Guided horseback tours)
Pay Showers for registered campers available
Six Things We'd Like You to Know...
The restoration work planned for the Ten Mile Dunes area is to remove 2.7 miles of remnant haul road, remove two culverts and to hand-pull European beach grass. Both the road and the non-native invasive beach grass continue to degrade natural processes and habitat that are critical to the imperiled plant and wildlife species found there.
Six Things We'd Like You to Know About the Ten Mile Dunes Project
MacKerricher State Park
The Ten Mile Dunes complex at MacKerricher State Park contains a unique, relatively pristine native dune and wetland ecosystem. The effects of climate change over the past several thousand years have been recorded by sediment deposits along the coast. Recurrent periods of dune formation and sea level oscillation have been associated with the Ice Ages and more recent climatic events. These shifting sands of time produced enclosed areas of water ponding that became vegetative microclimates such as Inglenook Fen and Sandhill Lake.

(Photograph Copyright 2002-2009 by Kenneth and Gabrielle Adelman)
Social Feed