Standish-Hickey State Recreation Area
UPDATE (June 24, 2020) - As California State Parks begins working with locals on a phased and regionally-driven approach to increase access to state park units where compliance with state and local public health ordinances can be achieved, it is important for visitors to continue to practice physical distancing and avoid congregating with people outside their immediate household. Everyone has the responsibility to mitigate the spread of COVID-19.
Here are some guidelines for people visiting Standish-Hickey State Recreation Area:
What is open now?
Parking is now available.
Camping is now available at Standish-Hickey State Recreation Area. Group campsites will remain closed. For more information about camping, visit www.parks.ca.gov/COVID19Camping. To make a reservation, visit www.ReserveCalifornia.com or call 800-444-7275. Walk-ins will NOT be allowed.
What is currently closed at this park and throughout the State Park System?
At this park:
Redwood campground loop (sites 100-161) remains closed.
Statewide:
Many campgrounds across the state remain closed until further notice. Some campgrounds have started to reopen with modifications. For more information, please visit www.parks.ca.gov/COVID19Camping.
High public-use indoor facilities, including museums and visitor centers.
Special events and tours continue to be canceled until further notice.
Are there any new visitor guidelines?

Yes, please see below:
Stay Local: Stay close to home. Walk or bike into the park. Parking is very limited. Do not take road trips to parks and beaches or to neighboring states.
Stay Active: Keep walking, jogging, hiking and biking. Watch for one-way trails.
Stay Safer at 6 Feet: Maintain a physical distance of 6 feet or more. Gatherings, picnics and parties are not allowed. Visitors will be asked to leave if there are too many people at the park, beach or on trails to allow for the required physical distance.
Stay Clean: Be prepared. Bring soap/sanitizer and pack out all trash.
Stay Covered: The state now requires you to wear a face covering in most indoor settings and public outdoor spaces when you cannot maintain physical distancing of six feet or more from people outside of your immediate household. For details, please visit CDPH's guidance here. Visitors should also abide by their local county health orders.
Thank you for your patience and continued support of California State Parks as we work to limit your risk for exposure to COVID-19 in the outdoors. For more information, please visit
parks.ca.gov/FlattenTheCurve
.
Phone Number
(707) 925-6482
Max. Trailer Lengths
Trailer: Up to 24 Feet
Camper/Motorhome: Up to 27 Feet
Park Hours
Campground open all year. Day use areas open sunrise to sunset.
Dogs Allowed?
Yes
Except for service animals, dogs not allowed on trails.
Driving Directions to Standish-Hickey SRA
The park is located 1.5 miles north of Leggett on Highway 101, just west of the Rock Creek overcrossing.


Camping and Lodging
Visitors will be able to reserve campsites and lodging six months in advance from the current date. Bookings may extend from the arrival date to the desired departure date – based on availability and the park's maximum stay rules.
Upcoming Park Events
No events scheduled at this moment.
BOATING
Boating

OVERNIGHT FACILITIES
Family Campsites
Hike or Bike Campsites
RV Access

TRAIL USE
Hiking Trails

DAY-USE ACTIVITIES & FACILITIES
Picnic Areas
Fishing
Beach Area
Swimming

OTHER FACILITIES & VISITOR INFORMATION
Parking
Restrooms / Showers
Restrooms
Drinking Water Available

Standish-Hickey State Recreation Area is the southern gateway to the world-famous redwood belt along California's North Coast. About 10 miles of trails weave through its steep canyon bluffs, second-growth forests, and clusters of old-growth redwoods. The tallest redwood, the 225-foot Captain Miles Standish Tree, is more than 1,200 years old. A two-mile stretch of the South Fork of the Eel River—with riffles, deep holes, and calm shallow areas—is popular with swimmers, kayakers, and anglers.
The park began as a 40-acre campground donated in 1922. Its name honors a lumberman's son, Edward Ritter Hickey, who died while caring for victims of the 1918 flu epidemic. In the late 1950s, descendants of Captain Miles Standish, a pilgrim who landed on Plymouth Rock in 1620, added 500 acres. Subsequent donations from Save the Redwoods League have expanded the park to more than 1,000 acres.
A 180-mile drive from San Francisco, Standish-Hickey lies along Highway 101, 1½ miles north of the town of Leggett. The park entrance road is easy to find and paved to accommodate any street-legal vehicle. High water (and removal of seasonal bridges) makes much of the park, including hiking trails, inaccessible in winter, but at least one campground is always open.
Weather
This inland river canyon has summer temperatures averaging 70 - 100°F. Winter temperatures vary from 30 - 55°F. Rainfall averages 70 inches each year.
Rules & Advisories
No diving or jumping into the river. Stay away from steep and dangerous bluffs.
No lifeguards are on duty; children should be supervised at all times.
Contact with poison oak (even when dormant) can cause a severe rash.
Bicycles and motorbikes are allowed on paved roads, but not park trails.
Hunting and loaded firearms are prohibited.
Eight people are the maximum allowed at any one (non-group) campsite.
All fires must be in fire rings. No collection of firewood is allowed.
Quiet hours are from 10 p.m. to 6 a.m.
Dogs must be on a leash no more than six feet long and must be confined to a tent or vehicle at night. Except for service animals, pets are not allowed on trails. Dog owners may not want to let their dogs drink from the river, as a precaution against blue-green algae toxins.
All the normal rules of the road apply in the park, including speed limits (15 mph in the park), prohibitions on driving while intoxicated, and requirements for seatbelts, helmets, and driver's licenses.
All park features are protected by law and must not be disturbed or removed.

Location/ Directions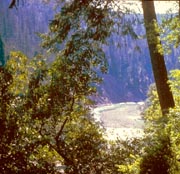 1.5 miles north of Leggett, CA on Highway 101.

Seasons/Climate/Recommended clothing
Inland river canyon.
Summer 70-100 degrees F.
Winter 30-55 degrees F.
Dress for rain in layers.
Social Feed