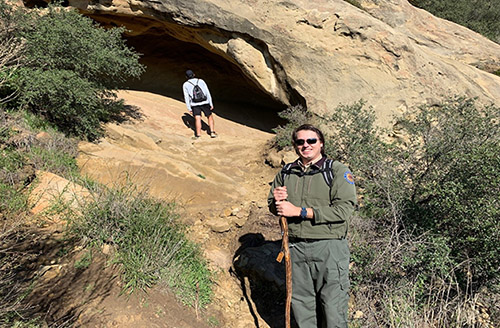 State Park interpreter guides hikers at Gaviota State Park.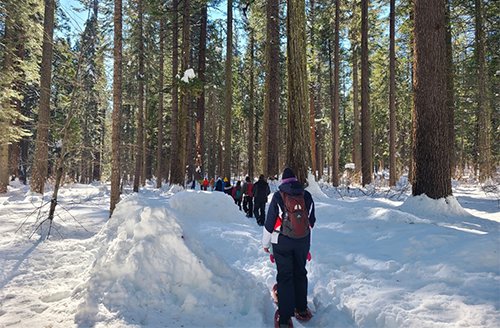 2022 First Day Hikes participants on a snowy trail
at Calaveras Big Trees State Park.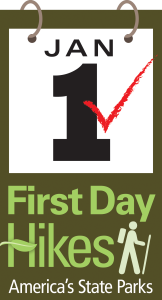 Kick off the new year with us with the Annual First Day Hikes! California State Parks will participate at parks across the state in this national-led effort that encourages individuals and families to experience the beautiful natural and cultural resources found in the outdoors with a seasoned guide so that they may be inspired to take advantage of these treasures throughout the year.
Nature has been proven to boost our moods and make us feel healthy. And what a better way to start 2023 than taking in spectacular views and breathing some fresh air. Walk among the giant sequoias or along the state's coastal beaches or enjoy some wildlife viewing, State Parks has some of the most unique and iconic parks in the country for everyone to explore.
Dedicated docents, volunteers and staff will show visitors the wonders of California's state parks. Distance and rigor will vary per hike/activity, so visitors are encouraged to check out details of start times and description of hikes. Below you will find a list and detailed information on the California State Park's First Day Hikes.
Whether you are an experienced outdoor enthusiast or a new one, we look forward to seeing you in California's park trails, beaches, mountains and the deserts but ask that you recreate responsibly. Make sure to dress in layers, bring plenty of snacks and water, and appropriate hiking shoes. Visit the latest COVID-19 guidelines and additional safety tips for more information.
Visitors are encouraged to share their experiences on social media using the hashtags: #HikeInto2023, #FirstDayHike2023, #HikeWithCAStateParks and #CAStateParks.
Download the department's mobile app: OuterSpatial or scan the QR code.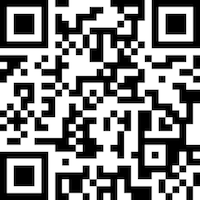 ---
In alphabetical order by park:
(Hike information will be added regularly. Please continue to visit the webpage for updates.)
Updated: (Nov. 30, 2022)
---
Park: Anderson Marsh State Historic Park
Where: McVicar Trail and Cache Creek, Marsh and Ridge Trail Loop. The park is located on Highway 53, between Lower Lake and Clear Lake, California.
Time: Both hikes begin at noon.
Parking: Free parking in parking lot off of Anderson Ranch Parkway.
What to expect: Hikers will experience grasslands, Oak woodlands, willow and cottonwood riparian habitats and the tule marsh habitat of the Anderson Marsh Natural Preserve and may encounter a variety of migrating and resident birds and other wildlife. Participants on both hikes are welcome to walk part way and make an early return at their own pace.
For the McVair Trail hike, this leisurely walk along the McVicar Trail and back leads from the parking lot to the shores of Clear Lake, across from Indian Island. The entire walk is a little over 7.5 miles of mainly flat terrain and should take between 3 and 4 hours, depending on how many times the group stops to admire what is being seen along the way.
For the Cache Creek, Marsh and Ridge Trail Loop, this is a 3.5-mile loop that will include parts of these trails. This shorter hike will take between 2 and 2.5 hours.
Additionally, the South Barn will be open from 1 to 4 p.m. with a State Parks docent available to discuss the exhibits used during school field trips.
Ages: All ages welcomed.
Preparation: Participants should wear sturdy shoes and a hat, bring water & snacks, and bring binoculars if they have them.
Special instructions: Steady rain will cancel – to confirm, call 707.995.2658 or email info@andersonmarsh.org.
Contact: Henry Bornstein (info@andersonmarsh.org, 707.995.2658) or Gae Henry (action@andersonmarsh.org), 707.995.2658.
Follow us on: Facebook.
Park: Marshall Gold Discovery State Historic Park
Where: Hike one - Monument Trail and Monroe Ridge; hike two - Monument Trail.
Times: See below for each hike.
Parking: Visitor Parking is located at the Sawmill Parking Lot ($9 or $10 Day-Use per vehicle or Annual Park Pass).
What to Expect:
For the Monument Trail and Monroe Ridge hike, participants will meet their guide at the park's Museum and receive pertinent instructions. Next is the easy hike up to James Marshall's Monument which will then lead to a strenuous/moderate hike on the Monroe Ridge Trail with views of the Lotus and the Coloma Valley. Finally, the trail descends to the Monroe Orchard where you walk through the park back to the museum. This hike is approximately 4 miles and is from 10 a.m.-12:30 p.m.
For the Monument Trail hike, participants will meet their guide at the park's Museum and receive pertinent instructions. Visitors will hike to James Marshall's Monument where visitors will learn of the Work Progress Administration's work, view a water ditch from mining days, and see local flora/fauna. Reaching the top of the hill is James Marshall's Monument and first caretaker's house. On the road down, the guide will open James Marshall's Cabin for a brief tour. Next, visitors will pass St. John's Catholic Church on the return to the museum. The hike is approximately 1 mile and is from 10:15 to 11:30 a.m.
Ages: 9 years old or 4th grade and up
Preparation: Wear sturdy shoes/boots, clothing in layers, hat, liter of water, snack and trekking poles, if you choose.
Special Instructions: No pets permitted.
Contact: Email Susan.Okey@parks.ca.gov or call the museum at (530) 622-3470.
Follow us on: Facebook and Instagram.