The Cedar and Poomacha Fires
The Cedar Fire at Cuyamaca Rancho State Park
The Cedar Fire started on October 25, 2003, and was finally 100% contained by November 5, 2003. It burned a total of 280,278 acres, including all of the 24,700 acres of Cuyamaca Rancho State Park. Fourteen people were killed, including one firefighter, and 2232 homes were destroyed. The conflagration was caused by a signal fire lit by a lost hunter.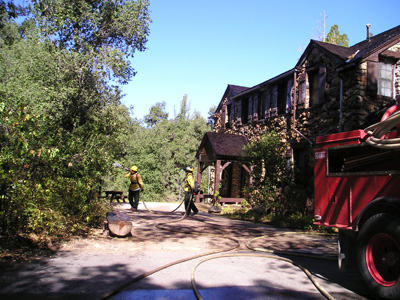 The photo above is of the 1923 Dyar House as the fire approached the park. Firefighters wet down the house and surrounding area in an attempt to save the structure. The Dyar House served as the park's museum and headquarters.



The fire reached the park on October 30. The photo above was taken as the fire approached the park.



The intense heat and flames destroyed many structures and most park vegetation.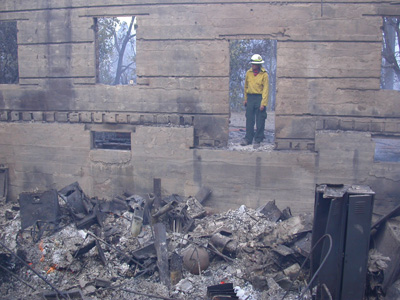 Despite all of the firefighters' efforts to save it, the Dyar house was destroyed except for stone and concrete. Irreplaceable museum artifacts were also lost.

Click here for the news release issued by California State Parks after the fire.
Poomacha Fire at Palomar Mountain State Park
The Poomacha fire started on October 23, 2007, and was fully contained by November 9, 2007. It burned 49,410 acres, and destroyed 138 homes. Fifteen firefighters were injured. It was started by the spread of a single structure fire to nearby vegetation. About 65% (1,230 acres) of Palomar State Park burned. The fire destroyed a bathroom and several CCC-built tables in the picnic area. It also destroyed telephone and power poles, and left the park without electricity, telephones, and running water. The worst loss was the destruction of the CCC-built garage by the warden's residence.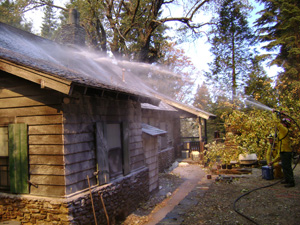 Firefighters were able to save the warden's residence, a second house, and the ranger station by using fire-retardent gel, a recent innovation. Here it is being sprayed on the warden's residence.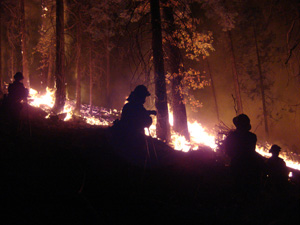 Crews fought the fire through the night.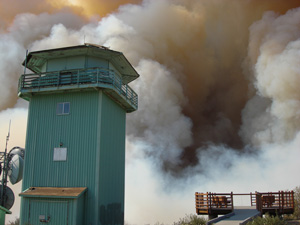 The fire burned around the lookout tower and view platform on Boucher Hill, but both were spared.




This photo taken shortly after the fire shows the park warden's house undamaged, and the adjacent garage burnt except for stone sections.

Click here for the news release issued by California State Parks after the fire.