Guided & Self-Guided Tours
Free Guided Tours
Current Tour Schedule listed below
For additional information please contact the Asilomar Park Office
Phone: (831) 646-6440
Email: Richard.Fletcher@parks.ca.gov
PLEASE NOTE: Tours are subject to staff availability. Visit the State Park desk in the Phoebe Apperson Hearst Social Hall to sign up for these tour offerings.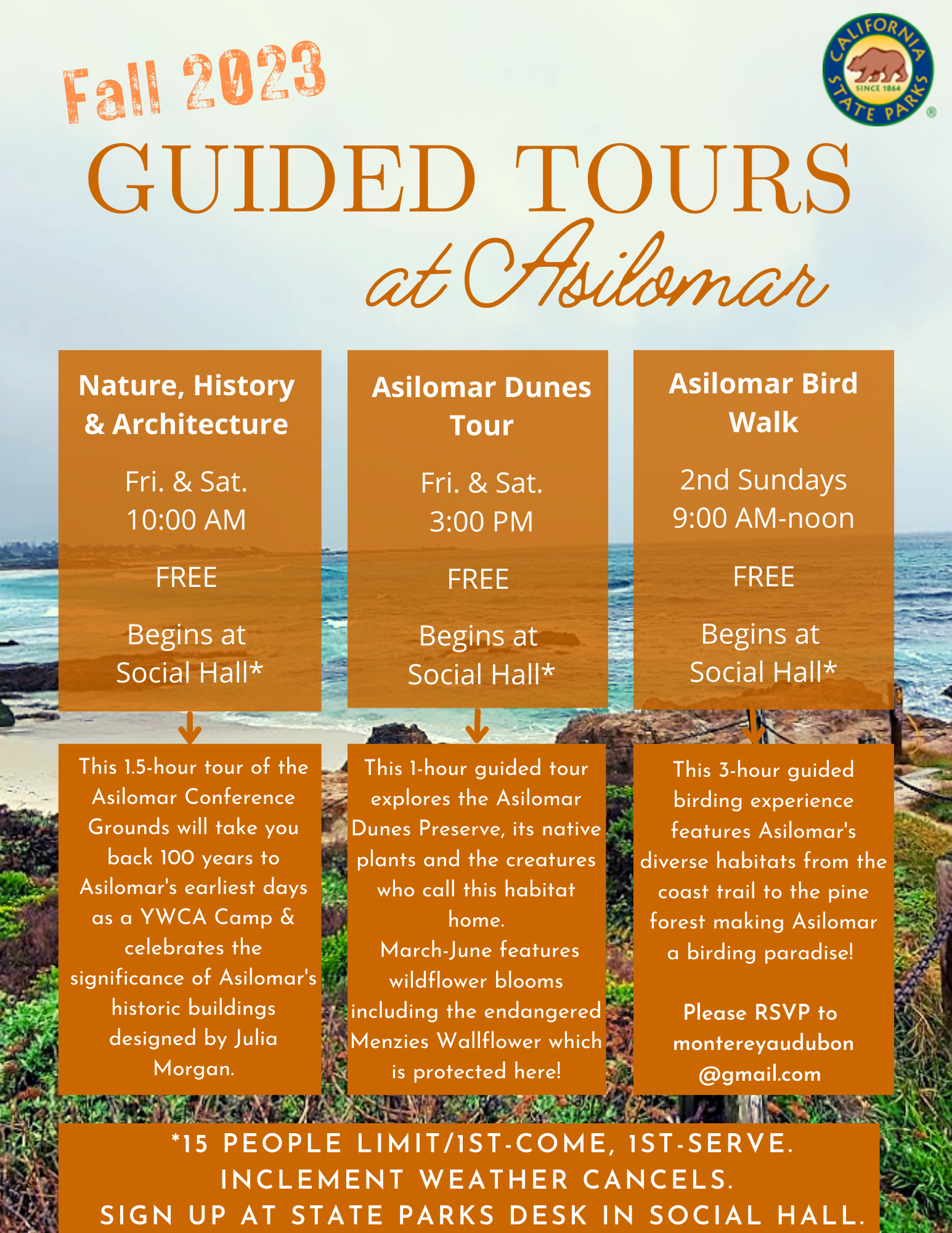 Self-Guided Tours
A host of self-guided learning opportunities are available at Asilomar State Beach and Conference Grounds. All of these opportunities are available when you want to enjoy them - and at your own pace. Hard copies of our self-guided tour brochures can be found at the State Park desk in Hearst Social Hall.
Mobile Phone Tour - These Signs Point the Way to Discover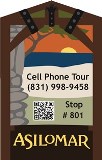 Learn the story of Asilomar's cultural and natural history on this self-guided mobile phone tour which covers a wide range of 61 topics. Your mobile phone tour is as long or as short as you need it to be - why not catch a little Julia Morgan history (stop 881) or learn how Asilomar got its name (stop 885) in between conference sessions? Mobile phone tour brochures with instructions, access phone number, stop numbers and QR codes, and a map locating tour stops are located at the Phoebe Apperson Hearst Social Hall (Registration Building). The tour is free, but does use mobile phone minutes; each phone stop narrative is about 2-3 minutes in length.
Mobile Phone Tour
Self-Guided Walk Brochures: Available to Download
Julia Morgan Architecture - allow about 45 minutes and plan to walk 1/4 mile for this self-guided tour that highlights the historic buildings by famed architect Julia Morgan.
Coast Trail - Allow ample time to enjoy the beautiful Asilomar Coast Trail tour that meanders along the stunning Rocky Shores habitat. You can enter the trail at several accesspoints along Sunset Drive; ADA access is also available - refer to brochure map. The trail is approximately one-mile in length, one way, so plan on walking 2 miles beginning to end.
Dunes Preserve - A quarter-mile boardwalk loop begins just north of the Grace Dodge Chapel and winds through the Asilomar Dunes Preserve - 25 acres of restored and preserved dunes habitat. This walk provides panoramic vistas of the Asilomar Coast, Asilomar State Beach and the Pebble Beach-Spanish Bay area. Benches situated along the boardwalk allow for leisurely sunset gazing and whale watching throughout the year.
*Click the highligted links above to view brochures.
Informational Displays
Informational displays can be found in Asilomar's historic buildings: Crocker Dining Hall (in hallway left of food service area), Grace Dodge Chapel Auditorium, Visitor's Lodge, Scripps Lodge, Stuck-up Inn, and Pirates' Den. The information displays tell the history of these Julian Morgan-designed buildings.
---