Proud Partners and Financial Support Programs
Proud Partners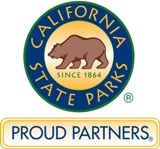 California State Parks engages in statewide, regional, and local partnerships with a number of America's finest corporations. Our corporate partners share our commitment to provide for the health, inspiration, and education of the people of California. Corporate partners exemplify leadership and innovation in their stewardship of our state's cultural and natural resources.

We have developed our Proud Partners program to allow corporations and businesses to reach out to the more than 70 million people that visit California's 280 state parks each year. Through a formal agreement, partners may align themselves with an individual park, a region, or with the entire State Park System. Proud Partnerships generate critical financial support that improves the park visitor experience and helps to ensure that future generations will continue to enjoy the treasures of the Golden State.
---
To receive more information, or to design a custom partnership, contact the Partnerships Division at (916) 653-7733.
---