A Guide to the Side of the Sea
A Teacher's Guide for Field Trips to Rocky Intertidal Areas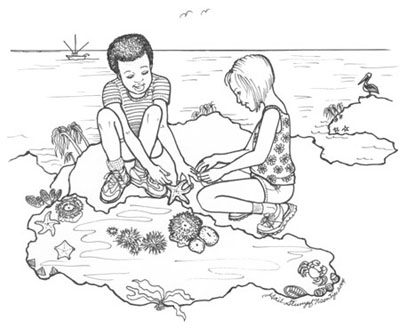 As the human population increases, the strain on all resources increases. Natural areas are no exception, and the fascinating tide pools of the ocean shores are especially threatened by over use and inappropriate use. Many popular areas for "tide pooling" are in danger of being loved to death. One purpose for this Guide is to help teachers and other group leaders learn to protect this unique habitat when they bring students to visit, enjoy, and learn about the intertidal areas of the coast.

Not only does the environment need protection, but students must be taught how to explore the tide pools safely. This Guide provides information about how to be safe while visiting the rocky coast.

While a teacher does not have to be an expert on coastal organisms or ecology, a basic understanding of ecological principles will enable the teacher to help students to maximize their learning during the precious time spent visiting intertidal areas. This Guide provides that basic knowledge, and teachers and other users of this Guide should use it to review the basic science content before taking students on a field trip to the coast.
A trip to the intertidal area should not be an isolated activity. Rather, it should be part of a larger unit of study. It is important that students view their visit to the intertidal zone not as just a day out of the classroom or as just a day at the coast. A field trip to the coast should, of course, be enjoyable, but it should also provide the student with opportunities to learn about and to increase their appreciation for the plants and animals inhabiting the intertidal zone. The dozens of lesson plans (for both before, during, and after the trip) and teaching ideas included in this guide will help ensure students get the most from their tide pool visit.

Introduction (PDF-14 pages-252 KB)

Science Background for the Teacher-Part 1 (PDF-44 pages-791 KB)

Science Background for the Teacher-Part 2 (PDF-18 pages-1.83 MB)

Field Trips (PDF-6 pages-62 KB)

Lessons (PDF-70 pages-500 KB)

Appendices (PDF-24 pages-118 KB)