This park unit is open at limited capacity.
Please take the time to read the information contained on this webpage to find out what is open and closed, and what COVID-19 guidelines are in place. - (August 2, 2021)
There is no vehicular access at this Park
---
COVID-19 Guidelines - (February 16, 2022)
Recreate Responsibly
Protect yourself, family, friends and your community by following these prevention measures:
Know Before You Go – Prior to leaving home, check the status of the park unit you want to visit to find out what restrictions and guidelines are in place. Have a back-up plan in case your destination is crowded. Stay home if you are sick
Plan Ahead – Some restrooms will be temporarily closed to keep up with cleaning schedules. Bring soap/hand sanitizer.
Play It Safe – Find out what precautions you should take when exploring the outdoors, especially if this is your first time visiting the State Park System. Learn more at parks.ca.gov/SafetyTips.
Be COVID-19 Safe – State Parks continues to meet guidance from local and state public officials as COVID-19 is still present and still deadly. Effective March 1, 2022, state guidance recommends that all individuals, regardless of vaccine status, continue masking in indoor settings, such as museums and visitor centers. Universal masking remains required in specified high-risk settings. Please plan ahead as local county guidelines may differ from state guidance and visitors are urged to follow county guidelines when required. Read the latest COVID-19 guidance at COVID19.ca.gov.
Leave No Trace – Leave areas better than how you found them by staying on designated trails and packing out all trash. Do not disturb wildlife or plants.
Phone Number
No phone number listed.
Park Hours
No Hours Listed
Driving Directions to Sutter Buttes
The park is located north of highway 20 between Colusa and Yuba City. This unit is not Open To the General Public at this time.


Online reservations are not available for this park.
No online brochures available for this park.
Upcoming Park Events
No events scheduled at this moment.
TRAIL USE
Hiking Trails

DAY-USE ACTIVITIES & FACILITIES
Historical/Cultural Site
Guided Tours
Nature & Wildlife Viewing

Important Note for the Public
PLEASE NOTE:
There is currently no public access point to enter this park.
This park has not been officially named.


Park Classification
In 2003, California State Parks acquired property on the north side of the Sutter Buttes, which represents a unique resource within the State Park System. The first step in guiding the management of visitor activities and protection of park resources is determining the appropriate unit classification.
The CaIifornia Public Resources Code, Section 5002.1, requires that an inventory of scenic, natural and cultural features be provided to the California State Parks and Recreation Commission when classifying a unit of the State Park System. This Resource Summary is intended to provide the Commission with the necessary information for classification as specified in Article 1.7 of the Public Resources Code.
Classification & Naming Document, dated March 8, 2005, 1.6 MB file size
This Summary establishes resource values and provides an overview of the project area. Information contained in this document has been compiled from various reports and field investigations. This information will also be useful to assist in developing resource policies, resource management programs and as background information for land use planning, maintenance, interpretation, and operation. Additional and more detailed resource inventory information will be developed during the preparation of a future General Plan and specific management plans for the park.
CALIFORNIA STATE PARK AND RECREATION COMMISSION
On April 8, 2005, the State Park and Recreation Commission classified the Sutter Buttes project at its regular hearing in Sacramento, CA. The newest unit in the California State Park System was classified a "State Park," recognizing its significant natural, cultural, geologic, scenic, and recreational resource values. The name of the park was not determined, until more information could be obtained on the various names and historical events associated with the site.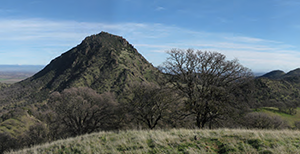 (Photograph by Mike Fuller)
Sutter Buttes State Park
Sutter Buttes State Park contains the remains of a period of violently active volcanic eruptions between 1.35 and 1.6 million years ago. The origin of the Sutter Buttes has been hotly debated. The volcanic actively has been variously related to the Cascade Range to the north, to the Sonoma volcanics to the south and west, and to plate tectonic interactions deep below the terrestrial crust.