North Tahoe Junior Lifeguards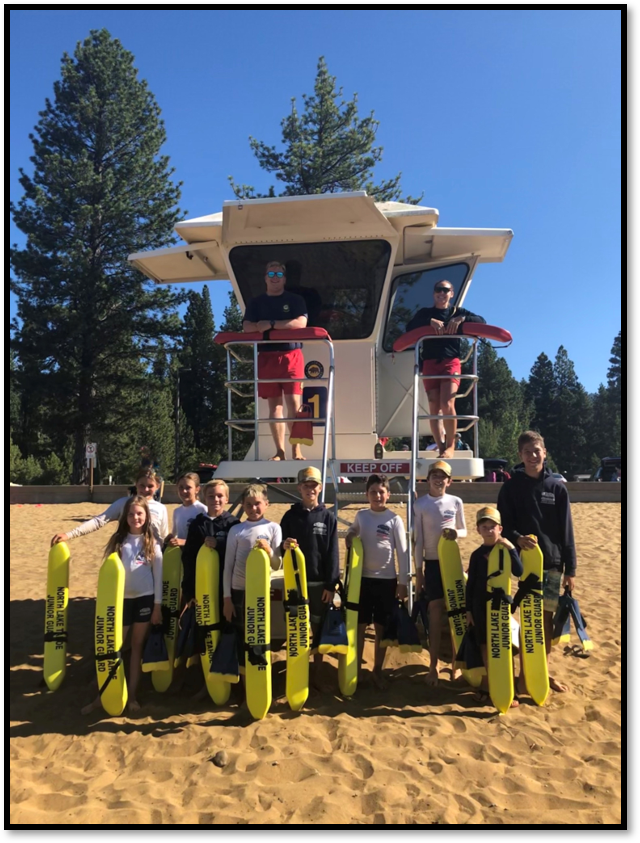 ---
The Junior Lifeguard program's goal is to educate the community's youth about aquatic safety and high quality outdoor recreation. Through extensive aquatic interaction, exploration, and recreation, the Junior Guards gain a well-rounded education that can be utilized on and off the beach. After two weeks of training each Junior Guard will have a heightened awareness and knowledge of the lake and its dangerous, yet wonderful, environment.
---
Online registration for 2021 is now open!
*See the REGISTRATION INSTRUCTIONS tab on the right for more information*
Session 1: July 12th - July 23rd 2021 @ Kings Beach SRA
Session 2: July 26th - August 6th 2021 @ Kings Beach SRA
---
**Program Requirements**
Must be a registered and paid participant.

Must successfully complete State Park Junior Lifeguard swim requirement.
(See TRYOUT INFORMATION link)

Purchase and wear all required Junior Lifeguard Uniform items while in session.
(See JG UNIFORMS link)

Attend entire JG session.
Resource CALENDAR link and PROGRAM INFORMATION for more details.
*Absent days for emergencies only*

By the end of the session, prove competency in performing all instructed JG skills to the best of one's ability in Tahoe Tough Guard competition.

Have a blast while being a North Tahoe Junior Lifeguard!