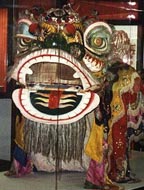 One of the most successful conservation efforts was carried out recently on the "Chinese Lion Dancer's Headdress" through a grant from the department's Statewide Resource Management Program. This beautiful artifact was donated by the San Francisco Chinese Chamber of Commerce in 1962 to State Parks. It is thought to have been made in Hong Kong about 1900. For many years it was displayed on the wall of the Visitor's Center at the Weaverville Joss House. It was last used in 1974 for the Joss House Centennial festivities. But the ravages of time had taken their toll, and the headdress was badly in need of conservation.

Under the guidance of curator Linda Cooper, assisted by textile conservator Teresa M. Heady and exhibit specialist Andrew J. Wood of Fordham and Woodd Fine Art Services, the painstaking job of restoring the headdress was undertaken. The lion skirt, made of brightly colored silk stips running the length of the headdress, was mended and a silk backing was applied to provide support for the fragile textile. Next, the head was repaired. It is made of paper-mache over a bamboo frame. Careful restoration of it was done from the interior to insure historic accuracy. Finally, a new exhibit case was designed, fabricated and assembled in the Visitor's Center. The pedestal and mounts were custom made to provide support, and the exhibit enclosed in a plexi-vitrine case to provide UV protection.

The final product is spectacular. The Lion can now be appreciated along with other Chinese art objects, pictures, mining tools, and wrought iron weapons used in the 1854 Tong War.