About Communications
Communications Operators operate multi-frequency/channel radio systems, law enforcement telecommunications systems (CLETS), computer terminals, and associated equipment to dispatch law enforcement/emergency response units and coordinate services with field personnel and other agencies.
---
Communications Center Locations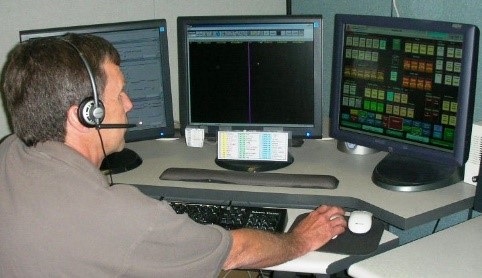 California State Parks has two centralized communications centers (listed below) to meet the dispatching needs of its peace officers and staff.
The centers also provide dispatching services for the Department of Fish and Wildlife wardens along with other enforcement and emergency services agencies.
Northern Communications Center (NORCOM) - Rancho Cordova, CA
Southern Communications Center (SURCOM) –Perris, CA
---
Monthly Salary
Range A- $3,529 - $4,861
Range B- $3,993 - $5,499
Benefits!
Health, vision and dental
Retirement!
All new hires are subject to the Public Employees Reform Act retirement scale which is 2% at 57 years old.

Read more here: BU7

---
Apply Here
The California Department of Forestry & Fire Protection (CALFIRE) is hosting the Communications Operator Exam.
Successful candidates may apply with the Department of Parks and Recreation. Apply to take the exam now!
Please read the exam announcement for the Communications Operator carefully for filing instructions and other important information.
---
Do You Qualify?
MINIMUM QUALIFICATIONS
Education: Equivalent to completion of the 12th grade, and
Either I
Experience: Six months of experience in the California state service performing the duties of a Dispatcher-Clerk.
Or II
Experience: One year of experience in dispatching work involving the operation of radio communications equipment/systems.
Or III
Experience: Two years of experience involving a substantial amount of direct and telephone contact with the public and the responsibility to perform numerous tasks simultaneously.
KNOWLEDGE AND ABILITIES
Knowledge of: Alphanumeric sequences.
Ability to: Work under stress and maintain composure; follow instructions precisely; listen and translate what is heard into the appropriate action; speak English over the telephone quickly and be easily understood; adapt quickly to a variety of situations; act in an emergency situation; write rapidly and legibly; perform several functions simultaneously; hear in the presence of significant background noise; read and comprehend at the level required for the job; determine officer's welfare from voice inflection; establish priorities and take appropriate action; extract critical information from incoming calls; recall a variety of situations and retain information; anticipate the officer's need for assistance; type; operate and monitor a multitude of frequencies and a variety of highly technical communication systems and equipment.
SPECIAL PERSONAL CHARACTERISTICS
Consistently report to work with a minimum of absences; willingness to work on Saturdays, Sundays, and holidays at odd or irregular hours and night shifts; voice well modulated for radio transmission and clear enunciation; emotional stability; hearing necessary to perform the duties of the position; and a satisfactory record as a law-abiding citizen.
SPECIAL REQUIREMENTS
Existing law requires that a thorough background investigation shall be conducted to verify the absence of past behavior indicative of unsuitability to perform public safety dispatcher duties. The background investigation shall include a check of Department of Motor Vehicles' records and a search of local, State, and national criminal history files to disclose any criminal record. Persons unsuccessful in the investigation cannot be appointed to the Communications Operator series.
Existing law requires that a medical examination shall be conducted to verify the absence of any medical condition which would preclude the safe and efficient performance of dispatcher duties. Persons unsuccessful in the medical exam cannot be appointed to the Communications Operator series.
Penal Code Section 13510(c) requires that State agencies participating in the P.O.S.T. program shall evaluate oral communication skills to ensure skill levels commensurate with the satisfactory performance of dispatch duties.
Penal Code Section 13510(c) requires that State agencies participating in the P.O.S.T. program shall require that the P.O.S.T. Public Safety Dispatcher's Basic Course be the minimum basic training for all public safety dispatchers in the program. The course shall be completed within 12 months of hire or assignment to dispatcher duties. Failure to successfully complete the course shall be cause for termination based on failure to meet the required conditions of employment.
---
Still have questions?
Contact the Workforce Planning and Recruitment Office at Recruiting@parks.ca.gov.
Follow WPRO and get notices on the latest Parks jobs available and exam opportunities!