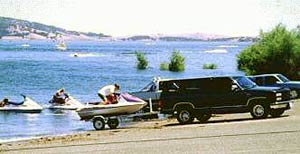 Folsom Lake Marina, which is one of the largest inland marinas in California, is located in Browns Ravine at Folsom Lake State Recreational Area. It is the only Marina on Folsom Lake and is open year round. The whole Browns Ravine area is operated by a concessionaire for the State Park System.

The marina offers something for everyone. It has 685 wet slips and 175 dry, which can accommodate boats up to a 26 ft boat.(SlipRental Rates). There is currently a waiting list for all size slips of one to three years, depending on the size of the boat.

Its snack bar offers a large selection of candy, chips, soft drinks, ice cream as well as heat and eat sandwiches. Beer in not sold in the Park. Located within its snack bar area, the marina also has both a small bait and tackle shop and a marine supply store. It offers most the items required by law to keep both you and your boat safe and legal. A good assortment of ski ropes and a variety of other boating supplies our offered. The bait shop, while small, does have worms, night crawlers, a various assortment of lures and basic fishing supplies. The marina does not sell fishing licenses.

The Marinas gas facility is the only gas offered on the lake and is open everyday of the year (Subject to lake levels). The Marina is an authorized Chevron dealer and has only the Plus gasoline. Motor and two cycle oil is available. Batteries can be charged at the marina, but no repair services are offered.

The Marina is located at the south end of the lake and has an earth filled breakwater protecting it from the main part of the lake. The Snack Bar and Gas dock is located next to the Marina's main launching ramp. The main ramp has four lanes and two courtesy docks to assist boaters in the launching and retrieval of their boats. Our Hobie Cove ramp is a low water ramp that goes into operation when the lake elevation drops to elevation 435'. It also is a four lane paved ramp with two courtey docks. Picnic tables and Bar-B-Qs are located throughout the Browns Ravine area. Fires are only allowed in the designated fire areas. Swimming and sun bathing in the Hobie Cove area of Browns Ravine is a popular sport. It should be noted that there no life guards on duty at Browns Ravine.

Though the Browns Ravine is operated by a concessionaire, it is still part of the State Park and all State Park fees apply. The entrance station into Browns has a self pay box for the times that no one is at the station. State Annual Passes are sold at the marina office, both during the week and on weekends. The marina office will accept Credit Cards.