Grants and Local Services
Welcome to the California Department of Parks and Recreation's Office of Grants and Local Services (OGALS). OGALS is a full-service organization dedicated to meeting California's diverse park and recreation needs.
Since 1964, over 7,400 parks have been created or improved through OGALS' grants. Since 2000, nearly $3 billion in grants have been administered by OGALS.
Please explore the links below for updates about current programs.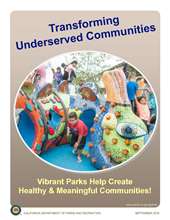 2015 SCORP
Grant Funds Available
LWCF Application Deadline for Local Agencies is Monday, February 5, 2018
Program Updates
Outdoor Environmental Education Facilities Grant Program (September 29, 2017)
California Youth Soccer and Recreation Development Program - Awards Announced (June 19, 2017)
HCF - Applications had a postmark requirement of October 2, 2017. Applications are currently under review. (October 3, 2017)
LWCF Project Recommendations Announced (May 26, 2016)
RTP Project Recommendations Announced (December 7, 2015)