For Immediate Release: 12/21/2022
Big Basin Redwoods State Park Reopens 4 Additional Miles of Roads and Trails
Contact:
Doug Johnson
Information Officer
newsroom@parks.ca.gov

Increase in limited public access to the fire-scarred park
BOULDER CREEK, Calif. — California State Parks today announced Big Basin Redwoods State Park will reopen an additional four miles of roads and trails effective this Friday, December 23.
Visitors on foot will be able to explore the newly renovated Meteor Trail, a one-mile segment of Skyline to the Sea Trail, and dog-friendly access along the first mile of North Escape Road. The first mile of Sunset Trail is finishing reconstruction and is expected to open sometime next month. Redwood Loop and Dool Trail, both which opened in the summer, are also available to visitors. Additionally, about 20 miles of multiuse fire roads near the historic park core remain open to hiking and biking. The Big Basin Redwoods State Park webpage contains a map detailing the new trail access. Services remain limited within the park. There is no cell phone coverage, running water, or electricity.
"We are pushing to reopen fire damaged trail segments in Big Basin as they are safely reconstructed and look forward to welcoming more visitors in 2023," said Santa Cruz District Superintendent Chris Spohrer. "These newly opened trails offer a novel window to witness the remarkable recovery of the ancient forest – come visit and enjoy!"
Since Big Basin reopened to the public on July 22, 2022, over 16,000 people have visited the park through the online parking reservation system created and operated by nonprofit partner Friends of Santa Cruz State Parks. Visitors will continue to be required to make a reservation online in advance to guarantee access to the limited parking area to visit the new trail segments.
"We're committed to supporting new ways to grow public access at Big Basin, and we're proud to partner with State Parks on this program," said Friends of Santa Cruz State Parks Executive Director Bonny Hawley. "Big Basin has come a long way in less than five months since the park reopened. The amount of parking available by reservation on a daily basis has nearly doubled. The newly opened trails offer visitors more ways to explore the amazing regrowth happening since the CZU Fire in 2020. We're looking forward to welcoming many more visitors in 2023."
The expansion in the park's trail network is a milestone in restoring trail access in the park as a couple of Big Basin's popular loop hikes around the park headquarters area will once again be accessible to hikers. These trails also provide hikers access along a portion of Opal Creek and to up Middle Ridge to Ocean View Summit with sweeping views all the way to the Pacific Ocean.
The old growth redwood forest in Big Basin continues to recover after almost the entire park burned in the 2020 CZU Fire. Park visitors can witness the regrowth on the iconic trees and can also see signs of wildlife returning to the park's recovering forest including deer, raccoon, fox, mountain lion, coyote, bats, many bird species and other wildlife.
The Big Basin Volunteer Trail Crew, Trails Center volunteers, California Conservation Corps and the District Trail Crew are working hard to continue expanding trail access in the park. Visitors will see newly constructed steps, retainer walls, foot bridges as well as burn piles from clearing vegetation and hazard trees. The piles will be burned in the coming years to reduce fuel loads along these recreational routes. Crews will continue to rebuild trails and remove hazards along other trails and have the goal to open some additional trail segments by summer 2023.
Park Reservations
During this interim recovery phase access to the park is available by reservation only, through the reservation system created and operated by Friends of Santa Cruz State Parks. Reservations are available online at Big Basin Redwoods State Park or by phone (831) 338-8867. Most spaces of the 100 spaces offered daily are available up to 60 days in advance, while a limited number of reservations will be released three days before the visit date. Entry is $6, plus a $2 reservation fee for day-long access to the park. State Parks day-use passes and other park entry programs are honored with a reservation, including the recently expanded Golden Bear Park Pass, which provides free access to state parks for families receiving CalWORKS benefits and others.
First Day Hikes
Big Basin will be part of the First Day Hikes program on January 1. Join staff for a hike up to one of Big Basin's lookouts as part of the First Day Hikes program! This is a fun-for-all hike with some incline up to the summit. Participants will go at an enjoyable pace and stop along the way to smell the flowers they may come across. Additionally, participants will see an overview of the park post-2020 CZU Lightning Complex Fire and learn about the park's flora and fauna. Once reaching the summit, ocean views will be amazing if it is a clear day. Parking for the first day hike is through the park's reservation system and must be made 24 hours prior to arrival. For more information and to register, please visit the First Day Hikes webpage.
Big Basin's History and Future
In August 2020, the CZU Lightning Complex Fire burned the park destroying nearly every structure, including the park headquarters, campgrounds, and housing for park employees. Approximately 18,000 acres burned inside the park boundary. The park is still without electricity, water, flush toilets, phone service or buildings. Recovery from the fire is an ongoing and long-term effort expected to take many years. To learn more about the rebuilding process visit us online at Reimaging Big Basin.
Big Basin is the oldest state park in California, acquired in 1902. The lands known today as Big Basin Redwoods State Park were originally the homelands of the Quiroste and Cotoni tribes, ancestral relatives of today's Amah Mutsun Tribal Band and the Muwekma Ohlone Tribe. Prior to the CZU Fire, the park had many miles of trails — which served hikers and equestrians, linking Big Basin to Castle Rock State Park and the eastern reaches of the Santa Cruz range — and hundreds of campsites.
The Visioning Summary outlining the public engagement process and guiding vision for reestablishing the park is complete and was made publicly available in July. Future planning phases will include additional opportunities for public engagement. The next milestone in the planning process will be the development of a facilities management plan. This plan will outline plans for reestablishing park facilities such as campgrounds, structures and day-use parking at a more specific site-planning level while taking into consideration the visioning summary and supporting studies to date. It is anticipated the facilities management planning process will kick-off in 2023.
Support State Park Partners to Rebuild Big Basin
Abundant regrowth in the old growth basin. Right: District Trail Crew installing log retainer wall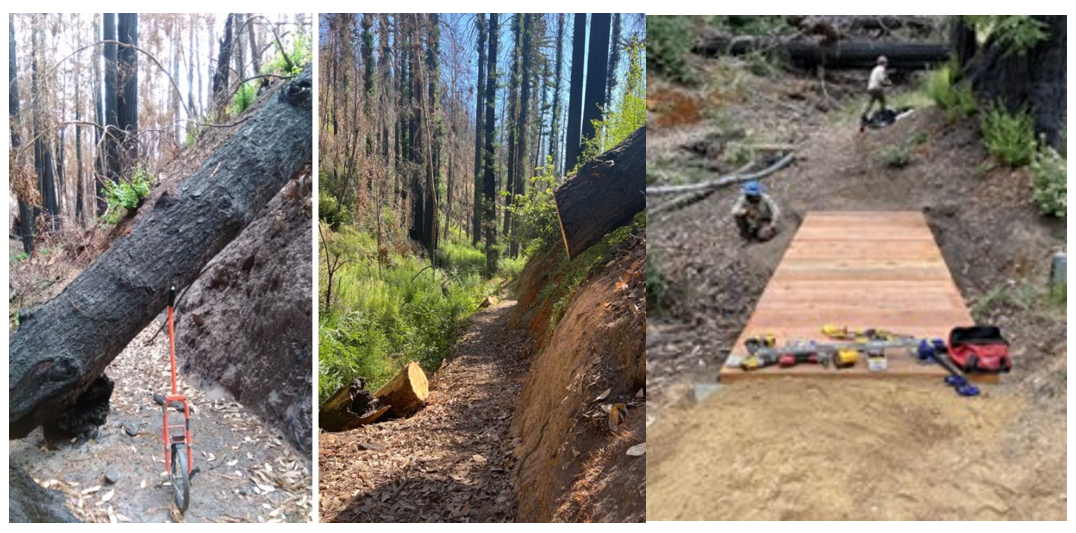 Left: Before and after trail reconstruction Right: Newly installed footbridge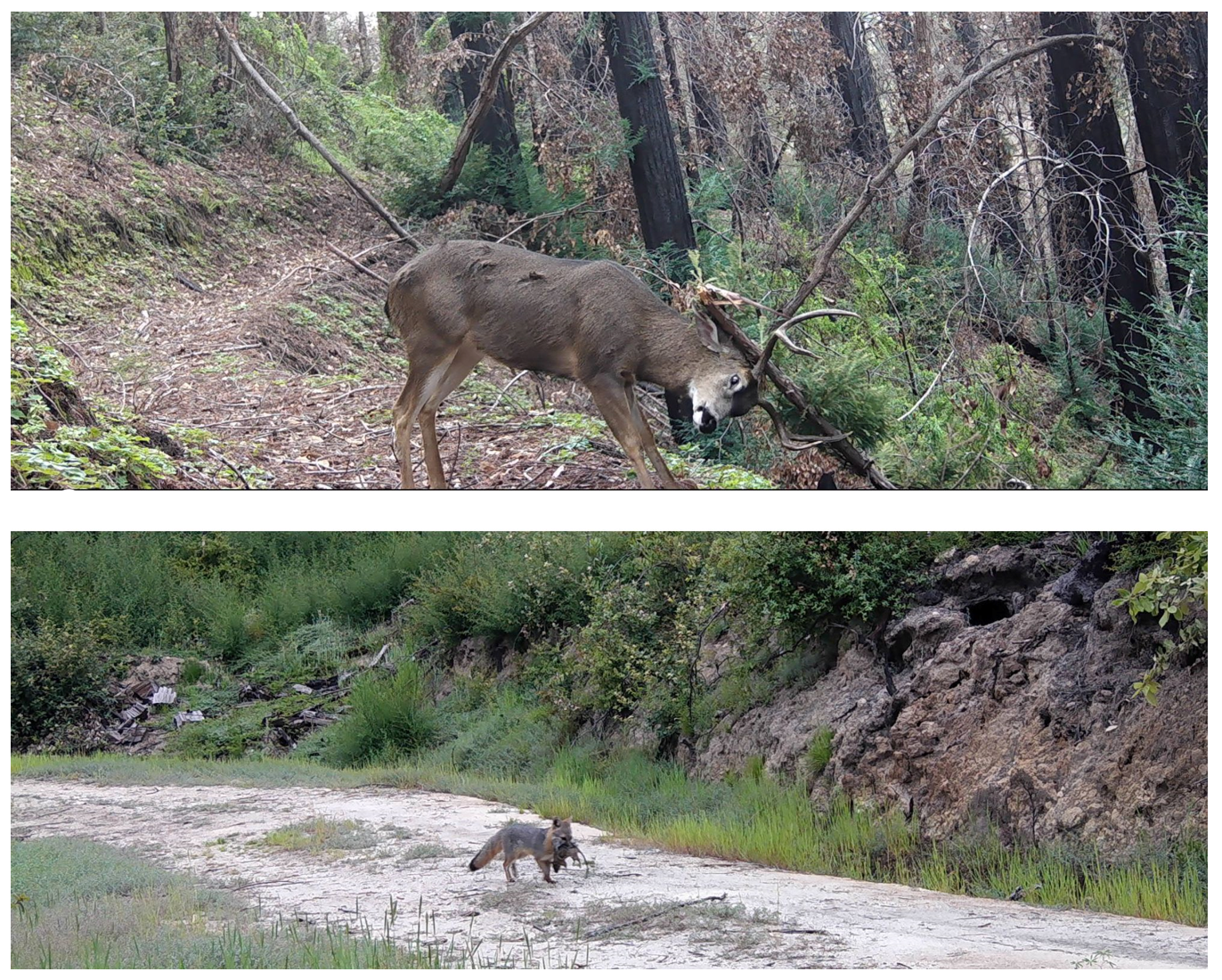 Wildlife returning to Big Basin (photos from Kristine Doerr, San Jose State)
Reimagining Big Basin
Subscribe to Reimagining Big Basin News online at https://reimaginingbigbasin.org/opportunities-to-participate/
---
Subscribe to California State Parks News via e-mail at NewsRoom@parks.ca.gov
California State Parks provides for the health, inspiration and education of the people of California by helping to preserve the state's extraordinary biological diversity, protecting its most valued natural and cultural resources, and creating opportunities for high quality outdoor recreation.