Tahoe State Recreation Area
UPDATE (March 31, 2020):
This park is temporarily closed to vehicular access.
The park remains open for locals who wish to walk, hike and bike (in parks with bike trails) in the park, provided they practice social/physical distancing of 6 feet or more. This is not the time for a road trip to a destination park or beach.
In an effort to prevent visitation surges and help stop the spread of the coronavirus (COVID-19), State Parks has implemented the following safety measures to date:
Closed some parks, meaning all trails and restrooms within these parks are closed.
Closed vehicular access at remaining parks, including for off-highway vehicle riding.
Closed all campgrounds, museums and visitor centers.
Cancelled all events.
A list of closures is available online at
parks.ca.gov/FlattenTheCurve
. The list is dynamic and updated on a regular basis.
Phone Number
(530) 583-3074
Max. Trailer Lengths
Trailer: 15 Feet
Camper/Motorhome: 21 Feet
Park Hours
Campground opens end of May 2018
Driving Directions to Tahoe SRA
The area is located 0.25 miles east of Tahoe City on Highway 28.
Lakeside and Hillside campgrounds are the loops in this park. Hillside is across Highway 28 from Lakeside loop - and Lake Tahoe.


Camping and Lodging
Visitors will be able to reserve campsites and lodging six months in advance from the current date. Bookings may extend from the arrival date to the desired departure date – based on availability and the park's maximum stay rules.
Upcoming Park Events
No events scheduled at this moment.
OVERNIGHT FACILITIES
Family Campsites
RV Access

TRAIL USE
Bike Trails

DAY-USE ACTIVITIES & FACILITIES
Picnic Areas
Fishing
Beach Area
Swimming
Windsurfing/Surfing

OTHER FACILITIES & VISITOR INFORMATION
Restrooms / Showers
Drinking Water Available


Campground updates as of October 1, 2019
Tahoe State Recreation Area Campground is currently closed for the season. Please check back to the park's website for updated information for the 2020 camping season, thank you.
For camping reservation and information, please contact ReserveCalifornia at www.reservecalifornia.com or (800) 444-7275
Location-Directions
0.25 miles east of Tahoe City on Highway 28.
Tahoe SRA is located in Tahoe City, east of nearby shopping malls and restaurants.
There is a bike path that leads from the campground into town with picturesque views of Lake Tahoe.
Campground Information
The campground has 23 campsites with picnic tables, required-use food storage containers, and fire pits.
There are showers and restrooms available for registered campers.
Tahoe SRA does not have hook-ups or dump stations and is best for tent camping or the use of smaller trailers and RVs.

Quiet Hours 10pm - 6am Check In - 2 pm
Generator Hours 10am - 8pm Check Out - Noon
2 Vehicles allowed per campsite Children must have helmets for bicycles/scooters/skateboards
8 people allowed per campsite Dogs must be leashed and never unattended

Food Storage Locker Information
Metal bear-resistant food lockers are provided in each campsite. All food, beverages, and toiletries are required by law to be stored in provided food lockers. The inside dimensions of the food lockers 36" deep, 43" wide, and 22" high. Violators will be cited.
Additional Visitor Services
Tahoe City Public Utility District (Tahoe SRA-Truckee bike paths)
Camping Options
This is a smaller campground that is often full during the summer.
Here are some other camping options nearby:
Ed Z'berg - Sugar Pine Point State Park is 11 miles south on Highway 89
D.L. Bliss State Park is also an option - 17 miles south on Hwy 89
Tahoe City Lake Forest Campground - 1 mile east Hwy 28 - 530-583-3796
USFS William Kent Campground - 3 miles south Hwy 89
USFS Silver Creek - 7 miles north Hwy 89
USFS Goose Meadows - 10 miles north Hwy 89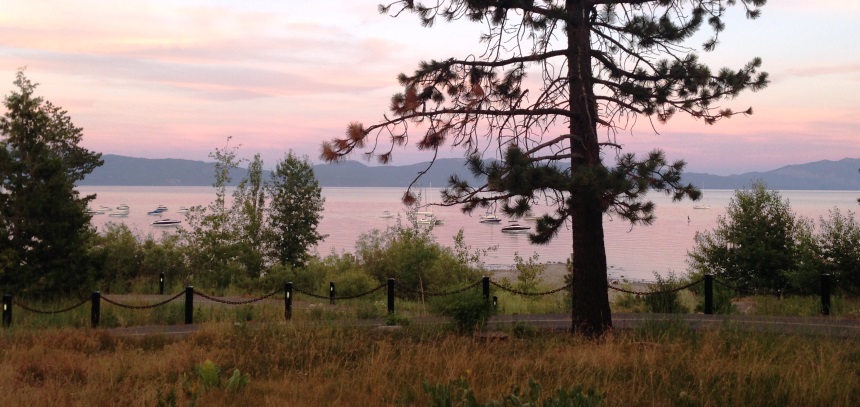 Social Feed