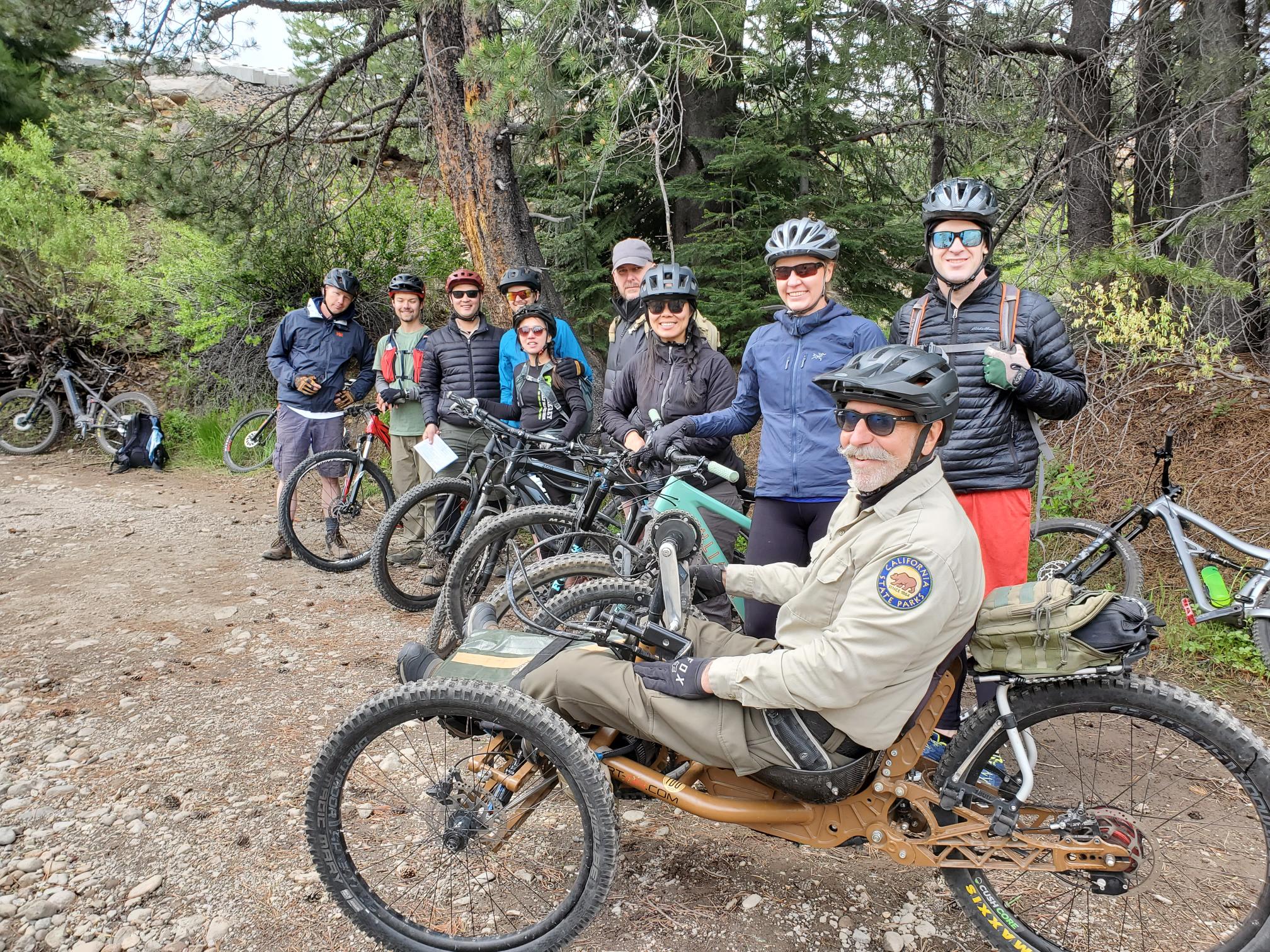 Mountain Bike Tours
Mountain bike tours explore the gorgeous Coldstream Canyon area of the Park on a 10-mile intermediate ride (9am-1pm). California State Park leaders will guide the group to scenic vistas to highlight Railroad Chinese contribution to the transcontinental railroad, indigenous culture, California emigration, and wildlife diversity. Tours are limited to ten riders. Participants bring their own (recently serviced) mountain bikes, helmets, sun protection, food, and water.
Sign up for Mountain Bike Tours with this registration form. Tours are free and parking fees apply.
*Thanks for acknowledging that his program requires a lot of resources (staff time and equipment) to be offered at no-cost. If I cancel last minute and/or "no show", I am impacting the program by preventing others from enjoying this high-demand experience.

Mountain Bike Tour Schedule:
8:30-9:00am

Arrive at Donner Memorial State Park. Meet with tour leaders, use bathrooms, and equipment check.

9:00-9:30am

Introductions and ride to China Cove (1.2 mi) for first interpretive stop (Railroad Chinese) and bathroom option.

9:30-10:00am

Ride to Coldstream Canyon area of the park (1.3 mi) and stop at lower historic Emigrant Trail to learn about wagon trains and westward expansion.

10:00-10:30am

Ride to Coldstream Ponds (1.6 mi) to learn about wildlife diversity and natural history of the region.

10:30-11:30am

Ride to railroad scenic viewpoint (1.5 mi) to learn about transcontinental railroad history. Minor stops along the way. Lunch at the "mousehole" to learn about post-railroad land management.

11:30am-12:00pm noon

Ride to upper Coldstream Pond (3.1 mi) area to regroup and closing.

12:00-12:30pm

Ride back to Visitor Center (1 mi) and conclude

Total distance: 9.7 miles intermediate terrain
What should I bring?
Please bring sun protection, food, water, and personal medications. Drinking water, bathrooms, and public Wifi is available at the Visitor Center. We will provide first aid kit, basic bike repair kit, and bike pump.
What to expect on arrival?
Restrooms located at Donner Memorial State Park admin building: 12593 Donner Pass Rd, Truckee, CA 96161 (Hours: 10am-5pm). For directions, click here.

What about parking?
The Parking Fee ($10) applies to all park visitors. The Donner Lake Paddling Tour is a no-cost program.

Parent and Guardian Roles
Youth participants (age 17 and under) must be accompanied by a parent or guardian throughout the tour.

Interested in learning more about the park before you come?

Park Interpretive Content and Historic References - Donner Docent website
Donner Self-Guided Nature Loop Brochure (.5MB)
Donner Summit Historical Society

Cancellations
We will notify you 24 hours in advance if the tour must be canceled due to extreme weather, nearby wildfires, or poor air quality (smoke).
Mountain Bikes are available to rent locally
Dirt Gypsy Adventures (844-464-9779), Bike Truckee (530-386-5700), Tahoe Donner Bike Works (530-582-9694)
Questions? Please contact jeremy.lin@parks.ca.gov and bill.bowness@parks.ca.gov
California State Parks E-Bike Information Page
E-Bikes in CA State Parks Webpage
What is an e-bike?
Locations to ride e-bikes
State Parks e-bike policy
FAQs