Currently, Wildwood Canyon is open for day use from sunrise to sunset. The primary recreational activities are hiking, horseback riding, and biking. All trails are multi-use, so please be respectful of others. Dogs are allowed on all trails as well, but must be on a leash and under human control at all times. Picnic tables and portable restrooms near the entrance are the only visitor facilities. Special events and activities are held occasionally, but check with the Lake Perris Museum for more information on upcoming events at the park at (951) 940-5657 or at their website.
Activities:
Hiking
Wildwood Canyon offers extraordinary day hiking adventures with miles of wild trails past historic structures and through various natural communities. Numerous hiking options will be obvious to you if you take the time to study the trails of the park to plan your own hike.
For those with only a short time here is a recommended trip (Courtesy of Hiking in SoCal, used with permission):
Wildwood Canyon : McCoulough-Oak Tree Loops
Category: Easy
Miles: 1.75
Elevation Gain: 330'
Directions: HERE
Location: Wildwood Canyon
Description: Wildwood Canyon, nestled in the foothills of the San Bernardino Mountains doesn't offer visitors much in terms of services, but what it lacks in ordinary practicality it makes up for in serenity. Centuries-old Interior and Coast Live Oak Woodlands dominate the lower hillsides as grand and magnificent as any in Southern California. Out of the moister canyon bottom and free from the dense oak canopy, montane chaparral is the dominate plant community hosting a variety of native plant species such as scrub oaks, manzanita, yucca, and chamise. Wandering the network of trails among historic ranch houses, and back dropped by the rugged high mountain slopes of Yucaipa Ridge, one can easily be enthralled with the idea of what this entire county would have looked like in eras past.
The Trail: From the large parking area, proceed onto the Oak Tree Loop trail past come picnic benches and restrooms as the trail enters quickly into a quintessential oak woodland county, replete in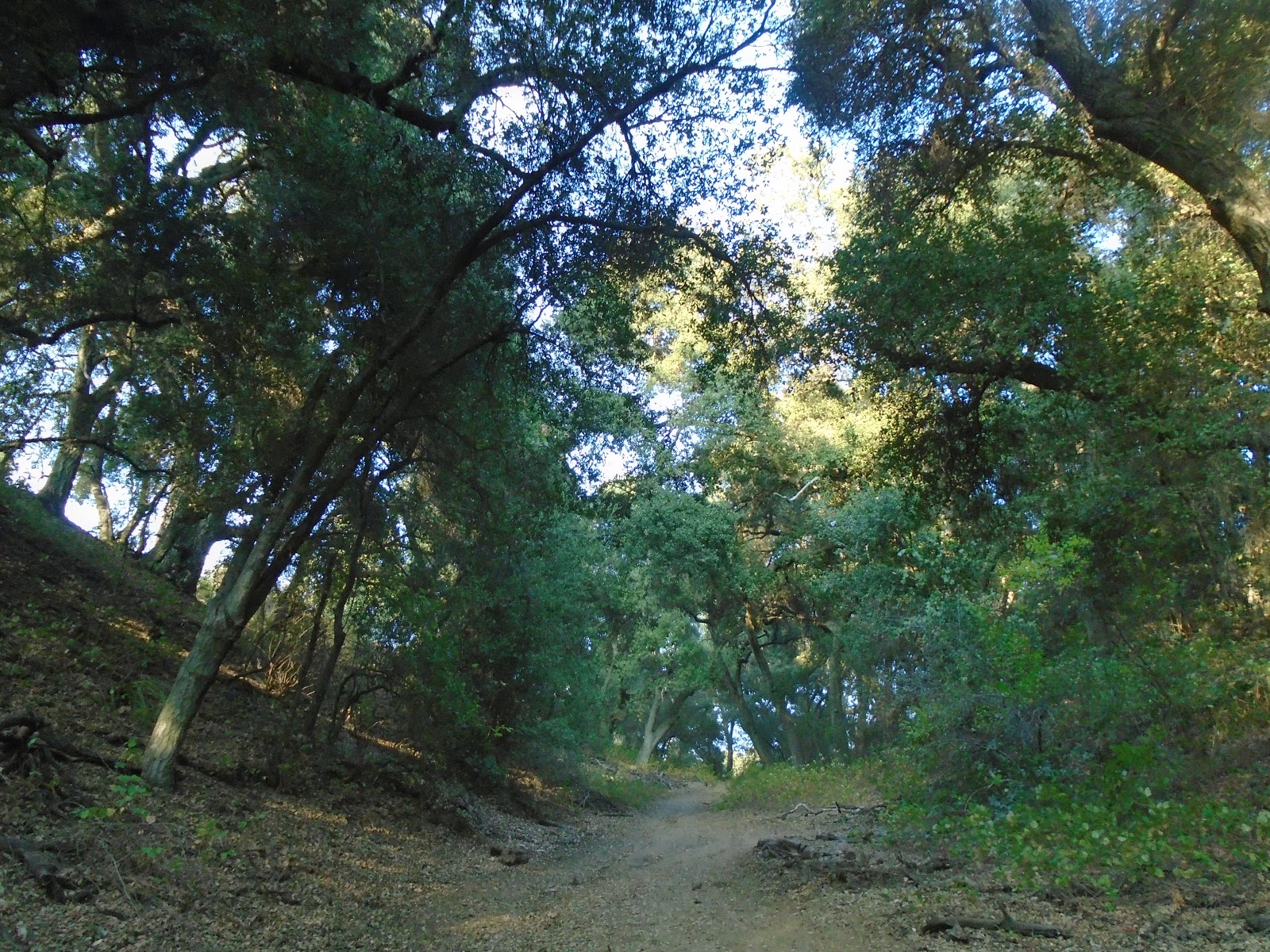 season with numerous stands of California Wild Gourd. As the trail continues, take the fork left upwards into the woodland. Note the dense canopy of trees above and the varied species in the undergrowth of the giants around you. Imagine for a minute that much of Southern California would have looked like this when Juan Rodriguez Cabrillo became the first European to set landfall in California in 1542. As the path quickly ascends through the remainder of the forest, it steepens before flattening in montane chaparral which comes into view subsequently. The trail wanders through this rich community before meeting with the McClough Trail near a picnic bench and horse watering area. If you have time, continue to add onto the trip, by connecting to various other trail. However to follow this write-up, take the dirt road left towards the Hi-Up Historic House, before following the road back down into the parking lot.
Horseback Riding
The park offers terrific oppurtunities for a horseback adventure. All trails are horse friendly.
A horse staging area is located near the entrance. The Hunt Ranch corrals are also available for equestrian use, but there is no vehicle access to these corrals.
Biking
Put the petal the metal at on Wildwood's trails for a memerable mountain biking experience. All trails are bike-friendly.
Other Activities
Whether you are a bird watcher, photographer, or picnicer, Wildwood Canyon has something to offer you! Come by to experience it all!