2020 Junior Lifeguard Program Information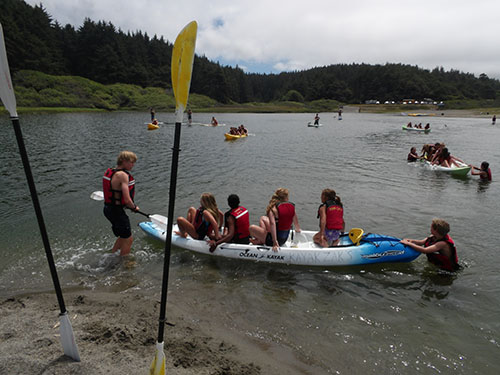 Who: Boys and Girls - 8-18 years old
Where: Trinidad State Beach and Crescent beach, Crescent City.
Why: The Junior Lifeguard program is a unique and challenging aquatic program to educate community youth about safe ocean recreation. Our goal is to maintain a safe and enjoyable beach environment by educating future generations about coastal currents, swells, aquatic life and self-rescue. Prevention is the best form of lifeguarding.
Develop Ocean Safety! Learn about the local environment! Have fun!
When: Every summer! One week sessions are available between June, July and August in Trinidad with 2 sessions lasting one week in August in Crescent City. All sessions will run Monday through Friday - 11:00 a.m. to 2:30 p.m, regardless of location.
Program Locations and Dates:
Trinidad Sessions: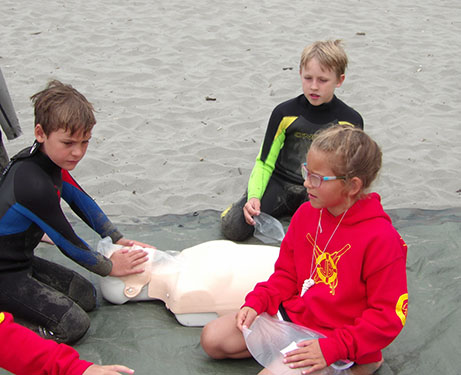 Session II -
2021 June Sessions: 21st-25th & 28th-July 2nd.
Break from July 5th-9th for the holiday.

2021 July Sessions: 12th-16th, 12-16th, 19th-23rd
July 26th-30th.
2021 August sessions: 2nd-6th
11am - 230 pm (M-F)
Trinidad State Beach


The Trinidad sessions of North Coast Junior Lifeguards are held primarily at the Trinidad State Beach from 11-230 unless otherwise stated. Drop off should be before 11 am to allow time to get down to the beach and ready for stretches at 11 am SHARP.
Crescent City: August 2nd to August 6th, 2021/ August 16th-20th. 11-230.
Del Norte Coast Junior lifeguards will be held at Crescent beach in Crescent City. Look for the easy up and the swarm of junior lifeguards in red ready to stretch and get in the water at 11 am sharp. (Enderts Beach rd. Access.)
Program Fees:
Enrollment is $250.00 (one week) and includes a uniform t-shirt and hoodie. Scholarships are available for families who may struggle to pay enrollent in full, please contact the JG coordinator for details, info. will be kept confidential.
JG's may enroll in all sessions.

Payment: Payment credit card only
Tuition assistance may be available, please inquire with the Junior Lifeguard Coordinator.
If you are interested in making a donation please contact us at (707) 677-3132.
Tryout test consists of the following: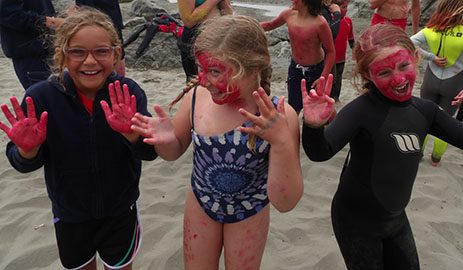 Due to COVID-19 tryouts are now held on the first day of the program for Lifeguards to see where every participant is at on an individual basis. No one will be excluded from the program if they have a poor tryout, we are excited to work with swimmers, surfers and beach lovers of all levels.
For those who may wonder a typical tryout is included below:
`
Swim 100 yards in a time specific to the age group. (pass/fail)
13-17 year olds - 2:20 mins or less
11-12 years old - 2:30 mins or less
8-10 years old - 2:40 mins or less

Tread water for 3 minutes (pass/fail)

Swim 10 yards underwater (pass/fail)


*Note: All new students entering the program must successfully complete the testing process to be eligible for the program (NO EXCEPTIONS).
Try out dates and Locations
2021 Jr. Lifeguard Tryouts Dates & Location
First day of your program!
Crescent City
Stay Tuned!
Fred Endert Municipal Pool
Returning Junior Guards
Returning JG's ages 14-17 are encouraged to try out for JG instructor aid positions.
Please contact North coast Junior Lifeguards @ (707) 677-3132 for more information.
Uniforms: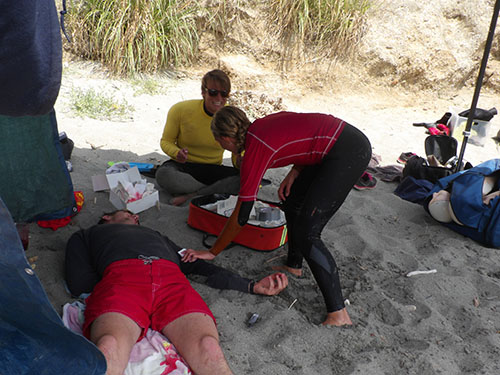 Participants will receive 1 shirt and 1 hoodie included in the tuition. Junior Guards are required to wear navy trunks or sweats of there choice. These items are to be worn daily as part of the required uniform, for camaraderie, safety and identification purposes. It is recommended that participants wear a Speedo / Jammer / 1 piece or 2 piece style swim suit under the uniform trunks for ease of changing in and out of wet suits.

Wet suits will generally be required for ocean activities. It is strongly recommended that your child acquire his or her own 4/3 surf style wet suit for daily use. There is no guarantee a wet suit will be available for those that do not have there own.
There will be brightly colored rash guards provided that participants will be required to wear on the outside of their wet suits when involved in ocean activities.

Wet suits can be purchased or rented from the below Humboldt County businesses. Both businesses have offered to take the price payed for rental of suits off the original purchase price if someone wanted to purchase the suit after or during the rental period.
The Shop, Arcata CA
(707) 822-2248
theshopsurf@gmail.com
Salty's Supply Co. Trinidad, CA
(707) 677-0300
info@saltystrinidad.com