For Immediate Release: 8/15/2023
California State Parks Purchases Six Properties from Sempervirens Fund, Permanently Expanding Castle Rock State Park
Contacts:
Blake Case
Sempervirens Fund
(601) 832-6079

Adeline Yee
California State Parks
Newsroom@parks.ca.gov
First land acquisitions by the state agency in the district since 2011; includes the new state park entrance Sempervirens Fund opened to the public in 2019
LOS GATOS, Calif.—Today, California State Parks and the Sempervirens Fund, California's first land trust, announced permanent additions to expand Castle Rock State Park in Los Gatos, Calif. The $4.21 million in acquisitions for six properties by State Parks are the first for the agency in the Santa Cruz Park District since 2011 and the first anywhere in the state since 2021. The 222 acres of properties include the Robert C. Kirkwood entrance, which Sempervirens Fund built on land it purchased from a private landowner and opened to the public in 2019, leading to an increase in visitation to the park.
"We are thrilled to be able to work with the Sempervirens Fund in order to expand what's already an amazing park and make even more of this beautiful redwood forest available to the people of California," said California State Parks Director Armando Quintero. "California State Parks will continue to protect and preserve these incredible landscapes for the benefit of future generations and the health of the natural systems that sustain us."
"The purchase of the properties and the permanent expansion of Castle Rock State Park is a testament to the power and commitment of our conservation community in sustaining a vision for natural resource protection and recreation in the Santa Cruz mountains," said Sempervirens FundExecutive Director Sara Barth. "Castle Rock is a spectacular state park, and we are proud to have been instrumental in its conservation, now and into the future, since we helped established it in 1968."
Since 1993, Sempervirens Fund has acquired six properties—more than 222 acres of land—along and within the park's borders to bolster the park's important habitats and expand its trails and recreational experiences for all to enjoy. These properties range from the land that is home to the park's new Robert C. Kirkwood entrance on the eastern edge, to a remarkable old-growth redwood forest at the park's southwest corner near the junction of California Highways 236 and 9.
"Expanding the permanent footprint of Castle Rock State Park is another exciting development for our state park system," said California Natural Resources Secretary Wade Crowfoot. "Thanks to the Sempervirens Fund, it's another great example of how conservation groups and government are partnering to conserve more land and expand recreation for all Californians."
The properties purchased today by California State Parks include:
Robert C. Kirkwood Entrance: The park's 33-acre entrance opened in 2019 and offers safe parking lots, electronic pay stations, a 60-seat amphitheater, trail connections, new restrooms, bicycle racks, a native plant garden, and a picnic area. The Native Plants Garden, tended by the Muwekma Ohlone and Amah Mutsun Tribal Bands, shares the importance of local plants and their uses by the Native Americans who lived on the land for centuries and care for them today.
Sempervirens 236: Nestled between Big Basin Redwoods and Castle Rock state parks, this 110-acre property Sempervirens Fund purchased in 2010 protects thick groves of old-growth and second-growth redwoods from logging. The property serves as a restoration and wildlife monitoring laboratory in the Santa Cruz mountains, with projects including invasive species removal, restoration forestry, and prescribed burns.
Castle Rock West: One of the last remaining inholdings of Castle Rock State Park, this 50-acre property was purchased by Sempervirens Fund in 2018. Along the western boundary of the trail runs the 31-mile Skyline-to-the-Sea Trail. Plans to realign the trail following a massive slide will be augmented by this addition to the state park.
Saratoga Toll Road Properties: Three properties–29 acres–protect the headwaters of the San Lorenzo River and along the historic Saratoga Toll Road, one of the first logging roads in the Santa Cruz mountains. These three properties, once clear-cut over a century ago, now showcase healthy, thriving second-growth redwoods.

California State Parks has purchased the properties for $4.21 million. Sempervirens Fund has invested more than $12 million into the properties including the construction of the park's Robert C. Kirkwood entrance and facilities, and stewardship and restoration programs throughout the old-growth and second-growth redwood forests and the San Lorenzo watershed properties at what is now the new southern terminus of the park. Funding for these investments came from Sempervirens Fund donors, including The Kirkwood Family, The Joseph and Vera Long Foundation, REI Co-op, Portola and Castle Rock Foundation, and many individuals.
"Partnerships with State Parks, watershed conservation groups, the Resource Conservation District of Santa Cruz County, and many others have ensured that not only were these conservation properties protected, but they were restored and improved for forest health and resiliency," said Sempervirens Fund's Director of Land Conservation Laura McLendon. "In particular, we are confident we have established thriving conditions for old growth redwoods–some a thousand years old or more–that will anchor the species in the San Lorenzo watershed for generations to come."
Sempervirens Fund helped establish Castle Rock State Park in 1968, realizing the vision of Dr. Russell Varian, a pioneer of x-ray and radar technology. Over the decades, they have expanded the park, purchasing 42 properties and protecting more than 4,200 acres.
In the mid-2010s, and in response to fears that Castle Rock State Park might close, Sempervirens Fund stepped in, guiding Castle Rock into a new era, planning and funding modernized facilities at the Robert C. Kirkwood entrance and a sustainable funding model, with operational support from Friends of Santa Cruz State Parks.
"Partnering with California State Parks, local residents, tribes, rock climbers, and other park visitors demonstrates that a local nonprofit organization can bring people, ideas and funding together to reinvigorate an endangered state park and keep it open and accessible for generations to come," said Sara Barth.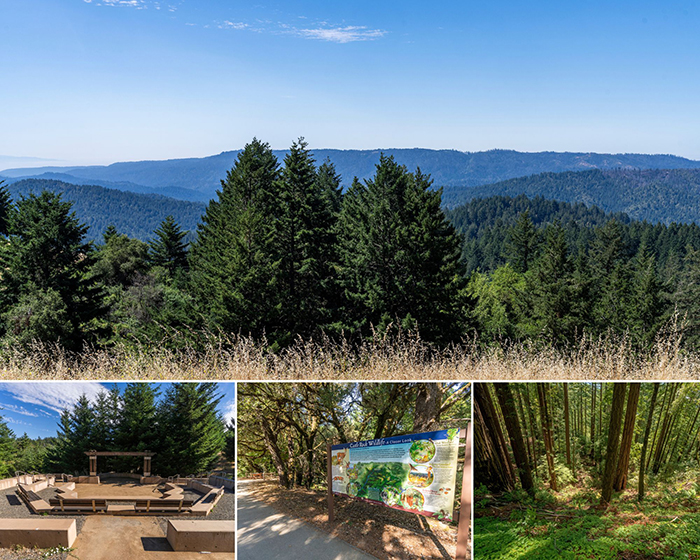 Images of Castle Rock State Park. Photos from California State Parks.
---
Subscribe to California State Parks News via e-mail at NewsRoom@parks.ca.gov
California State Parks provides for the health, inspiration and education of the people of California by helping to preserve the state's extraordinary biological diversity, protecting its most valued natural and cultural resources, and creating opportunities for high quality outdoor recreation.