For Immediate Release: 3/25/2022
Iconic Old Growth Redwood Pioneer Tree at Samuel P. Taylor State Park Destroyed by Fire
Contact:
Newsroom@parks.ca.gov
LAGUNITAS, Calif.— California State Parks is saddened to inform the public that the iconic Pioneer Tree at Samuel P. Taylor State Park is no longer standing. The tree was fully engulfed in flames yesterday morning and collapsed in the afternoon. The Pioneer Tree and Cross Marin trails are temporarily closed until further notice. The public is advised to stay clear of the area. The rest of the park remains open.
The Pioneer Tree was approximately 200 feet tall and was one of the park's few remaining old growth coastal redwoods. The Pioneer Tree had been hollowed out by previous wildfires, but its root system was nourished by younger generations of redwoods. Tragically, it no longer stands upright today.
"State Parks is devastated by the loss of this much beloved redwood tree," said California State Parks Director Armando Quintero. "I saw the collapsed tree in person and know how much it pains all of us who treasure these ancient giants who have lived thousands of years."
The fire was reported around 11:25 a.m. Marin County Fire Department contained the fire to approximately a ½ acre with no threat of further spread. The cause of the fire is unknown at this time and remains under investigation. The good news is that no evacuations at the park were needed, no campers were impacted, and no one was injured. For the latest updates on this incident, please visit parks.ca.gov/incidents.
About Samuel P. Taylor State Park
The 2,882 acres at Samuel P. Taylor State Park's offer visitors shady strolls through the stately redwoods along Lagunitas Creek and hikes to the top of Barnabe Peak, one of the best viewpoints in Marin County. The park lies 15 miles west of San Rafael on Sir Francis Drake Boulevard. Visitors can camp among redwoods, bike along the creek, explore easy-to-moderate hiking trails, watch salmon spawn, relax in picnic areas and learn the story of its namesake pioneer.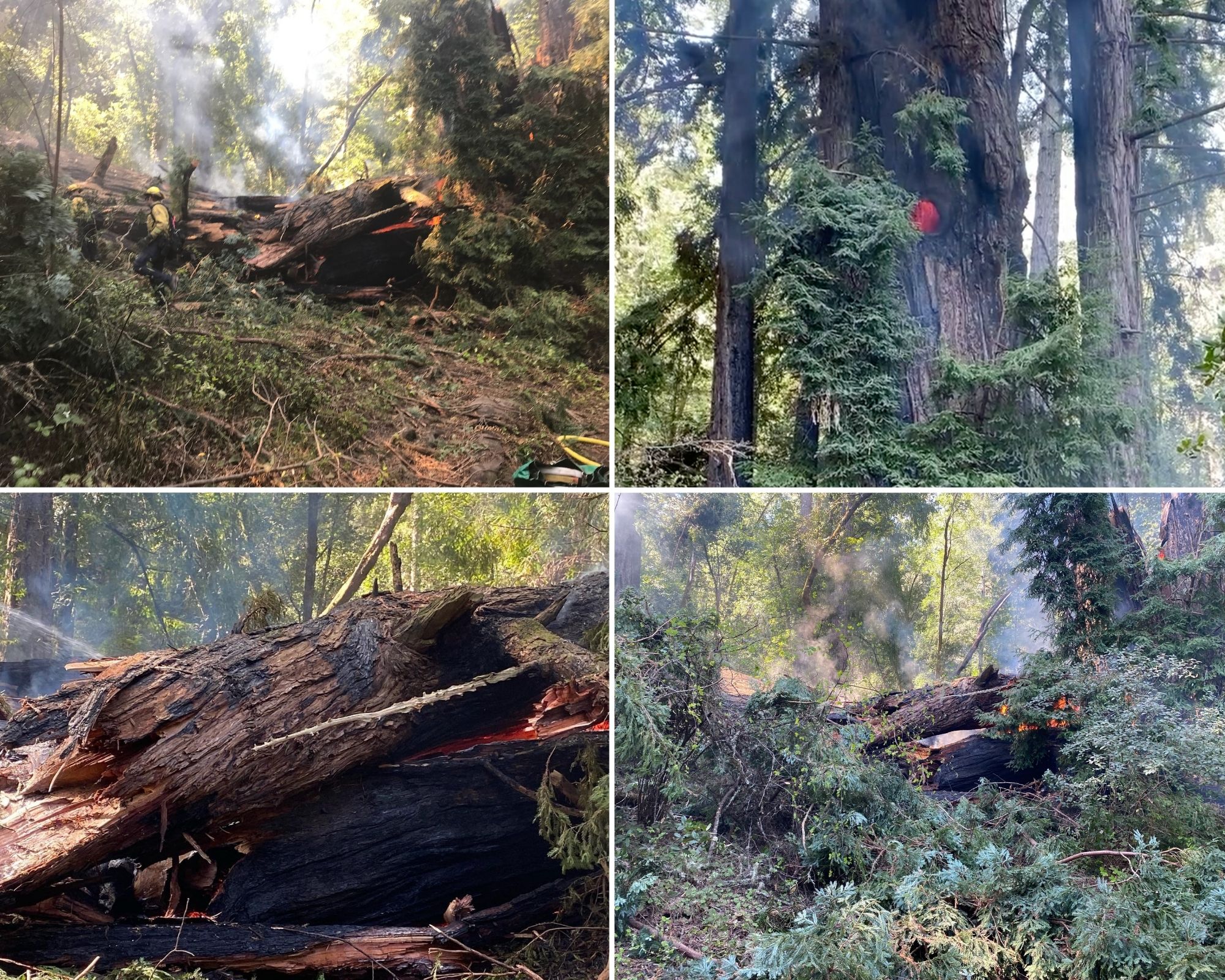 Images of the collapsed Pioneer Tree at Samuel P. Taylor State Park on March 24, 2022. Photos from California State Parks. Upper right: screenshot from video taken by the Marin Municipal Water District, showing the flames inside the tree before it collapsed.
---
Subscribe to California State Parks News via e-mail at NewsRoom@parks.ca.gov
California State Parks provides for the health, inspiration and education of the people of California by helping to preserve the state's extraordinary biological diversity, protecting its most valued natural and cultural resources, and creating opportunities for high quality outdoor recreation.