For Immediate Release: 10/23/2021
State Parks Expands Old Town San Diego State Historic Park and Honors the 'Land of the First People'
Contact: Jorge Moreno I Information Officer I (916) 661-2598
California State Parks invites the public to celebrate and participate in person or virtually in the grand opening of a new public gathering area at Old Town San Diego State Historic Parknamed Iipay ~Tipai Kumeyaay Mut Niihepok (Land of the First People)—pronounced "Ee-pie Tee-pie Koo'-me-eye Mutt Nee-ha-pock."For the first time in over 25 years, State Parks expanded the state historic park's footprint by transforming a former California Department of Transportation (Caltrans) office complex into a new outdoor space that honors the culture of the Kumeyaay Nation and their enduring relationship with the San Diego River and Old Town San Diego.
In 2018, State Parks began demolition of the former Caltrans District 11 Office Complex (Complex), built in 1952. The Complex encompassed an area of approximately 2.5 acres and contained a total of 115,735 square feet of office space. Noncompatible modern-era structures were removed from this area to create the new open space. The area is now part of Old Town San Diego State Historic Park.
With a budget of nearly $5.9 million, the project included the following new improvements:
Interpretive elements, such as a Native American interpretive public gathering area for events and ceremonies, trilingual displays (Kumeyaay, Spanish and English) and art features.
Lighting and seating.
Landscaping, including native trees, ground cover and a dry riverbed.
Enhanced pedestrian circulation system with stabilized accessible pathways.
Shaded structures.
The development of this new open space was achieved in collaboration with the Kumeyaay nation, community stakeholders, Senate President pro Tempore Toni Atkins, State Senator Christine Kehoe and Caltrans. Artists Wick Alexander, Robin Brailsford, Betsy Schultz, Paul Rhia, Jan French and Raymond Martinez transformed the concepts into art.
"We stand upon thousands of generations of Kumeyaay footsteps, in honor and respect to that history and the ancient values they passed down to us. We celebrate the dedication of this tranquil, welcoming space where our Ancestors lived, loved, died and wrote our history in the land," said Chairman of the Kumeyaay Dieguiño Land Conservancy Johnny Eagle-Spirit Elliott.
To develop the interpretive elements, State Parks worked with the Kumeyaay Nation, who established the Old Town Working Group with representatives from the Kumeyaay Diegueño Land Conservancy, Kumeyaay Heritage Preservation Committee, and Kumeyaay Cultural Repatriation Committee, and tribal members from the Barona, Campo, Jamul, Manzanita, Mesa Grande, San Pasqual, Sycuan and Viejas bands of the Kumeyaay Nation. The Old Town Working Group was instrumental in providing an opportunity for the Kumeyaay Nation to interpret their culture and their connections to the San Diego River and Old Town San Diego.
One of the exhibits illustrates the constellation of the stars of the Kumeyaay. For the Kumeyaay people, the constellations represent stories of creation, life lessons and harmony in the celestial cycles. The circular mosaic located near the center shows the summer sky. The sand painting was chosen since the artwork was painted on the ground. Sand paintings traditionally include symbols for geographic features as a type of mapping. Four circles on the outer ring represent key features that frame the location of San Diego. Together, the symbols and colors of the mosaic represent the time and place that traditional Kumeyaay lifeways changed forever when Spanish colonists arrived in San Diego.
"This beautiful new park is an opportunity to rightfully honor our past and celebrate the Kumeyaay who first called this region along the San Diego River home," said Senate President pro Tempore Toni Atkins. "I am incredibly proud of this effort and appreciate the hard work of San Diego's 18 tribes, in partnership with the California State Parks and the Legislature, who dedicated decades to making this vision a reality. Once again, history has shown us a path forward to a more inclusive future."
"The Land of the First People Exhibit has been a long time coming. This project has required extensive collaboration between Kumeyaay representatives, community stakeholders, partners, elected officials and State Parks staff," said California State Parks Director Armando Quintero. "We thank every person who dedicated their time, energy and knowledge to this project. We consider this a launching point from which we will continue to build and look forward to continuing to collaborate, learn and share the lifeways, culture and history of the First People, the Kumeyaay."
Below are details on Tuesday's event:
WHAT: Grand Opening of Iipay ~ Tipai Kumeyaay Mut Niihepok (Land of the First People)
WHEN: Tuesday, October 26
Event: 1 to 4 p.m. I Ceremony/Speakers: 1 to 2:15 p.m.
Media interested in attending must RSVP to Jorge Moreno at Jorge.Moreno@parks.ca.gov by COB Monday, October 25.
WHERE: In-person: Old Town San Diego State Historic Park, 4002 Wallace St., San Diego, CA 92110
Virtually: Facebook.com/OldTownSanDiego or Facebook.com/CaliforniaStateParks
WHO:
Mr. Kenny Meza, Jamul Indian Village A Kumeyaay Nation
Dr. Stan Rodriguez, Iipay Nation of Santa Ysabel
Dr. Harry Paul Cuero Jr., Lead Singer, Campo Band of Kumeyaay Indians
Chairman John Christman, Lead Singer, Viejas Band of Kumeyaay Indians
Chairwoman Angela Elliott Santos, Manzanita Band of the Kumeyaay Nation, Kumeyaay Diegueño Land Conservancy
David Toler, San Pasqual Band of Mission Indians, Kumeyaay Diegueño Land Conservancy
Johnny Eagle-Spirit Elliott, Manzanita Band of the Kumeyaay Nation, Kumeyaay Diegueño Land Conservancy
Director Armando Quintero, California State Parks
Toni Atkins, Senate President pro Tempore
Christine Kehoe, Former Senator
VISUALS:
Kumeyaay Blessings, Bird Songs and honored speakers.
Interpretive exhibitors, including the Barona Cultural Center, the Sycuan Cultural Center, Kumeyaay Community College, Imperial Valley Desert Museum, Kumeyaay Diegueño Land Conservancy,Rincon Youth Storytellers, Kosay Kumeyaay Market, Strong Hearted Native Women's Coalition, Southern California American Indian Resource Center, Southern California Tribal Chairmen's Association, and the Pandemic Emergency Assistance Fund, eager to share Kumeyaay history and culture with attendees.
State Parks interpreters will be stationed at select locations of the new self-guided digital tour, which features themes including Kumeyaay constellations, the ocean, estuary and San Diego River, and the Kumeyaay village of Kosa'aay. This digital tour is a great opportunity for attendees to engage with the site and continue their exploration of Kumeyaay history and culture.
COMMUNITY PARTNERS:
The Kumeyaay Diegueño Land Conservancy, California State Parks Foundation, and Parks California.Other partners include the Boosters of Old Town San Diego State Historic Park, Fiesta De Reyes, Old Town San Diego Chamber of Commerce, the Community Church and the Mormon Battalion Historic Site.
Old Town San Diego State Historic Park pays tribute to the cultural influences that make San Diego and California special. Over 10,000 students visit the state historic park annually for educational tours. Visitation at this park is over 3.5 million annually. For more information, please visit www.parks.ca.gov/OldTownSanDiego.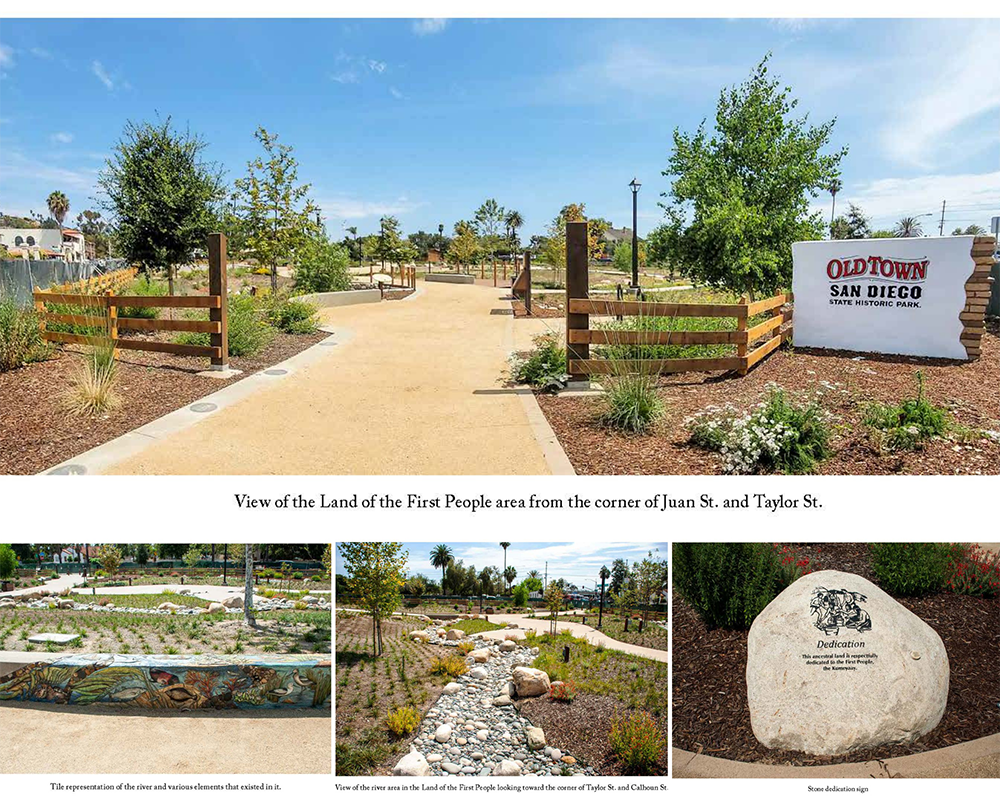 Iipay ~ Tipai Kumeyaay Mut Niihepok (Land of the First People) after construction.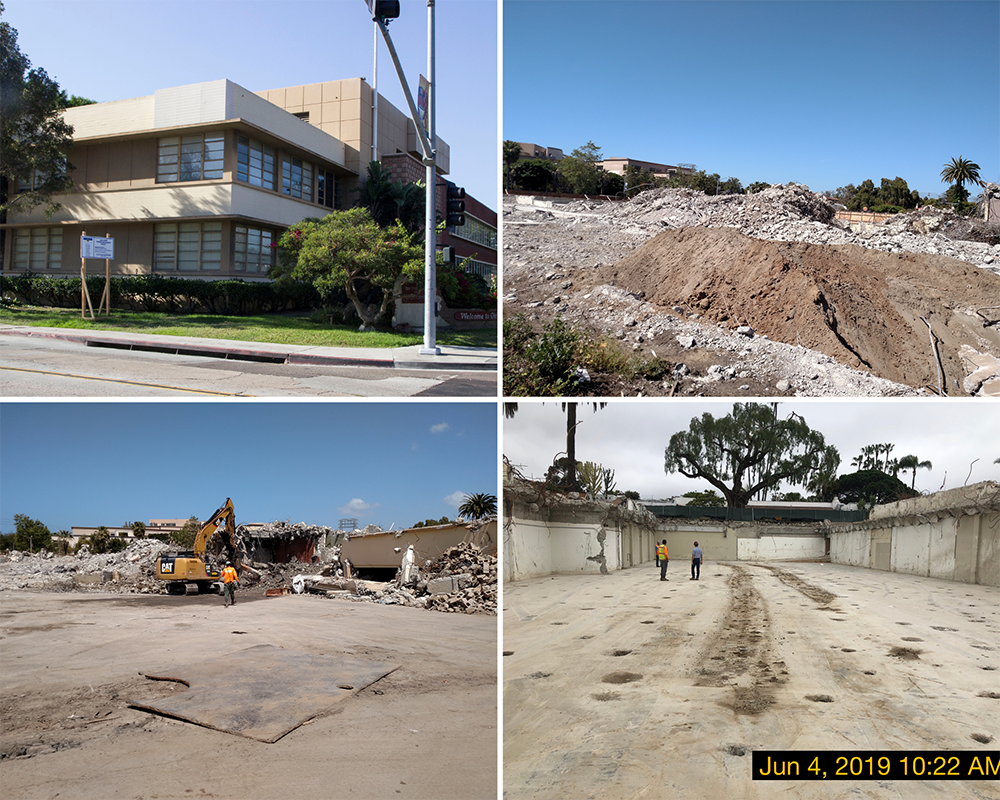 Former Caltrans District 11 Office Complex in Old Town.
---
Subscribe to California State Parks News via e-mail at NewsRoom@parks.ca.gov
California State Parks provides for the health, inspiration and education of the people of California by helping to preserve the state's extraordinary biological diversity, protecting its most valued natural and cultural resources, and creating opportunities for high quality outdoor recreation.