Leland Stanford Mansion State Historic Park
This park unit is fully open.
State Parks will continue to use a monitor and adapt strategy to meet any new guidance it may receive from local and state public health officials as COVID-19 is still present and still deadly, especially for the elderly, immune-compromised and the unvaccinated.
COVID-19 Guidelines (February 16, 2022)
Recreate Responsibly
Protect yourself, family, friends and your community by following these prevention measures:
Know Before You Go – Prior to leaving home, check the status of the park unit you want to visit to find out what restrictions and guidelines are in place. Have a back-up plan in case your destination is crowded. Stay home if you are sick
Plan Ahead – Some restrooms will be temporarily closed to keep up with cleaning schedules. Bring soap/hand sanitizer.
Play It Safe – Find out what precautions you should take when exploring the outdoors, especially if this is your first time visiting the State Park System. Learn more at parks.ca.gov/SafetyTips.
Be COVID-19 Safe – State Parks continues to meet guidance from local and state public officials as COVID-19 is still present and still deadly. Effective March 1, 2022, state guidance recommends that all individuals, regardless of vaccine status, continue masking in indoor settings, such as museums and visitor centers. Universal masking remains required in specified high-risk settings. Please plan ahead as local county guidelines may differ from state guidance and visitors are urged to follow county guidelines when required. Read the latest COVID-19 guidance at COVID19.ca.gov.
Leave No Trace – Leave areas better than how you found them by staying on designated trails and packing out all trash. Do not disturb wildlife or plants.
Phone Number
(916) 324-0575
Park Hours
10:00 am - 5:00 pm
Dogs Allowed?
Yes
Only service animals permitted on grounds and on guided tours of mansion.
Driving Directions to Leland Stanford Mansion SHP
The mansion is located in downtown Sacramento at 8th and N Streets, just a few blocks from the State Capitol.


Online reservations are not available for this park.
Upcoming Park Events
No events scheduled at this moment.
DAY-USE ACTIVITIES & FACILITIES
Historical/Cultural Site
Env. Learning/Visitor Center
Exhibits and Programs
Guided Tours
Interpretive Exhibits
Museums
Family Programs

OTHER FACILITIES & VISITOR INFORMATION
Restrooms
Drinking Water Available

Welcome to Leland Stanford Mansion State Historic Park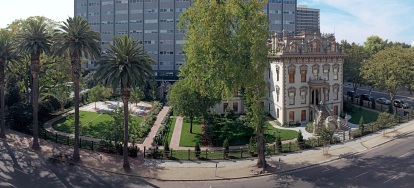 After a 14-year, $22 million restoration and rehabilitation, the Mansion is now open to the public as a museum. It also serves the citizens of California as the state's official reception center for leaders from around the world.

The Leland Stanford Mansion is a stunning example of the splendor and elegance of the Victorian era in California. On your tour of the 19,000-square-foot Mansion you will see:
17-foot ceilings
Gilded mirrors and exquisitely detailed carved moldings
Beautifully restored woodwork
Elegant 19th century crystal and bronze light fixtures
Historic paintings
Re-created carpeting and draperies based on photographs from the 1870s to match the original interior design
Original period furnishings that belonged to the Stanfords.
19th-Century style gardens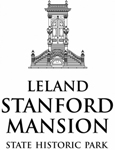 Originally built in 1856 by Gold Rush merchant Sheldon Fogus, the Mansion was later purchased and remodeled (twice!) by Leland and Jane Stanford. Leland Stanford served as Governor of California from 1862-1863. The Mansion served as the office of three governors during the turbulent 1860's - Leland Stanford, Fredrick Low and Henry Haight.

As a pro-Union Civil War governor and president of the Central Pacific Railroad, Leland Stanford negotiated political and business deals at the Mansion that helped complete the transcontinental railroad.

Jane Lathrop Stanford gave birth to their only child, Leland, Jr., here on May 14, 1868. The couple's new wealth enabled them to expand the mansion in 1872, creating the architectural legacy you can see today.
In 1900 Jane Stanford gave the mansion to the Catholic Diocese of Sacramento, with an endowment of $75,000 in railroad bonds, for the "nurture, care and maintenance of homeless children." The Sisters of Mercy, and later the Sisters of Social Service, adapted the aging building to their needs. As decades passed, the old neighborhood gave way to state office buildings, and the cost of upkeep grew. In 1987, the Stanford Home for Children moved to new facilities in north Sacramento.

In 1978 the State of California purchased the property for use as a state park. The imposing structure was listed as a National Historic Landmark in May 1987.