Mendocino Headlands State Park
Update (May 4, 2021)
: As State Parks increases access to the State Park System, it is critical that Californians continue to recreate responsibly in the outdoors as the pandemic is far from over. The public is advised that not all campground sites are open to the public due to the pandemic, wildfire impacts and other issues. Day use outdoor areas of park units currently open to the public remain open.
Please take the time to read the information contained on this webpage to find out what is open and closed, and the COVID-19 guidelines for this park unit.
What is open now?
Parking lots.
Day use areas.
Beaches and trails.
Special events as directed by the guidelines in the Blueprint for a Safer Economy.
What is currently closed at this park and throughout the State Park System?

Statewide:
Some park units and campground sites continue to be temporarily closed due to the pandemic, impacts from wildfires or other issues. Please visit the webpage of your local outdoor destination to find out if it is open.
Some high public-use indoor facilities, including museums and visitor centers.
Some special events and tours continue to be canceled until further notice.
Are there any new visitor guidelines?

State Parks has implemented the following guidelines to reduce the risk of exposure to COVID-19 in the outdoors:
Plan Ahead:

The ongoing pandemic response continues to be dynamic and fluid. Prior to leaving home, check the webpage of your outdoor destination you plan to visit to find out if it is open, if parking is available, and what visitor guidelines are in effect.
Learn what safety precautions you should take when exploring the outdoors at parks.ca.gov/SafetyTips.

Stay Safer at Six Feet: No matter the recreational activity, maintain a physical distance of six feet or more. Your guests should only include those within your immediate household. This means no guests or friends, and no gatherings or parties. If there are too many people to maintain the required physical distance, please visit us on a different day.

Boating: Do not raft up to other boaters or pull up onto a beach next to other recreators.
Off-highway Vehicle Recreation: Do not ride next to others or pull up next to someone else as it could put you in close proximity to others. Stage 10 feet or more from each other during unloading and loading.

Keep Clean: Be prepared as not all services may be available. Some restrooms will be temporarily closed to keep up with cleaning schedules. Bring soap/hand sanitizer. Please pack out all trash. Park units are experiencing heavy use and you can help alleviate the impact on park facilities.
Stay Covered: The state requires you to wear a face covering when you cannot maintain a physical distance of six feet or more. Individuals must have a face covering with them at all times.
Although law enforcement entities have the authority to issue citations, the expectation is that the public is responsible for adhering to the advice of public health officials, visitor guidelines and closures.
California State Parks continues to work with local and state officials on a phased and regionally driven approach to increase access to state park units where compliance with state and local public health ordinances can be achieved. However, the situation remains fluid and park operations can change at any time. For information on statewide current closures and available services, please visit
parks.ca.gov/FlattenTheCurve
.
Phone Number
(707) 937-5804
Driving Directions to Mendocino Headlands SP
The park surrounds the town of Mendocino, just off Highway One.


Online reservations are not available for this park.
Upcoming Park Events
No events scheduled at this moment.
BOATING
Boating
Boat Ramps

TRAIL USE
Hiking Trails
Horseback Riding

DAY-USE ACTIVITIES & FACILITIES
Historical/Cultural Site
Env. Learning/Visitor Center
Exhibits and Programs
Fishing
Interpretive Exhibits
Scuba Diving/Snorkeling
Beach Area
Vista Point
Nature & Wildlife Viewing
Geocaching

OTHER FACILITIES & VISITOR INFORMATION
Parking
Restrooms
Drinking Water Available

Mendocino Headlands State Park with its unique blend of gentle trails, rugged coastline, secluded beaches and timeless history surrounds the picturesque Village of Mendocino on three sides. Miles of trails wind along the cliffs, giving the casual explorer spectacular views of sea arches and hidden grottos.
In any season, a visit to the Mendocino Headlands will provide a memorable experience. You might come to see the spring wildflowers, enjoy a crisp and clear fall day, escape to a cool summer climate or witness the winter migration of grey whale. The park provides Mendocino with a buffer area that preserves the town's historical presence. In return, the town provides a view of a unique blend of natural, ecological, cultural and social diversity. Activities range from hiking and surfing to fishing. Photographers and painters frequently visit various parts of Mendocino Headlands enjoying and capturing the scenic wonders. There are no camping facilities; visitors are day users only.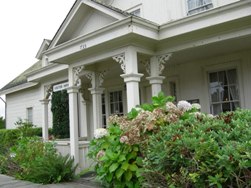 The Historic Ford House is a museum located on Main Street in Mendocino and is the Visitors Center for the Mendocino Headlands State Park. The Ford House provides current and historic information about to Mendocino visitors. It has a scale model exhibit of the Mendocino in 1890, built by local craftsman Len Peterson and the Museum offers a number of videos for viewing with topics ranging from the great migration of the gray whales to the steam whistle logging era of the early Twentieth Century. All videos are presented upon request and at no charge. Jerome B. Ford had the house built for his bride, Martha, in 1854. Ford was the superintendent of the first sawmill in Mendocino and is credited by many as being the founder of the city.

Exhibits at the Ford House carry the visitor back to another era. Throughout the house, are historic photographs, tools and relics that tell the story from the felling of the redwoods to the shipping of the lumber aboard the legendary doghole schooners. There is a small display of California Indian implements and seasonal exhibits on the local flora and fauna. Interpretive walks are led by docents and they also provide weekend lectures on area wildlife. The Mendocino Area Parks Association operates the Historic Ford House.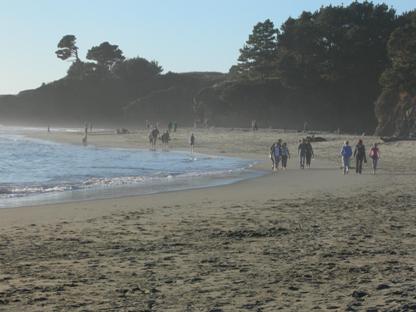 Big River Beach is part of a 7,400-acre wildlife corridor at
Mendocino Headlands State Park. Photo by Marc Holmes.

On the south side of Mendocino, accessible by vehicle from Highway 1, or by trails down the bluffs, is Big River Beach. This beach is used by picnickers, sun bathers and players in the surf. Mendocino Headlands State Park began operation in 1974. In 2002 the Big River wetlands was added to the park creating a 7,400-acre wildlife corridor which links diverse coastal and inland habitats into the largest piece of connected public land entirely within Mendocino County. Reaching from the Big River's mouth to 800-foot elevation inland ridges, the Big River wetlands includes a wide range of habitats. On the north it adjoins Jackson Demonstration State Forest and Mendocino Woodlands State Park. Public lands reach to the sea from Jackson Demonstration State Forest at Jug Handle State Reserve and Russian Gulch State Park. To the south, separated by a narrow strip of private land and Comptche Ukiah Road, lies Van Damme State Park with an RV campground and ocean access. Learn More about Big River Beach

The Headlands are also home to the Mendocino Music Festival. Held in July of each year, the Festival is over two decades old and is a magical blend of fine music by outstanding performers. Evenings include breathtaking concerts featuring the glorious Festival Orchestra, the popular Big Band concert, chamber music ensembles, dance, blues, jazz, world, and folk music. Days include chamber concerts at beautiful venues throughout Mendocino Village. Go to Festival Website.

---
Location/Directions
The park surrounds the town of Mendocino, California, just off Highway One.

Seasons/Climate/Recommended clothing
The weather can be changeable; layered clothing is recommended.

Social Feed