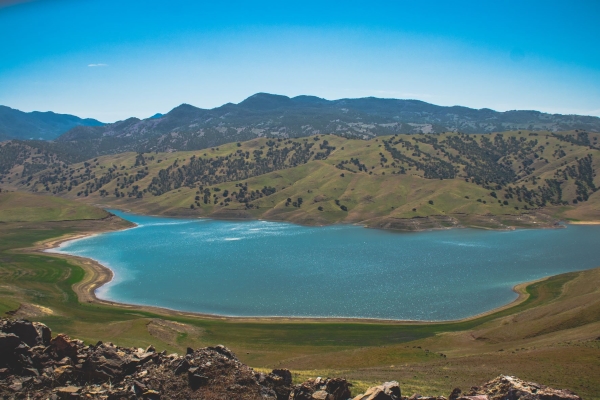 San Luis Reservoir State Recreation Area consists of three lakes: San Luis Reservoir, O'Neill Forebay, and Los Banos Creek Reservoir. Each lake is susceptible to sudden changes in wind and weather conditions. Wind warning and lake closure lights are used on San Luis Reservoir and O'Neill Forebay to alert boaters of the current wind conditions. On San Luis Reservoir, watch for the 3 wind warning and lake closure lights near the Basalt entrance station, Quien Sabe Point, and Romero Visitor Center. On the O'Neill Forebay, wind warning lights are located near the old Medeiros boat ramp and above the South Beach area.
Amber lights signify caution conditions for winds or other concerns.
Red lights indicate the lake is closed to boating and all vessels are required to immediately vacate the lake when the red lake closure lights are on.
| | |
| --- | --- |
| Condition | Light Color |
| Okay | All lights off |
| Use caution | Amber |
| Closed to boating | Red |

Boaters should also be aware of the lake hazards during water drawdown on O'Neill Forebay and San Luis Reservoir.
Boating hours are from 6am until sunset. All boats must be off the lake and out of the closed day-use areas by sunset.
All boating regulations and laws are fully enforced. Vessel inspections can occur at any time for compliance with all applicable laws, rules, and/or regulations (authority CCR 4662). If you would like a free vessel inspection to ensure you have the required safety equipment, please ask a State Park Ranger for an inspection before you launch.
Please visit the Cal Boating website for more information regarding California boating laws.
O'Neill Forebay
The only boat ramp on the O'Neill Forebay is at the San Luis Creek area. All boat traffic on the O'Neill Forebay shall move in a counterclockwise direction around the special marker buoys in the center of the lake. Extreme shallow areas exist along the entire southern shoreline, the Catfish Flats area, and the Mud Flats area. Boats are prohibited at North Beach. Certain areas of O'Neill Forebay have speed restrictions.
San Luis Reservoir
Boaters can launch at Dinosaur Point and the Basalt boat ramps. Extreme shallow areas and other hazards exist, especially during water drawdown. Certain areas of San Luis Reservoir have speed restrictions. All boats must remain at least 500 feet from the dam and intake structure.
Los Banos Creek Reservoir
A 5 mph speed limit is in effect on the entire Los Banos Creek Reservoir year round. Boats can be beached overnight, although boating is prohibited after sunset. Boaters should be aware of shallow areas and other lake hazards. Boaters should also be aware of swimmers near the boat ramp and the campground areas. Los Banos Creek is subject to winter/road closures because of water release from the reservoir. Visit the Los Banos Creek Reservoir page for additional information about this area.
---
Additional Information: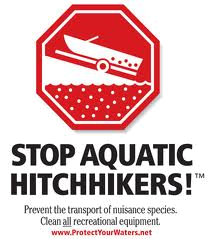 San Luis Reservoir State Recreation Area implements a dreissenid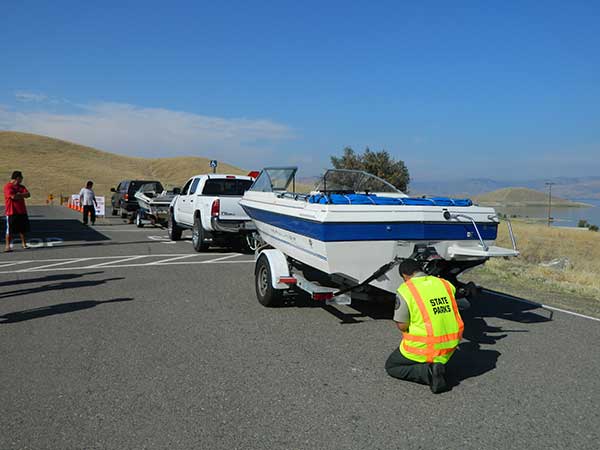 mussel interception and education program. This program is designed to prevent the spread of Quagga and Zebra Mussels into the waters of the San Luis Reservoir, the O'Neill Forebay and the Los Banos Creek Reservoir. Please visit the Dreissenid Mussel Interception and Education Program page for more information.