San Luis Reservoir Junior Lifeguards
Updated (June 23, 2020):
California State Parks has cancelled the 2020 Junior Lifeguard Program as the state continues to mitigate the spread of COVID-19. Participants who have signed up for the program are being notified and refunds will be provided automatically.
For more than 50 years, the Junior Lifeguard Program has emphasized teamwork, leadership and aquatic safety while introducing young people, ages 9 to 16, to safe marine and aquatic recreation opportunities. The program consists of day camps, usually lasting three to five weeks, that provide instruction in first aid, CPR, ocean safety, rescue techniques, surfing and bodyboarding. The State of California values programs such as this one, but it is critical during the COVID-19 pandemic to protect the junior lifeguards, their families and program instructors. State Parks will consult with public safety partners and health experts on how to move forward with the 2021 program.
For the most up-to-date information on how the department is responding to the COVID-19 pandemic, please visit
www.parks.ca.gov/FlattenTheCurve
.
IMPORTANT 2019 UPDATES:
Junior Lifeguard Families,
California State Parks is implementing a new online reservation system for the entire department's Junior Lifeguard programs. This system will coincide with the recently implemented Reserve California camping registration system.
ATTENTION: To complete the registration please be sure to make a profile and add your child or children as a dependent before you go to register in the program. Use the registration link located to the right -> for more detailed instructions.
---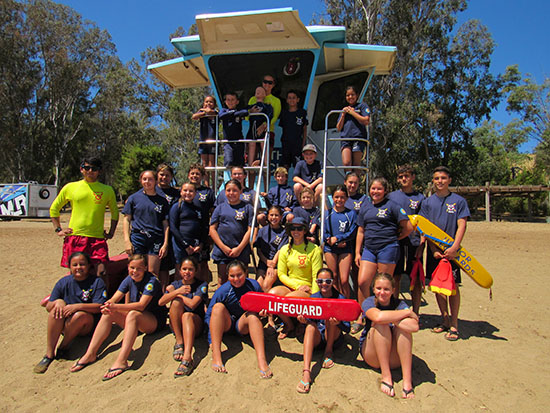 The San Luis Reservoir SRA Junior Lifeguard program's goal is to educate the community's youth about aquatic safety and high quality outdoor recreation. Through extensive aquatic interaction, exploration, and recreation, the San Luis Reservoir SRA Junior Guards gain a well-rounded education that can be utilized on and off the beach. After three weeks of training on San Luis Creek South Beach, each Junior Guard will have a heightened awareness and knowledge of San Luis Creek and its dangerous, yet wonderful, environment.
A typical day at San Luis Reservoir SRA Junior Guards starts with stretching and an assessment of the current lake conditions, which prepares them for the day's events. These events can include run-swim-runs, buoy swims, kayaking, paddleboarding, lectures on topics such as lifeguard skills (rescues and first aid), and shoreline games and activities. These events are designed to educate each Junior Guard on how to safely and effectively respond in an ever changing aquatic environment within the central valley, and stresses the importance of a daily workout and maximizing the enjoyment of recreating within California's State Parks.
Demand is high for the limited number of spaces available so sign up early!
Please review the rules and policies before signing up to ensure an enjoyable summer for all.