Mount San Jacinto State Park CCC Features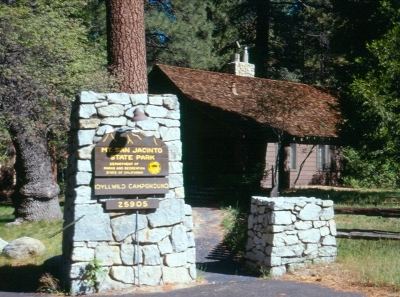 Mount San Jacinto State Park offers two drive-in campgrounds near the town of Idyllwild. Mount San Jacinto stands 10,834 feet above sea level and is the second highest mountain range in Southern California. No more than a two hour drive from either Los Angeles or San Diego, Mount San Jacinto's magnificent granite peaks, subalpine forests, and fern-bordered mountain meadows offer a unique opportunity to explore and enjoy a scenic, high-country wilderness area. Most of the park is a designated wilderness area enjoyed by hikers and backpackers.

In the park is the Palm Springs Aerial Tramway, which starts in Chino Canyon near Palm Springs. The tramway takes passengers from Valley Station at 2,643 feet elevation to Mountain Station on the edge of the wilderness, at an elevation 8,516 feet. The Pacific Crest Trail, the jewel in the crown of America's scenic trails, also passes through Mount San Jacinto.

Mount San Jacinto was the focus of the conservation movement for many years before it became a state park in 1937. Prior to the designation as a state park, Mount San Jacinto was designated as a "San Jacinto Wilderness Area" by the United States Forest Service. The CCC established a camp in May 1934 to develop limited camping facilities on the mountain. The plan for Mount San Jacinto did not include the elaborate mountain theaters, dance floors, and swimming pools designed for other parks. Instead the focus was on the preservation of the wilderness with limited roads, camping and administrative facilities. Completed by the end of October 1935, the CCC features included fire breaks, trails, a campground, a masonry summit shelter and entry gateway, and a wood frame warden's residence.

Mount San Jacinto State Park has these CCC features:
Summit Shelter, Two Residences, Diablo Stoves and Picnic Tables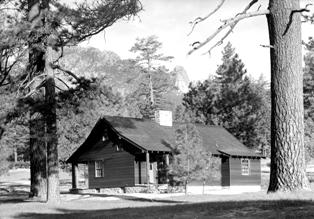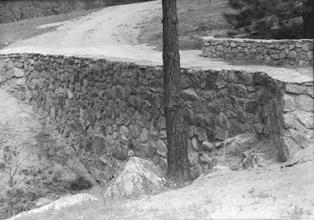 ---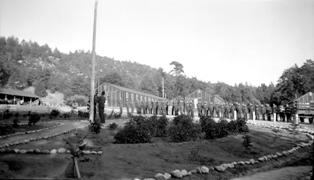 Park Information:

Mount San Jacinto State Park


25905 Highway 243
Idyllwild, CA 92549
951-659-2607
Visit Website: http://www.parks.ca.gov/default.asp?page_id=636

---
Pictured: Top Mount San Jacinto entrance and residence, photo by Joe Engbeck, California State Parks. Middle CCC built Warden's Residence in 1936 and stonework at park entrance in 1935. Bottom Camp Mount San Jacinto CCC staff assemble for taps in 1935.