Big Basin Redwoods State Park CCC Features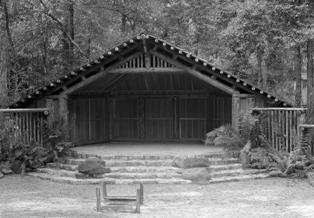 Big Basin Redwoods State Park is California's oldest State Park, established in 1902. Home to the largest continuous stand of Ancient Coast Redwoods south of San Francisco, the park consists of Old Growth and recovering Redwood Forest, with mixed conifer, oaks, chaparral, and riparian habitats. Elevations in the park vary from sea level to over 2,000 feet. The park has over 80 miles of trails. Some of these trails link Big Basin to Castle Rock State Park and the eastern reaches of the Santa Cruz range. The Skyline to the Sea Trail threads its way through the park along Waddell Creek to the beach and adjacent Theodore J. Hoover Natural Preserve, a freshwater marsh.

Big Basin Redwoods features a park village setting similar to those found in such national parks as Yosemite and Yellow Stone. While the park's overall original design was maintained during the period of CCC development, the facilities were greatly improved and expanded. CCC features are found throughout the 1930s park boundaries, with the greatest concentrated groups of buildings located at Governors' Camp/headquarters area and J Camp.

Big Basin Redwoods State Park has these CCC features:
Nature Lodge, Outdoor Theater, Cabins, Diablo Stoves, Footbridge and Hiking Trail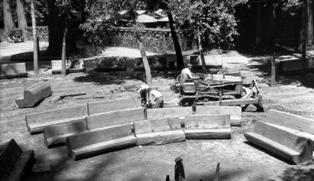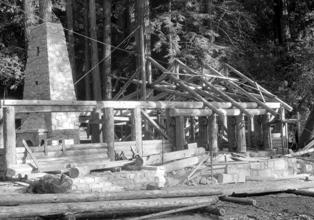 ---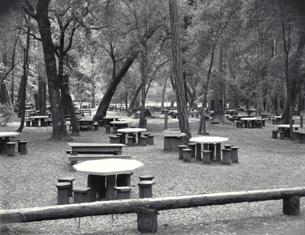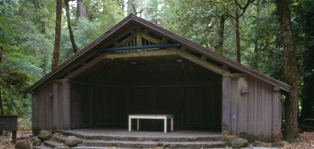 ---
Park Information:

Big Basin Redwoods State Park
21600 Big Basin Way
Boulder Creek, CA 95006
831-338-8860
Visit Website: http://www.parks.ca.gov/default.asp?page_id=540

---
Pictured: Top the Big Basin Outdoor Theater in 1936. Center CCC crews building campfire center seating area in 1935 and construction of the park adminstration building in 1936. Original Big Basin picnic area and a historic photo of a CCC picnic table in 1935. This picnic area is no longer at the park. Bottom recent photo of Big Basin Outdoor Theater, photo by Joe Engbeck, California State Parks.