How to Become a Proud Partner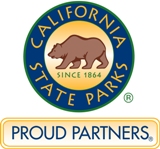 Partners from the business community whose practices best support and further the mission of California State Parks are eligible to participate in the Proud Partners program. Business partners chosen for the program help to raise additional funds for the protection, preservation, enhancement and improvement of our state parks, as well as help raise public awareness of the wonderful cultural, historical and natural resources in the state park system.
Through the Proud Partners Program, partner organizations have an opportunity for their products or services to obtain millions of impressions among consumers that visit California's state parks every year. More than 81 million people visit California State Parks each year. Approximately 600,000 school children attend educational programs in state parks each year.
By becoming a Proud Partner, organizations can demonstrate their support for education and the environment. Customized programs can reach children, schools, families and adults through programs, including Junior Lifeguards, Fam Camp® and Junior Rangers.
California State Parks contains the largest and most diverse natural, cultural and historical heritage holdings of any state agency in the nation.
For more information, please contact Partnerships Division at (916) 653-7733.