Elephant Seal Vocalizations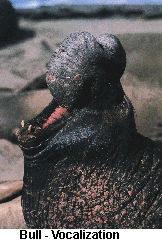 Males establish dominance to determine who does the majority of the mating in a harem. The first phase is a distinctive low-frequency, guttural vocalization. The dominance battle can progress to a bloody physical attack.
Mothers and pups learn to recognize each other by vocalizations and sniffing immediately after birth. Their vocalizations are critical, since territorial disputes and stormy surf conditions can separate a mother and its pup and they may only find each other again by recognizing each other's call.


These small files contain vocalizations of various elephant seals:
These files are much higher quality (and larger) elephant seal vocalizations.
Pick the wav files for PCs and aiff files for Macintosh.


---
BULL WITH FROGS IN BACKGROUND
---
MOM & PUP
---
HAREM
---
TWO MALES
Elephant Seal vocalization provided courtesy of Nancy Reist.
(Copyright © Nancy Reist)